In the lead up to the season's second game against Central Florida, it was learned that Ohio State could win a Leaders Division title. Because of the Buckeyes' ineligibility to appear in the Big Ten championship game, any hope Ohio State had at winning some sort of championship in 2012 was lost.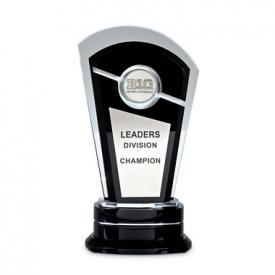 But when word came down that Ohio State could, in fact, add another championship to its already bloated trophy case, head coach Urban Meyer wasn't all that interested.
"I never heard that," said Meyer, when told of the new development on Sept. 5. "I never thought about it. And it's not going to make us play harder on Saturday (against UCF). But I think at some point in November, yeah, that would be interesting,"
Make that late September. On Saturday, Ohio State opens conference play in East Lansing against 20th-ranked Michigan State. And so begins the march to a Leaders Division championship.
"The first time we talked about that was yesterday in our team 'State of the Union' meeting," Meyer said on Monday. "(We told them) you have an opportunity to go win your side of the Big Ten. So that is a goal, and that was not a goal when we were playing UAB and Miami and Central Florida and Cal. It's a goal now. That's why we addressed it."
The Buckeyes have won 36 conference championships in their 121-year history. Thirty-four of those have come as a member of the Big Ten, second only to Michigan's 42. Ohio State's 2010 conference championship was vacated due to NCAA violations. Up to that point, Ohio State had won an unprecedented six consecutive Big Ten titles.
But the Big Ten's premier program took a step back in 2011, posting a 3-5 conference record, Ohio State's first losing Big Ten season since 1999. One year later, Meyer has his team primed for additional hardware and rings.
"Are we playing for something? You're darned right we are," he said. "It's really important here. Look around. Really important."
Bright Future?
The Big Ten is bad. There really isn't much debating the topic; the first four weeks of the season have said enough.
Ohio State is average. Meyer has repeated that line since the season-opening win over Miami (Ohio). Undefeated and ranked in the top-15 of the country, Meyer didn't expect to have so much uncertainty on both sides of the ball.
"I thought we'd be further ahead," he said. "I was well aware of our shortcomings. I didn't foresee an injury to one of our defensive ends. I didn't foresee that we missed two defensive backs. I thought we'd be more aggressive in certain areas."
But entering Big Ten play, Meyer believes his 4-0 squad is on the cusp of something big.
"I know we're Ohio State, and there's all kinds of expectations here," he said. "And I still am not giving up. I think by the end of the year this might be hell of a football team. Might be sooner than that."
Much will be learned Saturday at Spartan Stadium. Michigan State is the first ranked opponent the Buckeyes have faced and it also doubles as the first road and conference game. Michigan State is an early three-point favorite.
Slow starts, whether in the first quarter or coming out of the locker room after halftime, have been a theme for the 2012 Buckeyes. They've scored 20 points in the first quarter and 28 in the third. On defense, it's been more of the same. The Buckeyes trailed in the first quarter to Miami and Alabama-Birmingham and allowed second-half runs by UCF and California.
"One thing about this team, when it's time to go win a game, to date they've gone and won a game," Meyer said. "But we are what we are right now, and that's just a workmanlike team that has to get better.
"At the end of the day your job is to go win a game."
The next two weeks will go a long way in determining the Big Ten championship race. Ohio State plays at Michigan State and hosts Nebraska at night. The games aren't must-wins for the teams, but they'll certainly have a leg up on the competition if they win them.
"By the end of the year I think people will be saying great things about Ohio State," Meyer said. "I really do."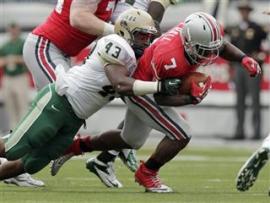 Love Tape
Sloppy play and close victories against teams Ohio State was favored to beat by multiple touchdowns have not sat well with Meyer. The most recent win, 29-15 over UAB, was the topper in terms of being left unsatisfied.
The previous week it was co-defensive coordinator Luke Fickell who couldn't sleep soundly after a lackluster performance by the Buckeyes. After Saturday's game, Meyer couldn't get rid of the uneasy feeling he had.
On Sunday, he had a staff member put together a tape of Ohio State's four scoring drives against UAB.
"I have to eat lunch, and I wasn't about to eat lunch after what I saw," Meyer said. "I said, 'Put together two, three, four good drives for me.'"
Meyer called those four drives "about as well done as we played all year." So when the team came in later that afternoon, their spirits were lifted when they viewed the "good" game tape.
"That's all we're going to show them," Meyer said. "I want these guys with a great taste in their mouth [to] get ready to go play a big-time college football game. That doesn't mean go pull out a couple of plays we have to have corrected. Let's go have a positive week."
Meyer's counterpart at Michigan State, Mark Dantonio, appears to have taken a different approach. He issued short answers in his postgame press conference Saturday before abruptly ending the media availability after the Spartans' 23-7 win over Eastern Michigan. On Monday, Michigan State announced players would be off limits to the media throughout the week.
"I feel much better," Meyer said.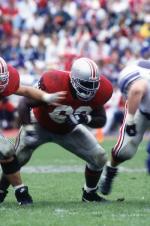 The Passing of Jason Winrow
There was an unmistakable sadness to Monday, after it was reported former Ohio State offensive lineman Jason Winrow died. He was 41.
Winrow, a native of Bridgeton, N.J., was a guard for the Buckeyes from 1989-1993. He earned All-Big Ten honors as a senior and was drafted by the New York Giants in the sixth round of the 1994 NFL Draft. Winrow played for the Giants for three seasons, but retired after the 1996 season due to back and knee injuries.
Following retirement, Winrow returned to Columbus where he appeared on WBNS-Channel 10 as an Ohio State football analyst.
The Columbus Dispatch reported that a family spokesman said Winrow, who had undergone major surgical procedures on both feet in recent months, will undergo an autopsy to determine the cause of death. He was previously diagnosed with Type 2 Diabetes.
Winrow is survived by his wife and three children. Ohio State will hold a memorial service for Winrow at 4 p.m. Thursday at the Fawcett Center auditorium.