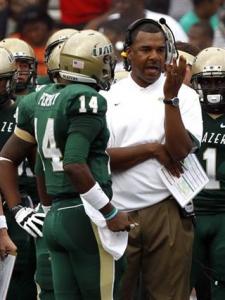 Every few years the topic of exhibition college football games arises. Should they exist? Wouldn't it be cool to see Ohio State-Notre Dame in the spring even if it wasn't a real game?
Some say yes, others are quick to denounce the idea. But with the creation of the 12-game schedule came exhibitions. OK, they aren't called exhibitions and the results count in the standings. Instead, they're referred to as "money" or "guarantee" games.
A big-time school pays a downtrodden program hundreds of thousands of dollars – sometimes millions – to visit their stadium, play in a unique atmosphere and get beat by 50 points. Big State U. also generates millions of dollars in revenue on that Saturday through ticket sales, a rich TV contract, merchandise sales and many other sources.
Already this season, we've seen the Savannah State debacle – an 84-0 loss to Oklahoma State and 55-0 defeat to Florida State in a game called during the third quarter – Oregon trounce Tennessee Tech and Oklahoma embarrass Florida A&M.
On Saturday in Ohio Stadium, Buckeye fans will get to watch Ohio State take on one of the worst teams in the country, Alabama-Birmingham, and pay $70 per ticket to do so. Urban Meyer has been waiting for a breathe-easy game, and he finally gets it this week.
As long as stadiums are filled to near capacity levels and athletic department coffers are overflowing with money, guarantee games are likely here to stay, though the new college football playoff could have some say in the matter.
Strength of schedule is said to be a main component with the selection committee, along with win-loss record, head-to-head results and whether a team is a conference champion.
Meyer and athletics director Gene Smith have stated their philosophy is to continue playing one premier non-conference opponent each season, a viewpoint that hatched decades ago but really picked up steam with former AD Andy Geiger. 
"We want to play a national team, upper middle, and then maybe a couple other ones." Meyer said. "That's kind of I think where we are at. I know Cal is a national game. We have to go travel out there next year."
All or parts of the Buckeyes' non-conference schedules through 2018 are known. And the makeup of them mirrors what Meyer and Smith want as far as competition. 
2013: Vanderbilt, Florida A&M, at California, Buffalo
2014: at Navy (Baltimore), Kent State, Virginia Tech, Cincinnati
2015: North Carolina, Northern Illinois, at Virginia Tech
2016: Bowling Green, Tulsa, at Oklahoma
2017: Oklahoma, at North Carolina
2018: Cincinnati
Opponent
In the football-mad state of Alabama, not everyone can be the Crimson Tide. There are also Jaguars (South Alabama), Trojans (Troy) and Blazers (UAB). The landscape in Ohio is similar – Rockets to the north and Bearcats to the south.
Alabama and Ohio State have had down seasons, but the rule of order has never changed: they are the almighty and torchbearer for an entire state.
UAB is a young program, its roots dating back to 1991. Players on both teams Saturday are older than that. The Blazers have been a FBS member since 1996. Three winning seasons and one bowl game is all they have to show for it.
The man at the helm of UAB is first-year head coach Garrick McGee. He's been a successful assistant for years and has plenty of experience coaching against the Buckeyes and Urban Meyer.
During a four-year stint at Northwestern, McGee faced Ohio State four times. The Wildcats won one of those games, but the other three were blowouts in favor of the Buckeyes. Then McGee was reintroduced to Ohio State at the 2011 Sugar Bowl as Arkansas' offensive coordinator. The Buckeyes won in heart-stopping fashion, 31-26. He's gone up against two Florida teams coached by Meyer and lost them both.
They say games are won in the trenches. For UAB, that's a major issue. In a 49-6 loss at South Carolina last week, the Blazers' quarterbacks were sacked six times. UAB had 27 rushing yards on 42 attempts. Quarterback Jonathan Perry is the team's leading rusher, but he is only averaging 1.6 yards on 24 carries. Five sacks have adversely affected that average. Still, UAB is putting up 363 yards per game.
Entering the season, UAB's ground attack was supposed to be one of its strengths. But they sit 114th out of 120 teams thus far, averaging a paltry 80.5 rushing yards per game. Starting center John Hix missed the South Carolina game because of a hyperextended elbow, but he's expected to play against the Buckeyes.
"The running game is all about timing," McGee said. "It's not just about handing the ball to the running back. The blocks have to be set up, the right tracks have to be set. The quarterback has to go from one play to another. If you have a bad play called, the running back has to anticipate the defensive movement. There is a lot that goes into running the football and I think we are headed in the right path. I think we are really close."
Life won't get any easier on Saturday with John Simon and Johnathan Hankins going up against the UAB offensive line. Ohio State's defense ranks 31st in the nation against the run, though they did allow 224 rushing yards last week. The Buckeyes will also have Nathan Williams for the second consecutive week. Williams said he should be good to go the rest of the season. Michael Bennett, however, is a no-go for the fourth straight game. Meyer did say he'd be available next week in the Big Ten opener at Michigan State.
"Balance in any offense all over the country is always good," McGee said. "Whenever the defense has to worry about the run and the pass it always helps. What we're trying to do is play action pass to make them think that there is going to be some runs, to stay in games and take plays down the field."
The bright spot on offense is wide receiver Jackie Williams. In two games this season, Williams has 11 receptions for 202 yards. He's yet to make it into the end zone, though. For that matter, UAB hasn't made it there often, either. The Blazers have all of four touchdowns.
Perry has thrown for 536 yards.
"Playing quarterback is a hard job," McGee said. "There is a lot of pressure that goes on with being the quarterback. You're the guy that has to deliver the ball consistently, you're the guy that has to make the checks and everything, manage the game. So I think that he's growing and learning. I think a week or so from now he'll be in a position to get our team ready to go out and get a C-USA championship, which is our goal."
Two starters in the Ohio State secondary – Bradley Roby and Christian Bryant – have been battling injuries this week and are likely to be limited, giving Perry and the Blazers an opportunity to pounce. Doran Grant and Orhian Johnson will be the replacements.
The UAB defense allowed more than 500 yards to the Gamecocks. They are yielding 477 yards per game. That is 23 yards more than Ohio State is averaging.
"I think there were maybe nine snaps in the game (against South Carolina) where they had 300-plus yards of offense," McGee said. "We have to understand that in order to win we have to play all four quarters; you can't take one play off because as soon as you do a really good team can take advantage of you and run for a touchdown."
Both the offense and defense for UAB is stocked with young players. There are a whopping 23 freshmen and sophomores on the Blazers' two-deep.
"Playing at South Carolina will definitely help us prepare for playing at a venue like Ohio State with the big crowd and atmosphere," freshman safety Jake Ganus said. "I don't think we will be quite as nervous running out of the tunnel in front of thousands of fans that are booing you when we have already been through it at South Carolina."
Buckeye Breakdown
For three weeks this space has been occupied with words about Braxton Miller and the myriad problems he presents for opponents. Get used to it. There are nine more weeks left in the season and change doesn't appear to be on the horizon.
UAB is the latest team to try and corral the dynamic dual-threat quarterback.
"It's the type of quarterback that Coach Meyer has played with throughout his career," McGee said. "He's really comfortable calling the plays with that kid. He brings some of the same elements that Tim Tebow brought to the table, Alex Smith brought to the table at Utah and the kid he had at Bowling Green (Josh Harris)."
The Blazer defense, in just two games, has given up touchdowns on pass plays of 94, 55, 30 and 25 yards. Miller has connected with receivers on touchdowns of 72, 25 and 23 yards.
"We know he is a great athlete," UAB defensive lineman Jontavious Morris said. "He has great running and throwing ability. But with correct alignments, assignments, and execution we can get the job done."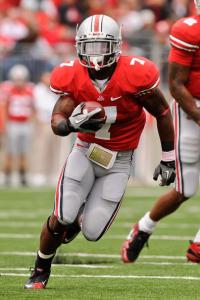 After reverting to a 1970s-style game plan a season ago, the Buckeyes are back in the current times. Corey "Philly" Brown and Devin Smith have emerged as threats in the passing game. Last season, the receptions leader had 14 catches; that total has already been surpassed by Brown (16) while Smith (13) is almost there.
"The best thing that's happened in the first few weeks is we've identified a go-get-it guy on the outside that we did not have a year ago," Meyer said.
Much of the success passing has been generated by Miller's ability to run the football so effectively. UAB has given up over 220 yards rushing per game and nearly six yards per carry. That doesn't bode well for the Blazers, as Miller and running back Jordan Hall occupy the backfield.
The two people responsible for slowing Miller down (and Hall) are defensive ends Diaheem Watkins and Chris Walton. 
"Playing a top-10 team was an eye-opener to show us that it's going to be a challenge wherever we go," linebacker Shaq Jones said. "It's not going to be a walk through the park. It's not high school football where you run around and make easy tackles. You have to execute your technique properly in order to succeed."
The Ohio State defense has had its share of troubles. In the first two games, a lack of pressure on the quarterback was highlighted. But six sacks against Cal put many of those fears at ease. But the Bears ripped off several big plays to go along with others Ohio State surrendered against Miami (Ohio) and Central Florida.
In three games, the Buckeyes have given up 20-plus yards on 13 plays. Three of those came against Cal.
"That is the most alarming thing," Meyer said. "I've watched Ohio State's defense for a long time, and I can't remember a defense I've been around that's given up this many. We've got to stop or we'll lose a game."
"That's not acceptable."
The error most common in Saturday's defensive debacle was missed tackles. On Wednesday, Meyer and the players said tackling drills were a major point of emphasis. On his call-in show Thursday, Meyer went one step futher, saying no team in the country practices tackling more than the Buckeyes. Whether Ohio State improved won't be known until they step on the field against UAB.
It could be an advantage to the UAB offense. 
"We have to continue to concentrate on the details and understand how the line calls work from the center and all the way out to the tight end," McGee said. "The receivers have to block on the perimeter, understand if it's an outside or an inside run, which shoulder you should attack on the defender. It's a lot of little things that go through football that have to be worked on."
How it Plays Out
Saturday is shaping up to be an historic day on the banks of the Olentangy. The old gray lady – when vacated games are mixed into the equation – has hosted 399 victories for the men in Scarlet and Gray. A "W" is likely Saturday, meaning UAB will represent Ohio State's 400th victory in Ohio Stadium.
The Blazers are heavy underdogs – 36.5 points to be exact – and they're making their first trip to the venerable Horseshoe. In the past 25 years, 20 teams have had their maiden voyage to Ohio Stadium ruined. The lone victor was eventual national champion Texas, in 2005.
Ohio State's defense vs. the UAB offense will be the deciding factor. UAB has little chance at slowing down the OSU offense, but Perry could create some headaches for the Buckeye D.
He'll try and go downfield to his ace receiver, Williams, to offset the distinct advantage Ohio State has on the line.  At the end of the day, though, even if Perry, Williams or any other UAB offensive player has a career day, the likelihood of knocking off the Buckeyes – even on Mars – is minimal.
Ohio State 49, UAB 10