My morning routine on Saturdays in the fall is pretty basic. With a pumpkin-flavored drink in one hand, I scan the Internet for college football news, cramming for that day's slate of games.
Last Saturday was no different, but among various open tabs, I clicked on a link to the not-very-safe-for-work A Song of Ice and Wire, a Tumblr mash-up of two of the most revered TV shows of the past decade.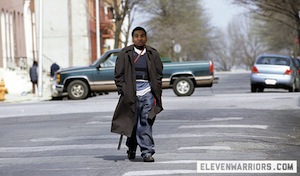 While I appreciated how remarkably well quotes from The Wire could be applied to scenes from Game of Thrones, I thought nothing more of it until after Ohio State escaped California. And then, like when Drew Basil missed the extra point after the Buckeyes' first touchdown of the game, I realized how appropriate of a start it was to the day.
Because, you see, that game could be its own mash-up with The Wire. For a while in the second half, it took a depressing turn similar to that of a George Pelecanos-penned episode. Reminiscent of the show at its most cynical, it looked like, despite the change in leadership, nothing had really improved since a season ago. The offense stalled, the defense couldn't tackle, and the proper adjustments weren't being made.
But Bubbles overcame his heroin addiction and Ohio State overcame Cal's bubble screens. This year's team won the game while last year's version would be the owners of a 2-1 record. As disheartening as The Wire could be, it also provided moments of triumph and resilience, mixed in with all those feelings of "things should be better than what they are."
And that, in a nutshell, is how we could describe the Buckeyes this past Saturday.
You Come at the King, You Best Not Miss
Four years after the show ended, Omar Little is still a much-discussed, extremely popular character. On The Wire, he was a larger-than-life figure, almost superhuman in his actions. As invincible as he seemed, though, Omar was not bulletproof1.
Entering his second season, there was no shortage of hype surrounding Braxton Miller. Three games in and the quarterback has, in many ways, exceeded expectations. So far this season, he's been the king of big plays. Against the Golden Bears he threw a career-high four TDs, most notably the eventual game-winner, a 72-yard pass to Devin Smith2. 
He can rip and run as well. Miller's 55-yard rushing score on Saturday was his fifth touchdown on the ground this season, a total that includes a 65-yarder against Miami (OH) and a 37-yarder against Central Florida.
For the most part, he has been Ohio State's offense, but he still makes mistakes that prove his vulnerability. 
The third quarter was a forgettable one for the sophomore, filled with three-and-outs and off-target throws. Despite marching the team down the field to retake the lead in the fourth quarter, he threw an ill-advised pass that Cal intercepted after they had tied it up again. As costly as that could have been, Miller was given the chance to redeem himself on Ohio State's next possession.
On third-and-7, Cal came for the QB, flushing him from the pocket, but they missed the chance to contain him. Instead, Miller scrambled, saw that Corey "My name is my name!" Brown was covered, and found Devin "The cheese stands alone" Smith.  
Although he's not perfect, is Braxton Miller fun to watch? Oh, indeed.
Game's the Same, Just Got More Fierce
During the toughest, most offensively stagnant stretches of the game, fans started to bemoan the return of Tresselball, which somehow managed to be a cheap shot at both Tresselball and the current offense.
Under Jim Tressel, Ohio State won many games, but often did so in boa constrictor fashion by slowly squeezing the life out of their victims. Under Urban Meyer and offensive coordinator Tom Herman, the no-huddle offense doesn't eat much clock. The Buckeyes' longest drive on Saturday came right after Cal had taken a 21-20 lead.
Eleven plays, 75 yards, and 3:55 later, Ohio State was back on top, 28-21. The successful two-point conversion after the touchdown has also been a rarity in recent years.
The following Ohio State score seemed to better epitomize this offense: 3 plays, 75 yards, 55 seconds.
Up until now, the outcomes have been the victorious kind that fans are accustomed to, even though the games themselves have shown a more aggressive attitude.  
There are disadvantages to this approach:
And benefits:
All the Pieces Matter
As impossible as it is to do The Wire justice in a few short words, "all the pieces matter" is the underlying theme of the show. Actions have consequences, even if they're not always obvious.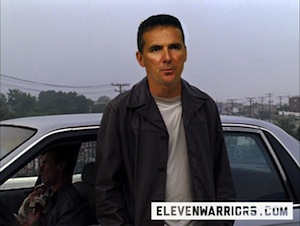 Once the Buckeye win was secured, comments such as, "Ohio State, which is 3-0 but looked awfully shaky against Cal in a game it probably should have lost" made the rounds. But when the game was on the line, it was Ohio State, not Cal, who made the necessary plays.
On third-and-2, the defense teamed up to finally stop the Cal offense, setting up a fourth-and-1 situation. Coach Jeff Tedford decided to try for a field goal, despite his kicker, Vince D'Amato, hooking two earlier attempts. He would then add a third miss3. 
Ohio State got the ball back and due to blown coverage from the Bears, Smith was left wide open to score the go-ahead touchdown.
Basil's kickoff was deep enough that Cal, even with their strong return game, declined to bring it out.
Then Ohio State's defense decided to end the game. Thanks to a pointer from Bradley Roby and Ryan Shazier disrupting a wide receiver's route, Christian Bryant read the QB and clinched the victory with an interception. 
While there are legitimate concerns about this team and the players and coaches shouldn't be satisfied with just a win when the on-field performances left a lot to be desired, every unit came through for the Buckeyes when it mattered most. The Bears, though, suffered breakdowns on all fronts, which led to their defeat.
And in this sport, "it's play or get played. That simple."
Thin Line Between Heaven and Here
Unfathomably, Ohio State's season is already one-fourth of the way over. At 3-0, they're halfway to their 2011 win total.
Last season was a humbling experience, one that should make it easier to savor any victory that the Buckeyes earn. It's unfair to the team and to college football itself to say that this season doesn't matter. But without a championship to play for, fans have permission to not agonize so much over every miscue this season.
Think of it as Hamsterdam—a place where the normal rules don't apply.
Saturday was a picturesque fall afternoon in Columbus, the kind of day we long for and idealize in the offseason. The play on the field may not have been as pleasing as the weather, but the game is the game. Enjoy it while it's here, because an Ohio State win in the Horseshoe is pretty much divine.