Around the Oval is our weekly look at the Ohio State sports that don't always get the coverage they deserve.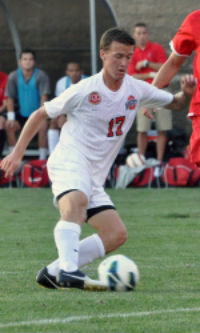 Another game, another win for the Ohio State Buckeyes' football team, as this time they take down Central Florida 31-16 in the Horseshoe last Saturday.
While there is tons for the team to work on, it's nice to see Braxton Miller start to get some national recognition as someone who could one day legitimately compete for the Heisman Trophy.
Of course, Braxton and the boys weren't the only Ohio State team in action during the past week, as both the men's and women's soccer teams, men's golf team, and women's volleyball team had plenty going on worthy of discussion.
In this week's edition of Around The Oval, we take you inside each of these teams' weeks to see how they performed, as well as what lies ahead for some of Ohio State's less heralded athletic teams.
Men's Soccer
The Ohio State men's soccer team made a western road trip out to San Diego and split the weekend's games against USD and San Diego State, leaving them with a record of 2-3-1 after 6 games played.
The Aztecs scored first in the 41st minute, but the Bucks responded just two minutes later with a goal from Joshua Breto off an assist from Louie Berra.Their latest game was on Sunday against SDSU, and yet again a comeback was needed to secure a victory. 
Berra would then go on to score the game winner in the 64th to end the match at 2-1.
It was an impressive victory for the team, as they were outshot 26-11 and only had 4 corner kicks compared to 8 for SDSU. Despite being outplayed, the team gutted out the win and inched closer to evening out their season mark.
The Buckeyes will play just once next week, a Friday game against DePaul at 7:30 PM EST at Jesse Owens Memorial Stadium in Columbus.
Women's Soccer
The Ohio State women's soccer team had a big week, defeating thirteenth ranked Missouri and then Duquesne to improve their record to 5-2 on the season.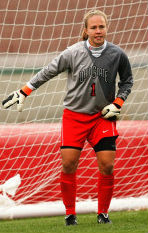 A couple of Buckeyes were rewarded for their efforts by the conference in the victories last week as well.
Forward Tiffany Cameron was awarded Big Ten Offensive Player of the Week, with three goals including two game-winners. She now has six goals on the season.
Goalkeeper Rachel Middleman doubled the hardware up for OSU, earning Big Ten Defensive Player of the Week, with two shutouts and four saves to her name. Middleman became Ohio State's second Defensive Player of the Week this season after Kendyl Reed earned the award previously.
The Buckeyes continue their season by opening Big Ten play against Minnesota at 1 PM EST Sunday at Jesse Owens Memorial Stadium.
Men's Golf
The Ohio State men's golf team finished tied for second at their first tournament of the season, the Marshall Invitational. 
The team had a final day score of 288 to finish one over, 853, on the par 71 course in Huntington, West Virginia.
Virginia Tech took the tournament crown, finishing in first, and Marshall tied with the Buckeyes for second in what was a good showing to open up the new year.
Grant Weaver shot a career best four-under, 209, to finish seventh overall amongst all golfers, while teammate Boo Timko was just behind him, tying for eighth with a two-under, 211.
The Buckeyes next head to Zionsville, Indiana, for the Wolf Run Intercollegiate on September 15.
Women's Volleyball
The Ohio State women's volleyball team won its second straight tournament, taking the WKU Tournament title with a 3-1 (25-17, 25-18, 21-25, 25-23) victory over host Western Kentucky Saturday at the EA Diddle Arena in Bowling Green, Kentucky.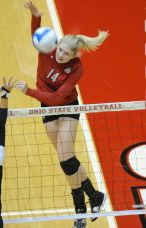 Senior Mari Hole came up in the clutch for the Buckeyes and was named the tournament's Most Valuable Player for her efforts. Hole led the team with 13 kills and 10 digs in utilizing her all around skill set to help bring a tournament victory back to Columbus.
Next up, Ohio State makes the trip down to Houston for its last regular season tournament, where they will be playing in the Flo Hyman Collegiate Cup this coming Friday and Saturday.
The Buckeyes open up tournament play with a difficult match Friday against twelfth-ranked Pepperdine and will follow that with another tough one Saturday against #6 Florida State, before taking on host Houston in the finale.