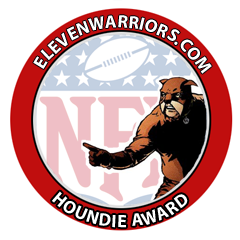 At one point in time, this award was known as the Buckeye NFLer of the Week. Thanks to a typo and the ensuing LOLsession from the commentariat, it was renamed as the Houndie. Same intent, but now with a better name.
If you live in central Ohio, like myself, and don't root for the Browns or Bengals, it's tough to get quality NFL games on the tube each Sunday.
Thankfully though, we're also Buckeye fans, which allows us to have an interest in most games, as the man crushes developed in Columbus continue on Sundays.
Much like the B1G conference as a whole this past weekend, the first slate of NFL games wasn't too kind for the former Bucks. Some found themselves inactive, while the rest simply didn't jump off the stat sheet.
DeVier Posey (Texans) and Dane Sanzenbacher (Bears) were both inactive for the first game, as was Brian Robiskie, who made the Jaguars roster, but was cut on Monday.
Bobby Carpenter was surprisingly cut earlier in the week by New England, perhaps making room for rookie Nate Ebner, and Justin Boren encountered the same fate in Baltimore after landing on the IR.  
Recent Buckeye Bad Asses had a rough go of it: Thaddeus Gibson didn't make the Bears final roster, Darrion Scott was cut late by Washington and Vernon Gohlston failed to make it with the Rams.
Recent Buckeye Dumb Ass, Donald Washington, was arrested in late July for DUI, as his buddy THC was riding shotgun in the car and he was subsequently cut by the Chiefs at the end of August.
Ted Ginn is fighting a severe ankle sprain suffered in the third preseason game and might be out another week or so. When he does return, it looks like he'll be a return specialist only, as the 49ers look to be set at receiver with the signing of Randy Moss and Mario Manningham in the offseason, to go along with holdovers Michael Crabtree and Vernon Davis. 
Alex reminded you last week that Jake Ballard is still battling back from a torn ACL, while Brandon Saine and Beanie Wells are also dealing with nagging injuries. Saine didn't see any touches, but Beanie gave it a go.
However, Beanie should've stayed in street clothes, following up his 1,047 yards, 10 TD season with seven carries for 14 yards. To his credit, the entire Cardinal team stunk at running the ball, but Kevin Kolb led a late TD drive that catapulted them to a 20-16 home win over Seattle.
In Detroit, Rob Sims has been given the starting nod at RG once again for the Lions, who got more fight than expected from the upstart Rams. The Lions scored with ten seconds left to win 27-23, but it's clear Jeff Fisher is going to make a difference in St. Louis.
The Rams solidified the middle of their defense over the weekend, giving a fat contract extension to James Laurinaitis, who inked a 5-years extension worth $42 million, of which almost $24 million is guaranteed.
In his fourth year, Lil' Animal has yet to miss a game for the Rams and delivered with another nine tackles on Sunday. Coming off a career high 142 tackles in 2011, Laurinaitis is poised for another big year and should hang in the top ten for tackles all season.
One of the story lines we followed around here in the preseason was the emergence of Nate Ebner in New England. As I mentioned above, Ebner may have taken Bobby Carpenter's roster spot and he saw some special teams action on Saturday, registering two tackles in his pro debut. The Patriots easily handled the Titans on the road, holding Chris Johnson to four yards on 11 carries in their 34-13 win.
In Minnesota, the Vikings overcame a slow start and pulled off a 26-23 home OT win over Jacksonville. Antoine Winfield returned from an injury that sidelined him 11 games last year and chipped in with four solo stops, while Michael Jenkins caught three passes for 45 yards.
Down in the Big Easy, Will Smith had made plenty of offseason news with his involvement in Bounty-Gate, but it came down late last week that the players won their appeal in court and Smith started for the Saints in their 40-32 home loss.
He managed four tackles and Malcolm Jenkins contributed five, but the Saints were upstaged by RG3, who made Browns fans wince, as he threw for 320 yards and two TDs in his pro debut. Just a few more picks, Mike, and he could've made his home by the lake.
Staying in the NFC South, Chris Gamble is back for another season with the Panthers, but didn't record a tackle in their 16-10 loss at Tampa. He did earn the starting nod, but had just one PD in his season debut. And as you learned yesterday, Ben Hartsock is also with the Panthers.
In New York, the Jets overcame their preseason offensive woes and opened up a can on Buffalo, 48-28. Of course, Nick Mangold will once again anchor the Jets' offensive line and Santonio Holmes will anchor the offensive quotes in the Jets locker room. Holmes, who caught four for 68 yards, walked away from post game interviews after he grew tired of the "which QB should play" questions.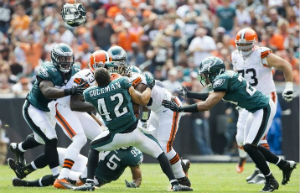 There is little doubt that Miami is going to be bad again this year, but Brian Hartline continues to be one of their top receivers, leading the team with three catches for 50 yards in their 30-10 loss to Houston. Austin Spitler also made the Dolphins roster, but didn't have any stats.
In the game that featured the most Buckeyes and was perhaps the best game of the week, San Fran went into Lambeau and took down the Packers, 30-22.
As some of you saw a few weeks ago, Alex Boone has straightened himself out and earned the starting RG spot for the Niners. Boone and the O-Line paved the way for 186 rushing yards and gave up just three sacks, as Alex Smith hit 20-26 throws.
Donte Whitner had four tackles and a PD, while Larry Grant had a special teams tackle, as the Niners held the Pack to just 45 yards rushing.
On the Packers side, A.J. Hawk led the Packers with 14 total tackles, which made a play for this week's Houndie, but we like to award winning performances when we can. Ryan Pickett chipped in with a solo stop.
In primetime this weekend, Peyton Manning made his return and took over the game in the second quarter, leading the Broncos to a 31-19 win over the Steelers. Mike Adams saw significant time at RT for the Steelers, while Cam Heyward had three tackles and Will Allen jumped on a pile to get in the box score.
In Monday night's action, the Bengals got dismantled in Baltimore, 44-13, capping a bad opening week for pro teams in Ohio. Nate Clements was credited with three tackles and a PD, but Joe Flacco torched the secondary for 299 yards/2 TDs. Mike Nugent made both of his FG attempts and an XP, as the Bengals played from behind all night.
The other Ohio team, Cleveland, simply gave one away at home and looked bad offensively, losing late to Philly, 17-16. This was a very ugly game, as both QBs threw four picks, but it did give central Ohio fans the chance to watch the first Houndie winner of 2012.
Brandon Weeden played one of the worst games in NFL history and Kurt Coleman played a big part in making that happen. KC4 overcame getting bowled over by Cleveland's other rookie, Trent Richardson, and picked off two Weeden passes while also tying for the team lead in tackles with five. Brian Rolle also chipped in with two tackles for Philly.
His first pick came in the second quarter at the Philadelphia 1-yard line, as the Browns were poised to take the lead from inside the red zone, the ball was tipped a couple of times right into Coleman's arms. His second INT came at the end of the game and sealed the Browns' fate with just over a minute left.
I understand the Browns are bad, but those were two crucial picks at critical times and helped overcome Vick being Vick and Andy Reid being, well, Andy Reid. It's good to see Coleman solidify his safety role with the Eagles and if he keeps this pace up, he'll have the all-time NFL record with 32 INTs in a season.