Ladies and Gentlemen: Mr. Richard A. Rodriguez has his Arizona Wildcats out to a 2-0 start for the first time since...okay, 2010.
But Coach Rod is no stranger to fast starts - remember, Michigan gets Notre Dame and directional Michigan schools almost every September. Still, putting 59 up on T. Boone Pickens' squad should raise eyebrows, even if it happened with 75% of the country already sleeping and against a prototypical Big XII Defense™.
Unfortunately there's no September Heisman in the cards this time around, breaking a streak for RichRod teams that dates back to 2005 when little-known Pat White was trying to earn the starting job at West Virginia as a redshirt freshman.
White, Steve Slaton, Tate Forcier and then Denard Robinson all carried the torch in the years that followed, and Septembers have been pretty awesome ever since. Octobers and Novembers have been...a mixed bag.
We know how everything went at Michigan, but blowing a BCS Championship Game invite to Dave Wannstedt at home is as bloody as anything Greg Robinson perpetuated in Ann Arbor.
Nevertheless, it's good to see Señor Snakeoil back on his feet. We never wished him any ill will during his all-too-brief period on Ohio State's calendar.
Welcome to Week Three of the most beautiful season. Let's get Situational.
The dead president

Our election year features what we've grown accustomed to in presidential politics: Lawyer vs. Lawyer for the highest office in the land.
This wasn't always our custom. We used to branch out. We used to elect rugged, self-made blue collar bootstrappin' never-before-elected-made-for-Lifetime-TV-movie candidates. Vessels of masculinity built for leadership. Vessels like Herbert Clark Hoover.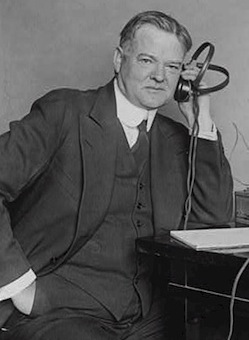 Hoover was a writer by trade (wooo!) as well as a mining engineer who had majored in Geology. He had zero experience in the courtroom and made his fortune via the mines of the world. Hoover served as the Commerce Secretary to Warren G. Harding, which also categorically made him a gangster-by-association.
While his presidency is viewed by history as being somewhat of a global catastrophe with that whole pesky "Great Depression" thing happening on his watch, Hoover does have some less-awful notables on his resume: He's still the only POTUS to ever hail from the great state of Iowa, which will be recognized shortly in The Nowledge section below.
Hoover was also the first-ever student at Stanford and actually played in their inaugural rivalry game against Ohio State's Saturday opponent, the California Golden Bears, which his future-Indians-and-eventually-Cardinal won. He entered politics only after conquering the global mining trade and making millions.
The first election Hoover ever ran in was the one that gave him the presidency. While he was a solid ComSec prior to his promotion, as POTUS he signed off on one of the worst pieces of legislation in economic history that now serves as the entire Cautionary Tale portion of macroeconomics curricula in America.
Twenty-one years after the first-ever Federal income tax on the highest bracket was set at 7%, Hoover raised it just a smidgen to...right, 63%. And that, along with a whole host of other Depressing factors, led to his dismissal from the White House in favor of FDR after one brief, horrendous term.
We'll never forget you, Double-H. The dam that bears your name helps keep Vegas moist, and for that we will always be grateful.
---
THE SITUATIONAL wagerS: Cat, Turtle, Frog, BIRD, MAN


THE CAT: Pittsburgh Panthers (+10) against Virginia Tech, because just when you think Pitt couldn't possibly suck any more than it does it will do a 180 just to troll the world. (Hi again, RichRod)

 

THE TURTLE: Maryland Terrapins (even) over Connecticut to complete the best week in UConn sports history. Good sailing, Coach Calhoun.

 

THE FROG: TCU Horned Frogs (-22) over Kansas. Despite having played featherweights South Dakota State and Rice, Charlie Weis' decided schematic advantage has only produced the 112th-ranked passing offense and the 73rd ranked scoring team. They'll probably lose 24-0, and then KU will extend his contract to keep him away from the New York Giants. #precedent

 

THE BIRD: Louisville Cardinals (-3) over North Carolina. In this multi-faceted metaphor, a bird poops on a Fedora.

 

THE MAN: Central Florida Knights (-15) over FIU. I'm a believer after last week, and there have to be more holes in FIU's secondary than there were between Bradley Roby and that Island guy at the other corner.

 

LAST WEEK: 2-3 | SEASON: 4-6
The NOWLEDGE

Condescending nicknames for college sports teams come in many shapes and sizes, and - it's tough to break this to you - nearly all of them are hacky.
There are exceptions, and all of them qualify on account of being clever: Free Shoes University is on that short list. Conversely, transforming the S in FSU into F$U is not. That's hacky.
That School Up North was clever, insinuating that "Michigan" is a dirty word. Calling Ohio State the name of different Ohio school that just angers the one in Athens and creates effective bulletin board material is...ehhhh...cute, especially after Michigan's most recent NCAA Tournament exit.
Now, condescending rhyming nicknames are somewhat uncharted. If Transylvania University was the Draculas or the Mummies (as they should be; for some dumb reason they're the "Pioneers") then we would almost be forced to call them the Crapulas or the Dummies. Neither are all that clever, but rhyming is the great equalizer for lack of originality.
Which leads us to the Buckeyes. Like the indigenous nut itself, Suckeyes is a condescending nickname that's exclusively ours. OR SO YOU THOUGHT:
If Michigan had as easy of a schedule as the Suckeyes do, theyd be the best team in the country... We play muuch better teams...

— † Tyler Bollinger † (@tylerbollinger1) September 2, 2012
†Tyler Bollinger† makes a good point: Michigan's schedule is much different from Ohio State's. The Wolverines never play Michigan. Never.
We'll probably see Tyler again later. <-- foreshadowing
The cyclones are here. Watch out suckeyes!instagr.am/p/PVwNWDyArH/

— Traci Newman (@tracimagee) September 9, 2012
WOAH WOAH WOAH HOLD ON Ohio State has never played Iowa State in football. The Cyclones played Iowa last weekend, and Hawkeyes only rhymes with Suckeyes if Brent Musburger is saying it. And Traci Newman, you could drink a dozen beers live on the air and you still wouldn't be Brent Musburger.
Proud of Iowa State! Better luck next year #suckeyes

— Morgan Lee(@MorCrayCray) September 8, 2012
There it is again. I lived in Iowa for six years and only heard Suckeyes when Ohio State was the topic. Time - and perhaps accents - have changed, apparently.
Storm Johnson 6 carries for 63 yards against OHIO #SUCKEYES

— Sebastian Ibis (@Miami_DaU) September 8, 2012
There we go. Thank you, Miami_DaU, for checking in during Miami's gruesome decapitation by Kansas State. #copingmechanism
HAHAHAHAHA SUCKEYES!!! #LetsGoUCF

— Kevin Burke (@GoIrishGlory) September 8, 2012
Love from South Bend. Or perhaps Cincinnati. Or anywhere else where eighth grade-educated great grandparents pass down their antiquated football customs from that glorious Hoover era.
Keep balln out @heismanwoods. Gotta keep all these suckeyes and neuter lame fools quiet for me out here in Cleveland. #championship

— Isaac Barley (@IsaacBarley) September 10, 2012
In all seriousness, using Neuter Lame in place of Notre Dame is crude, discriminatory and hateful: The reproductive rights of the fools should be defended, even if they are crippled.
Iowa SUCKeyes hahaha

— Andrea Jansen (@An_2_DREA) September 9, 2012
[The irony that Iowa State SUCKclones actually fulfills rhyming obligations better than Iowa SUCKeyes does.]
1st QTR STATS UPDATE: O$U leads U of M...in 12pm games, 2-0 #Suckeyes

— Jay (@mgoblue1982) September 8, 2012
He's right: O$U is crushing U of M in nooners two weeks into the season. This is an incredibly meaningful statistic somewhere.
I like the piss yellow uniforms #suckeyes

— Tanner Wilson (@tannerwilson49) September 8, 2012
[The irony that Iowa State and Iowa both have copious amounts of yellow in their uniforms.]
— Stack OR Starve (@Dre_freebandz) September 8, 2012
FINALLY THE ROSETTA STONE: Dre_freebandz selflessly provides the correct translation. O-H!
#Buckeyes ? More like #Suckeyes

— Robbie Kingsley (@rkings40) September 8, 2012
IT'S ALL OURS. SUCK IT, SUCKEYES! <-- this is directed at Iowa. I-O!
@italian__badboy only thing better than Michigan winning is watching suckeyes lose haha I'm lovin it like McDonald's

— Mr. Winnings (@J_Winnings) September 8, 2012
Mr. Winnings dropping special sauce on your lettuce and cheese: McDonald's - despite its workers' seasonal piss-yellow uniforms - is America's Restroom™. Just exit any highway - where are you going to pee? Yeah, you know where. USA! USA! USA!
Living in Columbus u get tired of going back and fourth with these Suckeyes only way to shut them up is beat there ass

— Poncho (@KingWolverine34) September 4, 2012
Poncho may be forced to live in Columbus, but he wasn't forced to become a Michigan fan the same way that Brady Hoke did. Decisions have consequence, King Wolverine. Also: #there
I think we've ventured through the Suckeyes swamp long enough. Back to our original lesson: Condescending nicknames are generally hacky. But enough with the negativity - it's time for †Tyler Bollinger† to come back and TAKE US OUT:
Im gonna come out and admit it... I like Nickelback... They really arent that bad people

— † Tyler Bollinger † (@tylerbollinger1) September 9, 2012
Indeed. It's not like they're Suckeyes.
The Bourbon

There is a bourbon for every situation. Sometimes the spirits and the events overlap, which means that where bourbon is concerned there is typically more than one worthy choice.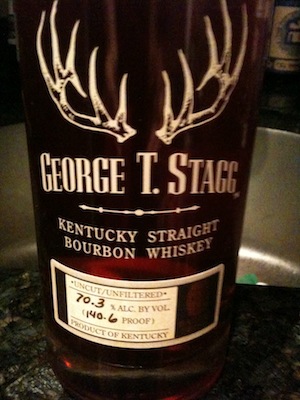 In the first two installments of The Situational we covered two basic bourbon cocktails: julep and the classic pairing with cola. Now it's time to get rare, expensive and highly-flammable.
Hard-to-find bourbon hunting is a sport in and of itself, and George T. Stagg is an eight-point buck for the bourbon hunter. Its proof runs into the 140s, which makes it one of the meanest whiskeys you can find - if you can actually find it.
Stagg is uncut, generally unavailable and regularly beats pretentious and expensive Highlands scotch in taste tests. It also collects awards like Tim Tebow but doesn't sell them for petty cash like Terrelle Pryor. All class; no sass.
The situation for a few fingers of George T. Stagg is subject to availability, meaning if it is available to you - both physically and fiscally - then your choice has already been made.
Sure, drinking that first sip may feel like inhaling C-4 explosives, but that nose hair-destroying liquid fire burns like the best tobacco-flavored butterscotch you've ever had. It's wonderful. Imagine wasabi being gently rubbed on your frontal lobe.
You'll talk about that pull of George T. Stagg you found long after you finish the glass; how warm it made you feel, how strange your dreams were that evening and how big of a fit your ladyfriend threw when she found out what you paid for a single drink.
But it will totally be worth it. Because when a hunter sees an eight-point buck, that hunter fires his gun.
The PLAY-OFF

The scene is the Beaumont in the Lincoln Park neighborhood of Chicago. It's the very early hours of Sunday, Nov 5, 1995.
Earlier in the evening, Terry Glenn bounced off of the Metrodome turf after making a typically-ridiculous Terry Glenn catch in a 49-21 beating of the Gophers. Ohio State is set to move to #2 in the polls and has already bested six ranked teams during the season.
Eddie George is emerging as a serious Heisman candidate, Bobby Hoying is throwing darts to Glenn and Rickey Dudley on a weekly basis and the Buckeyes are a fully-deployed metal-shredding juggernaut.
But the memories of high-fiving over Ohio State's touchdowns in Minneapolis have faded with every passing 12oz curl and 1.5oz flip. There are now strange women on the scene - the only type that's ever found at the Beaumont - and they are saying things to our protagonists. Important things, meaningful things, deep things and personal things.
Our heroes are listening intently, or at least making faces to create the illusion that they are. Smoke billows from cigarettes being burned inside of a public building during an era when it was still legal to do so. The floors are sticky. The bar is sticky. The situation is slowly approaching stickiness as well.
Conversations that last this long into hours this late have significant meaning, even when they're meaningless. But the DJ abruptly changes the mood of the entire bar by switching from the BritPop that was pervasive during that era to this lost, unfortunate 1990s hit:
It only takes a split-second to achieve song recognition, which produces a prolonged squeal from the females.
Our protagonists, realizing that all things named Breakfast at Tiffany's are inherently girly, remain stoic. They're still focused. They're totally locked-in. They're impervious to derailment by way of shitty pop songs, no matter how shitty they may be.
The shrieking has subsided, and the girls turn their faces from each other back toward our heroes. And then one of them speaks.
"You don't understand," she enthusiastically screams at them, "this song is totally the story of my life!" Her friend smiles and nods as their smiles extend further.
The men are now intently listening. No, not like before - that was more of a charade - now they're picking up on the song lyrics for clues into the inner workings of this late-night lady they had fallen into a time-warp with and they want to know exactly who she is. The first stanza begins its revelation:
You say that we've got nothing in com-mon
No common ground to start from
And we're falling apaaaahhh...
This frame isn't helpful, nor is it enjoyable. The whole arrangement sounds like a cover band covering another cover band that's covering the theme song from Friends. They continue listening, hoping for clues. The conversation has now stopped. It's not unlike the moments immediately following the Titanic's iceberg impact: Silence and creeping dread.
A jingly chorus about that movie neither one of them has seen nor cares to follows; the film is desperately being used by the male in the "story" of this song to convince the woman to stay with him. And then, another unhelpful frame:
I see you, the only one who knew me
And now your eyes see through me
I guess I was wrong
Our protagonists have heard enough. They've heard too much, actually. The once-sticky situation has abruptly gone slippery.
They now realize they are at the Beaumont. They should not be there. It is a terrible bar. It is an embarrassing place to be an an embarrassing hour to still be out.
It took a little over four minutes of the chewing gummiest song of the decade to completely turn their fortunes from strange women to the warm, gooey comfort of two-pound burritos and a five-dollar cab ride back to their dingy apartment. 
Breakfast at Tiffany's, horrifying as that song is, actually saved them. It was their lifeboat.
They had escaped a burgeoning courtship that very likely would have gone south quickly: Extending any relationship conceived at the Beaumont would require constant explanation and pathetic excuse-making. My girl? Her life is basically like that song, Breakfa-ah, um, I mean...she's basically the Macarena.
Were it not for Deep Blue Something, our protagonists* might not have escaped that night. And as I recall I think they both kind of liked that.
*the names of those in this true story have either been deliberately withheld or forgotten.
See you next week. Go Bucks.