Calling all students: head coach Urban Meyer is looking for a running back, and he wants you. Well, not really. But kind of.
With Ohio State's top two running backs injured and a third out for the season, Meyer knows that an already challenging date with Cal became that much more difficult.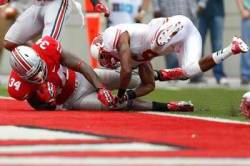 "We have to find a way to win that game," he said. "And I'm open for any suggestions."
"Not really," he added with a laugh.
But it has nearly come to that point for the injury-plagued backfield. Starter and senior leader Jordan Hall stepped on a piece of glass outside his apartment in June as he was cleaning up dog poop. It tore a tendon and sent him to the DL for 10 weeks. He has been jogging for a couple weeks now and is expected to attempt a return this week.
True freshman Warren Ball suffered a foot injury in fall camp and underwent season-ending surgery. He will redshirt.
Hall's injury elevated Carlos Hyde to the starting position. As a part-time starter in 2011, Hyde gained 556 yards and scored six touchdowns. In the 2012 season opener against Miami (Ohio), he exhibited those same skills, rushing for 82 yards and two touchdowns.
But in the second quarter of Saturday's 31-16 win Central Florida, Hyde suffered a sprained MCL in his right knee. Following the game, Meyer said he'll likely be out one or two weeks.
"Offensively, we're down to our third tailback, and it looked like it," he said. "We have to get better."
With Hyde sidelined, senior fullback Zach Boren and true freshman Bri'onte Dunn came on, but it was Braxton Miller who took on most of the carries. One week after 17 rushes, Miller had a career-high 27. While he gained 141 yards and scored three touchdowns, one can't expect a quarterback to take a constant beating week after week.
Boren finished with 16 yards on seven carries. One week ago, he was a little-used fullback with one career carry. Already this season, he's had nine and a touchdown. Boren did fumble on a reception today. Dunn tallied 29 yards on five carries.
Meyer could tinker with the idea of using wide receiver Philly Brown in a hybrid position. He had 33 rushing yards on two swing passes Saturday and 81 all-purpose yards.
So what's a coach to do?
"The only answer is it starts tomorrow," Meyer said. "When we jog the first unit out there (Sunday), someone will jog out at tailback. Our choices are Zach Boren, Bri'onte or Rod Smith. Those are the choices, and maybe some situations Philly Brown.
"We're going to have to really ID who is going to touch the ball. We have to go back to the drawing board and make some decisions on who is going to physically touch that ball and they have to take care of it, obviously."
That last note is in reference to two lost fumbles on Saturday, something Meyer called unacceptable if the Buckeyes want to be a good team.
Needless to say, it will be an interesting week at the Woody Hayes Athletic Center.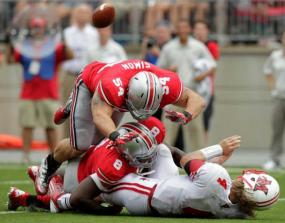 UNDER PRESSURE 
Ohio State was the superior team in each game so far. Games are won, we've been told, in the trenches. But against less talented offensive lines, the Buckeyes have a measly three sacks.
Meyer has taken notice.
"We have got to pressure the quarterback," he said. "(UCF quarterback Blake Bortles) had far too much time to throw the ball."
Michael Bennett has missed both games, while Nathan Williams sat out Saturday after experiencing soreness in his knee, but Ohio State should still be dominating the opposing line. John Simon and Johnathan Hankins have zero sacks among them.
All three takedowns belong to underclassmen: freshmen Noah Spence and Adolphus Washington and sophomore Steve Miller.
"They blocked us well," Simon said of the UCF O-Line. "That's no excuse for defensive players. It's our job to get through that. That's what we're here for. We're going to start doing that."
Help could be on the way in the form of the two injured playmakers. Bennett has been hampered by a groin injury that has been aggravated twice and keeps lingering. After not practicing all week and missing the UCF game, Williams could be rested enough to play against Cal.
"He was sore all week," Meyer said. "It's frustrating for him, and it's frustrating for us. It's a tough injury (microfracture surgery)."
SECOND(ARY) CHANCE
The word that can best describe Orhian Johnson is enigma. The fifth-year senior came to Ohio State as a highly-rated recruit with much expected out of him.
Johnson hasn't been a bad player, more like underwhelming. Quiet and reserved, he's a likable person in the locker room and popular among his teammates. Johnson has largely ignored the criticism from fans and let his play on the field speak for him.
Last season he tied Bradley Roby for the team lead with three interceptions. But his mysterious career took another turn in Week 1 when Pittsburgh Brown occupied the star position, leaving Johnson on the sideline.
But after a good week of practice, Meyer urged the defensive coaches to insert Johnson into the lineup. They listened, and Johnson recorded six tackles and an interception. He also tipped a pass in the second quarter that ended up in the hands of Travis Howard.
"I was very involved with that decision because I see he's so talented," Meyer said. "But he's another guy that's been around here, production hasn't been exactly what it needs to be. He earned that right in practice. He does some really good things for us on special teams, and we felt like we needed more production out of that nickel spot."
The Buckeyes intercepted three passes today and now have five on the season.
Complete Game Coverage
"It felt good to get out there and help my teammates win," Johnson said. "I felt comfortable being on the field. Just being out there, playing around, running around. It definitely felt good to get my hands on the ball."
Unfortunately for Johnson, despite the great play, he still has punishment awaiting him on Sunday. Cornerbacks coach Kerry Coombs makes his secondary players do 50 push-ups if they drop an interception. Johnson said he'll split the difference and do 25 since Howard came away with the pick.
Just having the chance to drop a ball was all Johnson wanted, though. Opportunity granted.