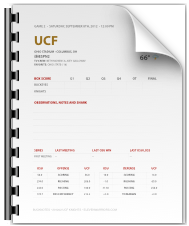 Bucknotes are your pocket guide for the game. Print them off and amaze your friends with your knowledge and insight.
The UCF Knights, led by resume padder and former Notre Dame coach George O'Leary (five days does a tenure make), will face the Buckeyes for the first time on Saturday. Both teams opened with impressive wins—UCF thumped Akron on the road 56-14, while Ohio State took care of Miami in the Shoe 56-10—but Vegas is liking the Buckeyes more and more with each passing day as the line opened at 14.5 but has quickly moved to 18.
Fun fact: When the Knights line up with a tight end to the right side of the line, from center to tight end, they'll have a Jordan, another Jordan, a Justin and another Justin. Jordan McRay (RG) and Justin McRay (RT) are twins.
Saturday's tilt will also serve as former Buckeye Joey Galloway's first Ohio State game in the booth for ESPN, where he'll be paired with Beth Mowins.