Week one of college football is in the books, and it was certainly a good one if you are a fan of the Buckeyes, with OSU cruising to a 56-10 win over the Miami RedHawks.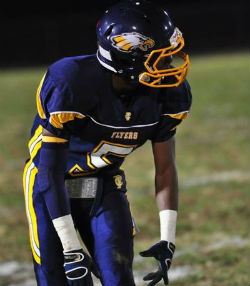 It was also a good week if you are a fan of recruiting, as the Buckeyes hosted a slew of top prospects for the opener and Hurricane Isaac was kind enough to hold off on raining over Ohio Stadium for most of the contest last Saturday.
Saturday not only was key for recruiting prospects attending the game, but it also marked the date that the contact period for junior prospects officially opened, meaning when the clock hit 12 AM on Saturday morning, the OSU coaching staff was on the horn with many of the top prospects around the nation.
This week we're back with the UCF Week edition of the 11W Recruiting Notebook and we once again bring you a jammed-packed plethora of information.
Join us after the jump to find out who the staff contacted this weekend, what the latest happenings on the recruiting trail are, how high school prospects faired in week two of the season, and who is on the docket to take in the big game this weekend.
The Buzz
There is a lot of buzz and chatter floating around recruiting circles after this weekend, so let's jump right into the goods.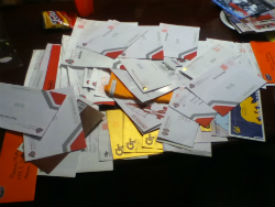 The Buckeyes are eyeing two linebackers in the class of 2013 and Tyquan Lewis and Mike Mitchell are the two players at the top of the list.
The latest development in this story has Lewis making an announcement on September 20, with Mitchell coming out and naming Ohio State and Oklahoma at the top of his choices.
When it's all said and done, I expect Lewis to pick the Buckeyes later this month, and I believe the choice has already been made. As for Mitchell, the good sign for Buckeye fans is that he has already visited Oklahoma and says they are tied with Ohio State atop of his list. He has not yet visited Columbus, but says he plans to take an official sometime this season and I truly think once he does that, he will become a Buckeye.
Another big time 2013 target is Belle Vernon (PA) Area OT Dorian Johnson. Johnson was originally committed to Penn State, but opened things up after NCAA sanctions were handed down to the Nittany Lions.
Miles caught up with Johnson and the 6-6/280 prospect told him that his top three, in order, right now are Pittsburgh, Ohio State, and Virginia Tech. He plans to take official visits to all three schools and then make a decision after the season. Right now our feeling is that Pitt will win out for his services, but a superb Buckeye visit could change things, so keep an eye on this one.
Ryan Timmons is a name that has caught steam recently, as the four-star wide receiver prospect from Kentucky made multiple trips to OSU this summer for camp and has expressed high interest in the Buckeyes. 
Timmons told us this weekend that he speaks to the Ohio State coaches every week and that the staff is telling him to hold off on committing anywhere, as they will offer him if a spot is open. The speedster is setting up a visit to campus sometime this season and it appears that he would commit to the Buckeyes on the spot if offered.
As for 2014 prospects, the big news came out of Cleveland Glenville, as junior ATH Marshon Lattimore was offered by Ohio State. Lattimore is pushing to be named the top 2014 player in Ohio and can do it all with the ability to play running back, wide receiver, or defensive back. He is a fan of the Buckeyes and was at OSU's opener this past weekend after tallying 6 carries for 107 yards and a score on the ground, to go along with 6 catches for 132 yards and 3 touchdowns through the air, in a 40-17 Glenville win over Solon. Stay tuned to 11W for more on Lattimore in the coming weeks.
One of the top quarterback prospects for 2014, Drew Barker took in the OSU-Miami game this past weekend and called the experience "awesome". He also liked how the coaches contacted him the night before the game (well really, morning of the game) as soon as they could, right after the contact period opened, as well as spoke to him after the game to see how he liked the experience. Overall, the Buckeyes are doing a great job in making sure Barker feels wanted despite not offering yet, and if an offer comes his way, OSU has as good a shot as any school.
Another 2014 prospect who took in Saturday's win was Monroeville (PA) Gateway DB Montae Nicholson. Nicholson too enjoyed himself, but did not come away with the offer he has coveted. The Gateway star was born in Columbus and grew up rooting for the Buckeyes, so it's not a surprise that an offer from Urban Meyer would put the program at the top of his early list.
Speaking of top junior prospects, Raekwon McMillan had himself a game this weekend, recording 15 tackles and 2 sacks in his team's opener. The five-star linebacker also filled us in on his recruitment, giving us a top five, in order, of Ohio State, Georgia, Clemson, Alabama, and USC. McMillan booked his plane tickets for the OSU-Michigan game already, and will also attend three Georgia games and an Alabama game this season. He said he will have a decision made by this time next season, but won't announce until the Under Armour All-America Game.
Demetrius Knox is a name now well known to recruiting fans and his story will be an interesting one to watch play out. Knox almost committed a few weeks ago to Texas after they offered his teammate and close friend, Daniel Gresham, but decided to wait things out a bit. Gresham committed to Texas and Knox has expressed he wants to play with someone he calls "his brother", but is willing to take some other visits and give time to schools to see if they offer his running back.
Knox told us if he had to pick today, the choice would be Texas, but that Ohio State, Alabama, TCU, Baylor, Michigan, Oklahoma, and Oklahoma State are all showing interest in Gresham of late. He also mentioned that the Buckeyes, Crimson Tide, and Horned Frogs probably pose the biggest threat to UT when it comes to landing his services, if, and only if, any or all of those programs offer his good friend.
CJ Reavis is one of the top defensive backs in the class of 2014 and made the trip to Columbus for Friday Night Lights. On Monday, Reavis took in the Virginia Tech-Georgia Tech game at Lane Stadium and enjoyed his visit for the Hokies' opener. Word on the street is that Frank Beamer's squad is the team to beat for Reavis's services, but a source tells us that many think the only school that can change that is Ohio State.
Finally, West Chester (OH) Lakota West RB Mikel Horton has had a fine season thus far, rushing for 370 yards and 4 scores in just two games. Horton may end up being the state's top running back in the class of 2014, but right now doesn't have any offers to his name. He does have a list of top schools though, and they are, in order, Michigan State, Wisconsin, Ohio State, West Virginia, Cincinnati, and Alabama. Horton will visit Cincinnati this Thursday for the game against Pitt, Wisconsin for their game against Michigan State, and Ohio State for The Game against Michigan.
I personally feel that the 6-1/225 junior fits the mold of a Spartan or Badger running back better than he would in the Urban Meyer system, but OSU is in weekly contact with the Cincinnati-area star so we will see where this one ends up.
High School Football recap
It was a big week in high school football and most of the Buckeye commits and targets were in action last weekend.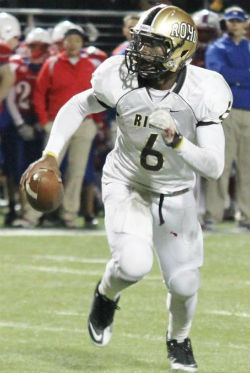 JT Barrett and Wichita Falls (TX) Rider made their debut on Friday, falling in a heart-breaker to Abilene Cooper by a score of 43-36. Barrett did his part to help his team, going 9/20 for 271 yards and 2 touchdowns through the air, while also running for 178 yards on 23 carries with 2 more scores. The passing percentage wasn't fantastic, but Barrett continues to show he is a big time playmaker.
Marcus Baugh opened up his 2012 season with a 41-0 victory over Colton. The future Buckeye tight end had a nice game, recording 5 catches for 75 yards in limited action due to the lopsided score.
Ezekiel Elliott was at it again, rushing for 157 yards and 3 touchdowns on 5 carries, while also hauling in an 89-yard touchdown pass, all in the first half, en route to Burroughs' 35-0 win over St. Louis (MO) Lutheran South.
Michael Hill and Pendleton rolled to another lopsided victory, this time winning 60-0 over Westminster (SC) West Oak. The big defensive tackle and future Buckeye had a sack in the win.
Taivon Jacobs was also victorious in his season opener, as District Heights (MD) Suitland rolled over Washington, DC McKinley Tech 41-0. Jacobs was a true triple threat, scoring on the ground, through the air, and via a pick-six while on defense.
Darron Lee and New Albany fell to 0-2 on the season after a 23-20 overtime loss to Westerville Central. Lee had a much better performance in week two, going 7/14 for 140 yards and a touchdown at quarterback, while also returning a punt the distance of 51 yards for a score.
Jalin Marshall didn't have to do too much in Middletown's 31-0 win over Springfield. The senior star sat out the second half after throwing for 112 yards and 3 touchdowns, also rushing 10 times for 65 yards, in getting his team even to 1-1 on the season.
Tracy Sprinkle had another monstrous game as Elyria beat rival Elyria Catholic 43-7. Playing both defensive tackle and defensive end, Sprinkle recorded 9 tackles (7 for loss), 5.5 sacks, a fumble recovery, and 4 quarterback hurries in the victory.
Jayme Thompson and Toledo Catholic took down Temperance (MI) Bedford 49-28 at home this weekend. Thompson helped out with a 32-yard interception return for a touchdown, while junior QB DeShone Kizer contributed, going 7/9 for 78 yards and a touchdown passing and adding 5 carries for 70 yards and a score on the ground.
Corn Elder continues to rack up the numbers, as he had 219 rushing yards and 4 touchdowns in Ensworth's 47-10 win over Chattanooga (TN) McCallie.
The top player in 2014, Da'Shawn Hand, made his debut this weekend and it was a successful one. Hand finished his first game with 11 tackles, including 4 for loss, as well as a quarterback hurry.
2014 RB Jonathan Haden, the brother of former Gator and current Brown Joe Haden, ran 20 times for 196 yards and 2 scores this past weekend. The younger Haden also gave OSU fans some good news this weekend, confirming the team is currently at the top of his list, citing his desire to play for Urban Meyer.
Finally, 2015 quarterback prospect Jayru Campbell of Detroit (MI) Cass Tech helped his team to a 57-0 win over Detroit (MI) Northwestern. Campbell only played the first half of the game, yet still recorded 3 passing and 2 rushing touchdowns in the contest.
Week 3 Games to take note of include:
Mentor at St. Ignatius (Mitch Trubisky, Jimmy Byrne)
Washington DC Woodson at St. Edward (D'Andre Payne)
Elyria at Midview (Tracy Sprinkle)
Detroit (MI) Central Catholic at Cincinnati Moeller (Wyatt Shallman, Shane Jones, Alex Gall, Keith Watkins)
Colerain at St. Xavier (Chris Davis, Dylan Wiesman, Trey Kilgore)
Trotwood-Madison at Huber Heights Wayne (Cam Burrows, Mike McCray, Ashton Jackson, Verondtae Wilkinson, Lovell Peterson)
Cincinnati Elder at Louisville (KY) Trinity (Devin Pike, James Quick, Jason Hatcher)
Springfield at Sycamore (Thaddeus Snodgrass, Davonte James, Tinashe Bere)
Visiting This Weekend
As you can see in our Season Visitor Thread, week one brought in a number of players on Ohio State's recruiting board, as well as some other prospects trying to get the staff's attention.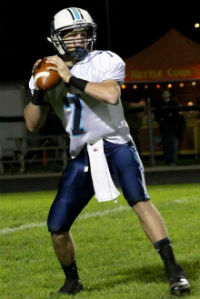 Week two brings us some more talent, and while the list is sure to grow, a solid base is expected in with QB Joey Duckworth, WR Thaddeus Snodgrass, OL Kyle Trout, OL Nathaniel Devers, DB/WR Marcus Whitfield, and DB Cam Burrows.
Duckworth, who starts for Louisville (OH), was a no-namer just a few months back but really launched himself into the spotlight with a great summer camp showing. The 6-3/185 signal caller is more of a pro-style passer and doesn't fit the Meyer/Herman mold, but has shown great accuracy and arm strength when working out in front of the staff. The coaches will continue to forge a relationship with the junior, but I expect him to land somewhere else in the Big Ten when he makes his decision.
Snodgrass is Ohio State's top in-state target at receiver for the class of 2014, and Meyer was really impressed with his workouts at camp this summer. Springfield, for whatever reason, hasn't tried to utilize the speedster in its first two games, but the 11W staff has seen him workout against top talent live and have been very impressed. Notre Dame and Michigan State are the main threats as of now, and this weekend's visit should go a long way in further putting the Buckeyes out in front.
Trout was invited down to this weekend's game by Mark Pantoni and will make the trip with his parents. At 6-6/270, the Lancaster lineman has great size, as well as great athletic ability, and projects as a tackle at the next level. He has been hearing from many of the top programs in the Midwest and it could be a matter of when, rather than if, the Buckeyes offer. Trout is one of a handful of Ohio linemen the Buckeyes are telling to stay patient as they evaluate handing out offers, so it will be interesting to see what comes out of his visit for the UCF game.
Two Massillon Washington stars will be making the trip to Columbus in OL Nathaniel Devers and DB/WR Marcus Whitfield.
Devers, 6-4/270, is a good fit at guard at the college level and is looked at as one of the premier linemen in Ohio for his class. He currently holds an offer from Toledo, but has been getting a lot of interest from many BCS programs, including Michigan, who he currently holds at the top of his list. The Buckeyes have not been in touch with Devers as much as their rivals to the north have, but interest is starting to heat up and this trip could be key in this recruitment.
Whitfield is a smooth athlete at 6-1/170 that can play on either side of the ball at the college level. He doesn't hold any offers yet, but says Ohio State has been showing a ton of interest in him early on. He is a big Buckeye fan and if offered they appear to be the leaders, but teammate Gareon Conley is a Michigan commit and is trying to sway him to join him in Ann Arbor should the Wolverines come in with an offer. It is a good sign that the staff is having Whitfield at Saturday's game.
Finally, Burrows will once again take in the game at the Horseshoe as his team's Thursday night game allows for the trip to Columbus. Burrows continues to be an ace recruiter for Ohio State and has acted as an extension of the coaching staff when he is around his peers at OSU.