It wasn't a facade. When Urban Meyer praised Zach Boren throughout the spring and fall, people knew the senior captain was a great leader and strong voice in the locker room. They were also aware of his on-field skills, at least acting as a lead blocker.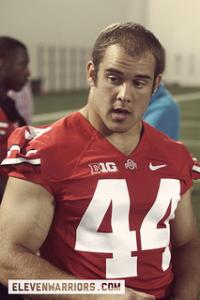 But Meyer promised to use Boren as a runner and pass-catcher. In the season opener Saturday, Boren, a three-year starter who had one career carry entering the game, had carries on back-to-back plays in the fourth quarter. On the second carry, Boren found the end zone for the second time in his career, helping lead the Buckeyes to a 56-10 victory.
Meyer said he found personal gratification in Boren's score, because of his toughness and devotion to the program.
"I love Zack Boren," Meyer said. "We had to do that. I'm not sure how many carries he had today. I think we had four or five runs early in the game called to him and the defense (made) the quarterback pull it. But Zach Boren will carry the ball for you. He's a good runner. He's a Buckeye, and he deserves to get it."
When Meyer learned Boren had only carried the ball once previously in his career, he was shocked.
"Wow," Meyer exclaimed. "That's good for him. If you watch him play, he's a nifty guy. That wasn't a gimme. We'll do a gift once in a while. That was not a gift. He's a good player."
Said Boren: "It was nice to be in the end zone. I haven't had a touchdown since my freshman year, so it was cool to score again. But I really just want to do anything I can to help this team win, whether it means run the ball, block or catch a pass."
WE HAVE A VISUAL
Putting is one of the most challenging aspects of any sport. It separates the good from the great in golf and is often a cause for people quitting the sport.
Visualize the stroke and the line the ball will travel. That is the lesson beginners get. In basketball, it's visualize your shot.
That theme also rings true for the Ohio State secondary. Boisterous cornerbacks coach Kerry Coombs exhorted his unit to visualize their actions on the field Saturday.
Instead of a midnight snack, Travis Howard sat in bed Friday thinking about interceptions and the Miami wide receivers lining up across from him. It didn't give Howard nightmares as evidenced by Howard's two interceptions.
"Game day happened exactly how I pictured it," Howard said. "Everything (Coach Coombs) said actually worked. I appreciate how he got us mentally prepared for the game."
Statiscally, the Buckeyes had to face one of the best quarterbacks in the country. Miami's Zac Dysert is ranked third among active quarterbacks in career passing yardage, trailing Landry Jones and Matt Barkley. Dysert was able to get his yards – he finished 31 for 51 with 303 yards and a touchdown– but those two interceptions loomed large.
"We gave up a couple big plays, but I think we came back and regrouped," Howard said. "We went out there and played an aggressive game."
Sophomore cornerback Bradley Roby also got involved, scoring on a special teams play and tracking down Miami wide receiver Dawon Scott in the first quarter on what looked like a sure touchdown. Roby, though, the fastest player on the team, ran down Scott and Miami was forced to kick a field goal.
Still, despite the interceptions and only allowing 10 points, Roby thinks the secondary left much to be desire, grading them as a B-.
"I felt like we could have made more plays on the ball," he said. "I could have had my pick if I kept my feet in bounds. CJ (Barnett) dropped a pick. We can definitely get better, it's just the first game."
NEW KIDS ON THE BLOCK
One of the biggest themes of camp centered around how many true freshmen were listed on the Ohio State two-deep – 14 in all (10 true and four redshirt). It may send red flags to some, but Meyer felt it was the norm in present-day college football. The plan was to get as many as possible into the game.
Twenty in all (14 true, six redshirt) saw game action, but they weren't in until the game was out of reach. The most talked about freshmen, Taylor Decker, Noah Spence and Adolphus Washington, played the most. But even they saw few snaps during critical moments.
A platoon system at right tackle, with Decker and Reid Fragel, was a possibility. Fragel took a majority of the snaps, however. Spence and Washington each had their first sacks.
The all freshman group of backup linebackers – David Perkins, Camren Williams, Jamal Marcus and Josh Perry – did not play at all on defense, only special teams.
Complete Game Coverage
The class is still impressive, and considering it was just the first game, plenty can happen. Co-defensive coordinator Luke Fickell said redshirts for the true freshmen would be few and far between.
Since he was hired, Meyer has said you recruit star high school players to get on the field, not redshirt them and let them waste away for a season.
The most impressive freshman performance of the day came from cornerback Armani Reeves. But it wasn't necessarily because he was intercepting passes. In fact, he had none. He did return kicks, though, and averaged 22.5 yards per return.