The schedule.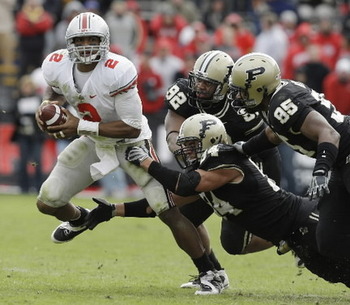 Every college fan scours it months (sometimes years) in advance. 
In the days leading up to that first weekend, everyone is undefeated. The optimism a clean slate generates causes fans to split upcoming games into two categories: 1. Definite win and 2. Winnable.
Fans aren't the only ones taking part in this behavior. Players (and yes even coaches) are doing the same. While most in the program would never admit it outright, certain games are bucketed in the win column long before they're played.
Sometimes that strategy fails to produce the best outcome.
To avoid less than the best outcomes against opponents who appear weaker in comparison, a team must take care of business; or as we like to call it here at 11W: a team must step around it, not in it.
What is "it" you might ask? "It" is that terrible, no good pile of upset that can leave a smell lingering long after the initial "stepping-in". Don't step in it; step around it.
UCF (9/8)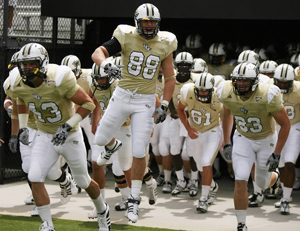 What stepping in it looks like: Fresh off of Urban Meyer's first win in Columbus (a blowout of Miami of Ohio), the Buckeyes come in overconfident against a not-so-bad University of Central Florida team. 
A game removed from taking on the University of Akron, UCF's travel time to Columbus is a fraction of what it would have been. The Knights look fresh after spending the week in Ohio (who wouldn't?).
Ohio State scores early, but then unfamiliarity with the offense coupled with looking ahead to Cal allows UCF's 2011 conference leading scoring defense to create turnovers. 
Ohio State's D does everything they can, but working with a short field allows UCF to put points on the board. The Knights win 24-21 and Urban Meyer's honeymoon is officially drowned by the tears of 106,000 Buckeye fans.
Catch up on everything you need to know ahead of the season kickoff.
What stepping around it looks like: The Buckeyes come back in their second week and simply take care of business. 
John Simon and company overwhelm sophomore starting QB Blake Bortles and shut down University of Miami (Florida) running back transfer Storm Johnson, who many Knight fans are high on.
After one week of executing plays against a defense not clad in scarlet and gray, the offense starts clicking en route to a 42-7 blowout. Columbus rejoices and Woody Hayes looks down from above and whispers the word "sublime" before galloping away on a horse with Lloyd Carr's face.
@Indiana (10/13) night game
What stepping in it looks like: After opening the Big Ten season against two conference slobber-knockers in Michigan State and Nebraska, the Buckeyes head to Memorial Stadium looking for a much easier matchup.
Unfortunately for OSU, the good people of Bloomington show up in hordes to root for the Hoosiers in their first primetime game against a ranked opponent in 2012. The atmosphere is raucous.
Head Coach Kevin Wilson is looking for a statement game after going 1-11 last season, and he's had Oct. 13 circled on the schedule since the day Urban Meyer was hired.
The former Oklahoma offensive coordinator calls a flawless game, and leans heavily on returning starters, including seven of Indiana's top nine receivers as well as a defense that returns all four linemen and 3/4ths of last year's secondary.
In a loss, Ohio State finally finds out what a Hoosier is. The answer is equal parts depressing and terrifying.
What stepping around it looks like: Ohio State comes in battle-tested after facing two of the toughest opponents on their schedule. 
With depth at a number of key positions, the Buckeyes are able to wear down the Hoosiers who are young and thin at nearly every position (they return only eight seniors, tied for the fewest in the nation). 
Urban Meyer takes affront to Wilson circling the matchup as a statement opportunity and decides this will be the Buckeyes' 100 point game. 
OSU scores 15 touchdowns and leaves Bloomington with 105 points and Indiana's soul.
Purdue (10/20)
What stepping in it looks like:  I'll just leave these here.
What stepping around it looks like: The Buckeyes realize they don't have to play Purdue in the house of horrors that is Ross-Ade Stadium. Bolstered by the knowledge they'll be playing the Boilermakers instead of the All-Star team that shows up every other year in West Lafayette, they go to work.
The high-octane aerial attack is too much for Purdue's D, which was ranked 81st against the pass a year ago.
With no one on the scout team who can mimic Braxton Miller's abilities in practice, the defense appears unready for his athleticism. The lack of adequate preparation causes Purdue's defensive backs to tackle a shifty number five far too often. Boilermaker defensive tackle Kawann Short plays like the stud he is (17 tackles for loss including 6.5 sacks in 2011) but it's not enough.
In the waning seconds of a 35-3 game Meyer subs Miller back in to throw a TD pass, atoning for the sins of a year ago. As Danny Hope approaches Meyer to let him know the final pass was unsportsmanlike, Meyer throws Hope through Purdue's giant drum and walks calmly off the field muttering something sounding vaguely like "boiler-up".
There are certainly matchups on a team's schedule that seem like an assured "W'. Fans know it, coaches know it, and even players on both sides (strong and weak) know it.
If the more talented team shows up to play, they'll be victorious 99.9% of the time. However, if that team lifts their head, even for a moment, to eye something further down the path, they're liable to step in something right in front of them.
Keep your head down; step around it.