Objectively looking at the schedule, starting 4-0 feels like a foregone conclusion.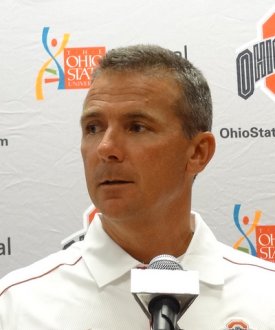 We've all heard the chirps about California and UCF at least being decent teams but I think most of us believe it's a pretty safe bet that a reinvigorated Ohio State football team, led by an equally reinvigorated Urban Meyer and playing at home in the 'Shoe, will prove more than enough to dispatch of four decidedly inferior foes. 
Under Meyer and his handpicked staff, this team is going to play at an entirely different pace with a seismic shift in both urgency and sustained intensity.
What's less certain, however, is exactly how the Buckeyes will sweep the non-conference slate and if enough questions will have been answered for the squad to open to 5-0 when things get real on September 29th in East Lansing. 
I'm sure you've got your own little list of questions about this young team, having identified them as questions that, if answered in the first four contests, will give the Buckeyes a chance to win every game on the schedule. The basic logic is, you can't be 12-0 until you go 4-0 and establish some building blocks. 
With that, here's a list a list of four questions that need sorted out over the non-conference schedule in order for Ohio State to reclaim its perch as the conference's best team and put the nation on notice for next year. 
Are the linebackers good enough for this defense to be great?
Sporting what could be one of the dominant defensive fronts in college football coupled with what should be at least an above secondary highlighted by future star Bradley Roby, the first four games will give us a chance to evaluate the question mark of the defense - the linebackers.
Ryan Damn Shazier was one of last year's breakout freshmen and there's little reason to believe he won't be significantly improved as this season gets underway. He made his fair share of freshman mistakes, sometimes over pursuing ball carriers and getting beat over the top in the passing game but it will shock no one if he opens the non-conference slate making plays sideline to sideline.
Alongside Shazier, things are less certain. Etienne Sabino was more like Etienne So-so for the bulk of 2011, though he did close well with strong efforts at Michigan and against Florida while Curtis Grant has been anointed the Mike, though it feels like it was almost by default.
If nothing else, Sabino is a hard worker and leader by example as evidenced by his selection as a team captain. Like Shazier, he was selectively exposed in zone coverage and unlike Shazier, he didn't always show the speed necessary to keep up with elite rushers. In the opening weeks, Sabino will need to show he's improved in these areas to make me feel good about the state of linebacking in Columbus.
Grant is without a doubt the biggest question mark on the starting defense simply because there's no collegiate body of work with which to draw conclusions. I want to pencil him in as a top five tackler in 2012 but I'll feel better about doing so once we get to see what he's got against the likes of Miami, UCF, Cal and UAB.
If nothing else, the good news is that Fickell's defense will feature just two linebackers on the field for a high volume of snaps, making it easier to absorb a lack of effectiveness at this position group.
All this assumes, perhaps incorrectly, that any of the freshmen - a Perry, Marcus or Crowell maybe - don't make the most of their first four games and seize some playing time if Grant falters.
which freshmen will emerge as key contributors?
Unquestionably, one of the great fan chores to complete during a new season is looking to see which newcomers step and make a name for themselves among the faithful. 
This season, with so many redshirts and true freshmen in the two-deep, the task of correctly predicting which handful of them will blow up won't be easy. I think they call that a #BuckeyeNationProblem or something.
Think about it: names like Noah Spence, Michael Thomas, Adolphus Washington, Taylor Decker, Bri'onte Dunn, David Perkins, Jamal Marcus, Najee Murray, Nick Vannett, Josh Perry and Tommy Schutt dot a super-sized R-Fr/Fr roster totaling 43 kids.
So which three or four will rise to the top against the likes of Miami, UCF, Cal and UAB, earning the right to be big time players as the Buckeyes take on conference play and prepare for the 2013 redemption tour?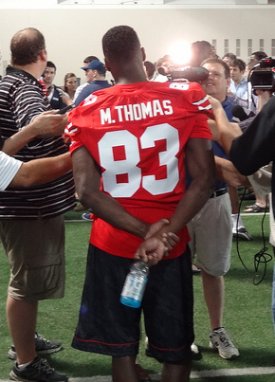 On offense, the four with the greatest opportunity include Dunn, Decker, Thomas and Vannett. 
I'll take Decker and Vannett out of this group to separate themselves but I won't be shocked if Thomas breaks from a crowded pack of receivers to become a legit target in the eyes of the Miller. The two practically made out in the spring game as Thomas racked up something like 30 catches for 400 yards - or maybe it was 12 for 131 - but the bottom line is the kid was constantly open and has good size at 6'2", 200 lbs. 
All signs point to Decker being Reid Fragel's backup to open the season but something tells me Decker will eat into the converted tight end's minutes right from the jump. Decker's an intelligent kid who has the schemes down pat; he just needs to refine his pass blocking, something he'll have plenty of chances to practice as Ohio State gets back to striving for some balance and not being afraid to throw the football. 
Vannett, a redshirt from Westerville, cashed in some karma points when Jake Stoneburner was officially moved to wide receiver, opening the door to a starting spot. He'll battle with Jeff Heuerman for time but I like what Vannett has shown so far and with Braxton learning a new offense, there could be plenty of opportunities in the early going to catch dumpoffs / safe throws, enabling Nick to earn the trust of the staff and signal caller as the season wears on. 
Defensively, a host of young linebackers are learning the ropes including guys like Perry, Marcus, Perkins and Camren Williams while the defensive line loaded up on more depth with Spence, Washington, Schutt and Se'Von Pittman.
Among those kids, I'm putting my money on Spence being the guy to separate from the pack and become a force. This team needs a pass rusher off the edge with Nathan Williams not yet at 100% and John Simon best utilized in other ways, and based on what we've seen and heard so far, Spence is primed to be that guy.
Perry and Marcus both seem like guys that could make noise but at this point, that projects to being our new favorite special teams darlings.
how much improvement will we see from the passing game?
While there's no question Jim Bollman and Nick Siciliawhatevero did nothing to help the Ohio State passing attack in 2011, it's also clear Braxton wasn't yet totally ready for primetime from a mechanics and reading defenses perspective and with zero proven receivers to help him along, OSU managed to rank 115th in Passing Offense and 107th in Total Offense, one of the true lowlights from a lost season. 
Despite having to learn a new offense, Braxton has shown steady improvement with his accuracy from last year to now and with Tom Herman and Meyer effectively designing plays in which Braxton can excel, there's no reason to believe Miller isn't on the cusp of greatness. 
For Miller to truly go next level, he needs some receivers to emerge. 
With Stoneburner moving to the outside, it will be interesting to see how those two adjust in the early going and what trickle-down effect it has on the rest of the corps. 
Devin Smith and Philly Brown figure to join Stoneburner in seeing the bulk of the reps as the non-conference slate plays out but with all three lacking a polished wide receiver resume, Evan Spencer, Verlon Reed, Michael Thomas and Chris Fields should also see plenty of action. I have to believe no less than three guys in this group can seize the opportunity over the first four games and give the Buckeyes production they sorely missed in 2011. 
Another obvious benefit to running an updated offense is that we'll get to evaluate running backs and tight ends as full fledged members of the passing attack. I touched on TE/Vannett earlier and out of the backfield, we could start seeing just what Jordan Hall and Carlos Hyde can do as early as game two. 
The Herman/Meyer offense will feature enough quick-strike routes that a premium will be placed on the ability to run after the catch. As such, I am insanely curious to see how effective the slippery Hall can be in space after the catch. 
A last piece of the passing game puzzle that will have my focus is the pass protection. Last year, the combo of Miller holding onto the ball too long at times, the offensive line struggling to not be terrible and wide receivers failing to gain consistent separation led to 3.54 sacks allowed per game, 'good' for 118th in the country. Yeah, you're right - that's out of 120 teams. 
Again, the vastly improved offensive strategy as a whole should have a colossal impact on pass pro but I'm still anxiously awaiting the chance to watch Mewhort, Norwell, Linsley, Hall and Fragel/Decker attempt to shore up the trenches and keep Miller upright over the first four games to give me hope that they can do so against Sparty's pretty-close-to-elite defense. 
who will prove to be the 2nd most important offensive player?
Barring injury, its pretty clear this offense is tailor-made for Braxton to blow up both with his legs and with his arm. 
Catch up on everything you need to know ahead of the season kickoff.
Less clear is who will step up in the first month of the season and become another guy that Meyer can count on to help move the ball. 
Looking to run a balanced power spread attack, a hybrid player like Jordan Hall could form a dangerous 1-2 punch with Miller. As noted, we won't get our first glimpse until game two at the earliest but could Hall be the guy heading into East Lansing targeted to be Braxton's Robin? 
No question Hall could be the one but going back to the fact this offense will still lean heavily on the ability to power run the football, I'm going with Carlos Hyde as the player most likely to complement Miller over the course of 12 games. 
I like his ability to run between the tackles and love his speed at 6'0", 232 lbs. No longer wary of how he was mishandled in a 2011 campaign that saw him top the century mark twice and not record a carry twice, it will be interesting to see if he can be the guy to soften up the middle allowing Braxton and company to exploit the edges. 
Either way, watching Hall and Hyde battle over the course of the non-conference to be the number one offensive option behind Braxton should be fun. Both could easily be that guy as they have differing strengths and if both do take their abilities to the next level, I'll have an increased confidence in Ohio State picking up a W in East Lansing and using that as a springboard to the rest of the B1G slate. 
Right now, the only absolute we know is that answers to these questions will be begin playing out in 12 days.