Urban Meyer's arrival at Ohio State and the installation of his offense is rightly the biggest Big Ten coaching story. But that does not mean that it is the Big Ten's only offensive change. Instead, other teams have either new head coaches or coordinators that will bring their philosophy to bear. Today I will look at three such changes: the hiring of Tim Beckman at Illinois and Bill O'Brien at Penn State, and Matt Canada becoming Wisconsin's offensive coordinator.
Illinois
Former Ohio State and Urban Meyer assistant Tim Beckman was hired by Illinois after leading Toledo to a 8-4 season, including nearly knocking off Ohio State. Beckman brings a shotgun-spread offense similar to what Tom Herman ran at Iowa State.
Illinois will generally operate with four to five wide receivers, and will often feature a slot back coming in motion to the backfield. It is a shotgun-to-run system that attempts to stretch the defense horizontally through a variety of wide receiver screen passes to open up the inside zone (Ohio State fans can likely still remember Toledo ripping off large chunks on wide receiver screens against the Buckeyes). Again, the basic concept is simply arithmetic: the defense can either play six in the box to cover the quick game, giving the offense a numbers advantage for the zone read, or put seven in the box and leave themselves vulnerable to lead blocks from the flash and bubble screens. 
See highlights from the Illinois Spring Game here.
Penn State
What once was an intriguing story before the much more serious headlines from Happy Valley was how much of the New England Patriot offense would Bill O'Brien bring to Penn State.  In a league where offenses are generally derivative of each other, New England is perhaps at the extreme, closest to a shotgun, pass-first spread college offense that looks to attack the defense horizontally.  New England's key receivers (Wes Welker and its tight tnds) are in the slot, where they can attack underneath with pivot, stick, option, and shallow cross.  
Yet New England's coaching staff also has demonstrated an ability to adapt.  As Chris Brown discusses in the 'Essential Smart Football,' the Patriots in four and five wide receiver sets were susceptible to Rex Ryan's New York Jets' overload blitzes, leaving Tom Brady to repeatedly throw against unblocked blitzers.  The Patriots responded by drafting and employing Rob Gronkowski and Aaron Hernandez in tight end-focused looks, taking advantage of Homer Smith's adage that:  
It takes a sixth frontal player (not counting the QB) to pull an identifiable pass defender into the front and to give the blockers something to work with to keep the center off the island. It takes the sixth, just as it takes him to deal with a blitz.

Which is a better sixth [blocker, a tight-end or a runningback]? A TE is more of a threat with the delayed pass that makes the pass defender on him stay at bay while the TE blocks the rusher. I think a TE is the better.
In other words, a defense must have one defender account for a tight end as a pass blocker, and a second defender as a delayed pass threat, disabling many of the more exotic blitzes.  In this way, New England's reversion to 'less spread' reflects the journey many college spread teams have taken to recognize the value a tight end brings to a spread offense to increase versatility.  
This is all well and good, but New England has unique talents such as Gronkowski and Hernandez, and a triggerman named Tom Brady that can make it all function.  Can O'Brien bring this to Penn State with far lesser talent?  As alluded to above, O'Brien has the advantage that the Patriot offense is reflective of what many college teams do—horizontal routes, wide receiver screens, and draws.  Therefore, expect O'Brien to attempt a derivative version of this offense, combining this short attack with inside zone to attempt to make up for talent deficiencies.     
Wisconsin
Bret Bielema brought in Matt Canada to replace Paul Chryst, the latter of whom left to become Pitt's head coach. Canada has large shoes to fill, as Chryst's offenses have consistently led the Big Ten in multiple offensive categories.
Canada comes to Wisconsin from Northern Illinois, where his offenses included spread elements.  Despite that, expect Wisconsin to look similar in style to what has vaulted the Badgers to the top of the Big Ten because, if it ain't broke, don't fix it.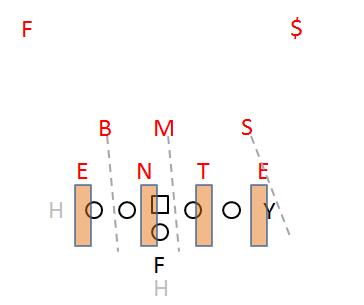 The Badgers' offense is a direct descendant of the one-back offenses pioneered by Joe Gibbs with the Washington Redskins and Dennis Erickson at the college level. Wisconsin operates almost entirely from '12' personnel (1 RB, 2TE).
A one-back formation theoretically makes running the football easier in two ways. First, with 12 personnel it creates an 8th gap that the defense must defend (H/T: Brophy).
Second, it presents the defense with four immediate vertical threats, forcing defenses to often respond with 2-high safeties. As discussed above, with two tight ends, multiple defenders must both account for the extra run gap created as well as an immediate pass threat.  
Wisconsin's extensive use of 2-tight ends allows them to vary the gaps a defense must defend. Wisconsin can present a balanced 2 x 2 TE look, or a heavy overload tight wing (a tight-end with a wingback to one side and two WR to the other). The latter makes a defense responsible for five gaps to the strong-side.
Catch up on everything you need to know ahead of the season kickoff.
Wisconsin's desire to create eight gaps serves a purpose—to stretch the defense, creating running lanes for talented tailbacks with vision. Wisconsin's offense is based upon this idea, featuring inside zone and stretch (aka outside zone).
Wisconsin wants to get their big offensive linemen moving the defense laterally to create cut-up lanes for their tailbacks to exploit. Then, when the defense begins overpursuing, they will come back with inside zone. Everything flows from this running game, including Wisconsin's excellent play-action passing game.
Conclusion
The upshot is that in a conference that once had a reputation as stodgy and predicated upon 'three yards and a cloud of dust,' Big Ten offenses are increasingly diversified, drawing on ideas from a multitude of backgrounds.  Having to prepare for vastly different offenses will test any defensive coordinator, and should, at the least, make the Big Ten a more interesting league to watch, if not more competitive.