Not going to lie: I was pretty excited when I was asked to talk about Ohio State's passing game for the preview series. And not just because by necessity it was going to be incredibly short, but also because I get to talk about (and make fun of) the 2011 incarnation of the Ohio State passing game.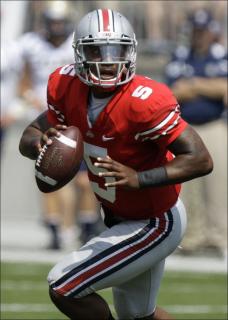 Which of course was hilariously awful. 115th out of 120 awful, and considering two of those remaining five teams were service academies that don't pass as a matter of scheme, it makes it look all the worse.
Ohio State also had the 110th worst completion percentage, was 114th in total completions, and averaged about 19 passing attempts per game, which was only 8 more attempts than Navy had per game WHICH RUNS A TRIPLE OPTION OFFENSE. What's even funnier and/or infuriating is that if you take away the Michigan game and the Gator Bowl loss to Florida, OSU's passing average drops to 114 yards per game, ahead of only UNLV, Navy, and Army. Take that, America.
Everything about the 2011 Ohio State passing game made me want to murder someone. Did you ever re-watch the Michigan State game? If not, good. If so, what in the name of all that's holy is wrong with you? It wasn't the Buckeyes' worst passing performance of 2011 (that dubious honor belongs to the Illinois game where Braxton Miller attempted four passes as Jim Bollman slathered himself with sour cream and had three Vietnamese pot-bellied pigs lick it off him over the course of four quarters), but that's actually my point.
See, the MSU game was one of those times where you need your passing game to pick up the slack, as the normally "okay" Ohio State rushing offense had completely ground to a halt. And to Bollman's credit, he called 25 passing attempts, but the complete lack of creativity in the passing game and general lack of talent meant that the whole proposition was doomed from the start. Miller and Bauserman (yes, he was still somehow playing QB five games into the season) combined to go 12/24 for 143 yards, and the cherry on top were the four consecutive incompletions on OSU's penultimate drive thrown by Bauserbombs himself that took the Buckeyes from 1st and 10 on the Spartan 43 to a Sparty 1st and 10, also on the Spartan 43.
In other words, it wasn't just bad coaching, or bad playing, or poor talent, or a complete and utter lack of imagination where getting the ball to the tight ends and receivers was concerned. It was all of those things combined, an incredibly frustrating and predictable broken record that slowly repeated itself at about 14 rpm for the duration of the season. Thank God Meyer and company have iPods.
Let's talk personnel a little bit. One of the biggest concerns for Urban Meyer in the offseason was a lack of playmakers, particularly at the receiver position. Considering that Ohio State is the school that's produced talent like Cris Carter, Terry Glenn, David Boston, et al, Meyer probably thought he was walking into a coaching job that oversaw a little more receiving prowess than what he got.
It's probably a little unfair to rip on freshmen Verlon Reed, Devin Smith, Evan Spencer, and Tyrone (formerly TY) Williams for both literally and figuratively dropping the ball in the passing game. They had inadequate coaching and extremely inconsistent QB play (you know, when they were actually allowed to play QB) and okay yes, probably weren't the five-star playmakers that Meyer covets.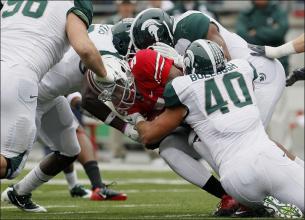 There's still talent there. Reed had 9 receptions in four games last year before he got injured, which doesn't sound significant until you realize that the team's leading receiver, fellow freshman Devin Smith, last year had 14 receptions over 13 games. In other words, coordination trumps talent when it comes to establishing consistency in an offense.
Not that there wasn't at least some talent. Philly Brown has shown flashes, and the aforementioned Smith was on the receiving end of this little ditty last October. Plus there was the Jake Stoneburner experience, where the tight end accounted for 14 catches, 7 being touchdowns, although like so many Insane Clown Posse concerts, he was shut down once The Man figured out that was pretty much where all of Ohio State's dirty work was being done.
Interestingly, one of the new wrinkles that Urban Meyer and Tom Herman were tasked with bringing to the offense in 2012 already existed in 2011. Much has been talked about Jordan Hall taking on the "Percy Harvin" role in his offense, but if we're referring strictly to the concept of the RB as a pass catcher, believe it or not, one Carlos Hyde has got you covered. El Guapo (I can't believe people are still using that nickname, I guess I need to write posts after watching The Three Amigos more often) had ten catches last year, and with Hall out and Hyde now likely the main focus of the running game, it's hard to think he won't be a factor in the passing game as well.
Catch up on everything you need to know ahead of the season kickoff.
And of course, Stoney. They've moved the dude to WR permanently at this point, which is the natural spot for a guy who came into Ohio State expecting to play at that position anyway. To be completely honest, I think Stoneburner and either Heuerman or Vannett at tight end are going to be the top two leaders in receptions this year.
Which brings me to the concept of scheme. I guess technically Ohio State had a passing scheme in 2011, but it most consisted of "one dude go deep, one dude not go deep" and then if the dude not deep was covered your options were to a) try and complete the pass to the deep guy, which happened maybe 5% of the time, b) run, or c) make a cool souvenir for a lucky fan five rows back.
That's changed. Ross has gone into extreme detail over the past several months about what the Meyer and Herman passing game is all about, but to put it in a word, it involves the concept of space. Cutbacks, combining plays, bubble screens—they're all devices used in an attempt to mitigate the natural numbers advantage that the defense has by spreading them out and creating space for receivers. This is why players with an inherent size advantage like Stoneburner and the tight ends, and players at flexible positions like RB and fullback are vital to this type of passing game; they create favorable matchups that allow for the ball to get into space.
What you'll see out of the Ohio State 2012 passing offense is a quick-strike, screen-heavy attack that considers a 5-yard pass to be just as effective and vital as a 5-yard rush. With the kind of personnel that the Buckeyes bring to the table, it just might be crazy enough to work, provided the WRs are athletic enough to create adequate separation. Woody would be furious, but as we saw last season, the passing game must be a consistent and vital part of any offense. Screens, little passes to the flat, and RB dump-offs are all great weapons but they can't be turned on and off like a light switch. It's nice to know the new coaching staff understands that.
Ultimately, though, this all rests on the shoulders of Braxton Miller. He's a unique talent who showed flashes of real quarterbacking ability last year, which is kind of amazing considering all he had to deal with. But that's what makes Meyer's spread so great for the guy: instead of having to constantly rely on a Hail Mary as his second read, he'll have options in the short passing game that will allow for more consistency and allow him to move the chains without daring a linebacker to take his head off.
This is why people are so excited about this offense. If implemented and executed correctly, it is a perfect fit for many of the playmakers on the team. It's not three yards and a cloud of dust, but we went to artificial turf years ago anyway.