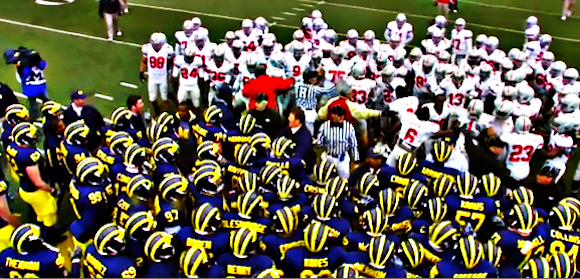 Last season Ohio State lost three November games in a row. 
Over the prior ten seasons Ohio State had lost four November games in total. Jim Tressel's Novembers were generally perfect, especially in the grand finale department.
While the entire 2011 season demonstrated how vital Tressel's presence was to the success of Tresselball, that November slide put a fitting capstone on the most unenjoyable year of Ohio State football ever. The Buckeyes had not lost three November games since 1999, which until last season was its most recent football catastrophe.
This November is already tinged with a degree of spoilage regardless of its outcome because it's Ohio State's finish line. It's already been decided. 
There won't be any jockeying for postseason position and you won't enjoy a six-week buildup to a bowl opponent. A postseason ban is actually worse than being too lousy for bowl eligibility: At least being a bad team comes with half a season of tension. Must. Get. To. Detroit.
The 2012 Buckeyes will enter November with no postseason tension at all. No tension, no shine, no brass ring, no spoils: November.  
This implies that Ohio State will enter its final football month loose and relaxed. What is more likely to happen, with nothing to chase in the distance, is that Urban Meyer will have to manufacture tension to coincide with his players' natural ambitions of playing competitively.
In short, with the season's end rapidly approaching, Ohio State's November meetings will each be adorned with urgency and importance like never before. We'll just make these our "bowl" games.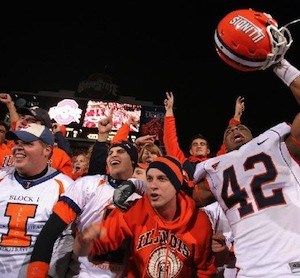 And wouldn't you know it: Ohio State's November this season just happens to feature the three programs that have derailed the Buckeyes more than any other: Illinois, Wisconsin and Michigan.
Prior to last season, the last time Ohio State had lost any football game in November it was to Illinois, and those Buckeyes were undefeated and ranked #1. And the game was in Columbus, as it is again this November.
The Illini are 6-4 in their last ten visits to Columbus, yet they've lost their last nine in Champaign to the Buckeyes, including last year's Walrusball special when Ohio State completed only one pass yet still left town with the turtle. 
Illinois will likely enter November with designs on another Kraft Fight Hunger Bowl-ish destination, and meeting the Buckeyes in their historically-preferred setting would go a long way toward upgrading that prize.
Tim Beckman will undoubtedly show his players footage on top of footage on top of footage of triumphant Illinois players celebrating in the Horseshoe. It's not like it's hard to find. Six and four in their last ten. Illinois. It's damn near impossible to believe.
At the same time, Meyer can show that same miserable footage to his own team through a different lens for motivational purposes. HOORAY, PSYCHOLOGY!
The Illini's improbable success in Columbus is matched only by Ohio State's inability to execute a sane and responsible game plan at Purdue this entire century. This is why the odd apprehension that comes with an Illinois visit is similar to the strain you feel when the Buckeyes venture to America's Afghanistan off of I-65, which they don't this season - Purdue visits the Buckeyes in October.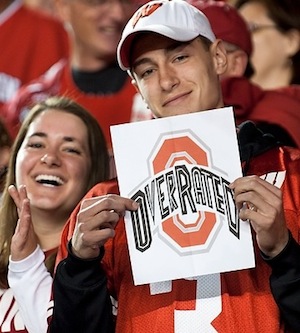 After the Illini pay their visit, the Buckeyes get their bye week. This rest comes ahead of the meeting with Wisconsin for the second year in a row. The Badgers' bye comes while the Buckeyes play Illinois, which leads into their game with Indiana - and that may actually clinch the division for them ahead of its meeting with Ohio State.
Since Barry Alvarez arrived, the Buckeyes are 4-3-1 at Camp Randall, but with an average score of 18.38 to 17 making Madison the most HNNNNNNNNNNNNG conference venue for Ohio State over the past two decades.
As fun as it would be to see the Hoosiers take the Leaders Division crown in Ohio State's year out of contention, it's a very good bet that Wisconsin will already have that trip to Indianapolis locked up when they play the home-bound Buckeyes.
That doesn't mean Wisconsin will tread lightly, though. This isn't the NFL, you guys.
But the Badgers, unlike the Buckeyes, will have to be looking ahead. Ohio State is followed by a trip to State College to serve as the opponent for Penn State's own Final Destination game. That comes one week before playing for the Rose Bowl against the Legends champ.
This means the Buckeyes are the first hurdle in a furious three-week finish for Wisconsin. Not only is this year's Leaders Division title holder an open secret, it's entirely conceivable that Wisconsin could limp into the B1G championship game trying to avoid a third straight loss, thrilling Jim Delany to no end.
That leaves Ohio State back in Columbus for its final game of the season and the last game for several seniors being denied the traditional winter encore. The 2006 version of The Game may have been the biggest one ever, but the 2012 version is the most important one in several years. 
Only the 2001 game in Ann Arbor that Tressel used to shape the rivalry for a decade is comparable. Meyer losing his first Michigan game would earn Brady Hoke his second win over Ohio. Ed. In this context we're referring to the Buckeyes since Hoke has never beaten Ohio.
Michigan should either be playing for that same Indianapolis trip the Badgers will have booked at the beginning of the month against Indiana, or at worst jockeying for position in the B1G's crowded January 1 bowling schedule. Those two goals have one thing in common: They pale in comparison to the importance of Michigan winning in Columbus for the first time in a dozen years.
Ohio State's postseason ban allows The Game to be played in a very rare, natural and organic state - at least on the home sideline - for the first time since 1988 when the rebuilding Buckeyes were already eliminated from postseason contention. It has always been the only game that matters, but in 2012 it is the only game that matters.
Catch up on everything you need to know ahead of the season kickoff.
The outcome of the Michigan game isn't diluted with bowl positioning or B1G championship game implications. It is the rarest opportunity for an Ohio State team that isn't terrible to approach its rivalry game with no other distractions riding on the outcome.
It's been suggested ever since the NCAA ruled that Bobby DiGeronimo made Ohio State a repeat offender and stamped out its 2012 postseason that Michigan became the Buckeyes' de facto bowl game. That's a little too simplistic. 
Bowl games are generally poorly attended, overhyped affairs inflated with manufactured story lines. Ohio State playing Michigan is none of those things. No bowl game on the horizon only thickens the certitude of the Buckeyes' finale. 
But as far as winning November goes, the Buckeyes get a tough mix of recent nemesis and historical adversary. Illinois, Wisconsin and Michigan should represent the most challenging late-season Ohio State scheduling in years. 
Even with nothing to play for, the final month of the season won't provide the Buckeyes with a soft landing. November already looks like a playoff as it is, but without the benefit of a prize.