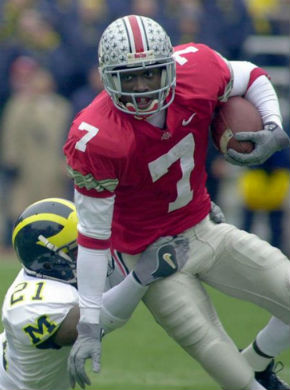 Exactly 10 years ago, Jim Tressel and his staff were in their second season at Ohio State, getting their team ready at the start of fall camp. The 2002 Buckeyes were heading into the new year after coming off a somewhat disappointing 7-5 campaign (five losses by an average of 5.4 points), including a Outback Bowl loss to South Carolina in 2001.
As the story goes, the 2002 team came alive, running the table in the regular season on the heels of a standout defense and an offense that limited mistakes and made big plays when it mattered most. The season of course concluded with a 31-24 win over Miami in double overtime of the Fiesta Bowl, giving Ohio State its first championship since 1968.
While defensive stars like Will Smith, Kenny Peterson, and Mike Doss, as well as offensive stars in Maurice Clarett, Craig Krenzel, and Michael Jenkins, as well as kicker Mike Nugent, all played integral roles in the team's success that year, there was one player taking on a unique role that could have made as big a difference (and was involved in one of the biggest plays) as anyone on the roster.
That player was Chris Gamble, a sophomore from Nova High School in Davie, Florida, who ultimately did not come off the field in that special season, playing cornerback on defense, wide receiver on offense, and returned kicks and punts on special teams.
It's one thing to say you can play all three positions, but the Sunshine State star was pretty good at it. During his career in Columbus, Gamble registered 65 tackles, 7 interceptions, and 21 pass deflections in his primary role on defense, 40 catches for 609 yards and 6 rushes for 68 yards and a touchdown in his situational role on offense, and notched 851 total return yards on kicks and punts. His success in the scarlet and gray enabled him to leave school after his junior season and be selected in the first round of the NFL Draft by the Carolina Panthers, where he stills shines at cornerback today.
Ever since Gamble left Ohio State, the Buckeyes have not had such a dynamic player that could impact the game on all three units the way #7 did. Sure, there have been players who have played offense and returned kicks or have starred on defense and fielded punts, but no Buck has been able to do all three like Gamble.
With Urban Meyer coming into town, that could change, as there has already been some speculation about players on this year's team, as well as prospects the staff is currently recruiting, that could possibly fill a Gamble-like role in coming seasons.
Looking at the current roster, there aren't many dynamic players who could have success on offense, defense, and in the kicking game, but two that have stood out and have been mentioned in the early part of camp are redshirt sophomore CB Bradley Roby and true freshman CB Najee Murray.
Roby enters his third season in Columbus after sitting out his first year to develop his defensive back skills before having a breakthrough campaign as a redshirt freshman in 2011. The Georgia native had a terrific year last season, earning a starting job and tallying 47 tackles, 3 interceptions, 6 pass deflections, and a forced fumble. 
After gaining momentum as the best cornerback on the roster at the end of the season, Roby continued his strong showing this off-season, blossoming under new strength and conditioning coach, Mickey Marotti. He put on five pounds of muscle while improving his speed, something shown by him clocking a 4.31 forty yard dash time more than once this summer, and also earned the right to wear the #1 jersey he requested when Meyer came on staff. Heading into camp it sure looks like Roby is set to be the star of the defense, but just when you think that's it, there's more.
Last week when talking to reporters (and as Kyle mentioned today), Roby mentioned that not only has he been part of the unit returning kicks on special teams, but that he also has been lobbying for a while to have the staff let him use his speed to help them at wide receiver.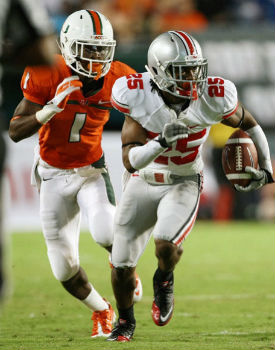 While the move may seem unconventional to most fans, one thing to note is that in high school, Roby originally committed to Vanderbilt as a wideout and many other schools recruited him for the position. Playing on all three sides of the ball at Suwanee Peachtree Ridge, the former prep star showed the ability to be "the next Gamble", notching 29 receptions for 526 yards and 5 touchdowns (along with 1 rushing score) on offense and 2 punt return and 1 kick return scores on special teams, to go along with 42 tackles, 6 interceptions, and 2 total touchdowns on defense.
It has yet to be seen whether the staff will grant Roby his wish to play some offense this year, but one thing for certain is that he has the credentials to make the fit work.
The other player in contention to get snaps all over the field is Najee Murray, a first-year player out of Steubenville High School, on the east border of Ohio.
At 5-9/180, Murray is a speedster, who was recruited by the Buckeyes to play cornerback. With thin depth at the position, it is very likely he could see time throughout the fall at the position, and early returns from summer workouts and fall camp have all been positive.
The kicker for Murray is that he was a three-way star at Steubenville and circumstances with Jordan Hall's injury may have him doing the same in Columbus. During his senior season, Murray had 54 tackles on defense, which earned him All-State honors, as well as the state's AP co-Defensive Player of the Year award. To compliment that, he also played an integral role in the Big Red's offense, registering 17 catches for 280 yards and 4 touchdowns, while also rushing 11 times for 185 yards (16.8 avg).
Last week when talking about filling Jordan Hall's role in the offense, Meyer specifically mentioned Murray as someone who he can see running the jet sweep and various other plays coming with the new offense, so be sure to look for #18 to be used in a variety of ways this coming fall.
In addition to mentions of Murray and Roby possibly pulling triple, or at least double duty, the coaching staff has made it clear that the "Gamble role" is something they would be interested in implementing on the roster moving forward.
A number of prospects being recruited by the Buckeyes have been told they could see time in playmaking roles on both offense and defense, including Vonn Bell, Cornelius Elder, Adrian Baker (while he was being recruited), Dareian Watkins (2014), and many others.
It seems Meyer really wants dynamic players in the program moving forward and is willing to give super athletes the opportunity to serve in multiple roles on the field, as long as they can help the team. While it is unknown how this storyline will play out during the Meyer Era, one thing fans can be sure of is that things are about to change at Ohio State and having a player like Chris Gamble might become more of the rule, rather than the exception.