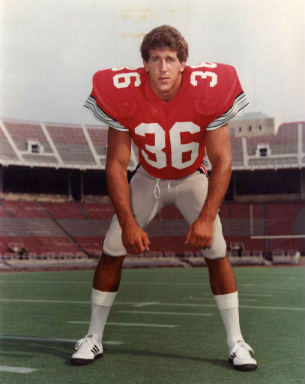 Current Ohio State linebacker Curtis Grant was a blue-chip "can't miss" player coming out of high school, but in his first year he struggled a bit, leading to a bit of self-doubt about whether he could make it at the college level. This is certainly nothing new in the world of college football, and in fact Grant can take solace from the fact that one of OSU's greatest linebackers ever suffered from a similar crisis of confidence. 
Tom Cousineau got past that difficult time, and he never looked back. By the time he finished his career at Ohio State, he had set new single-game1, season2, and career3 school records for tackles.  He gained national attention with an MVP performance in OSU's victory in the 1977 Orange Bowl. He earned All-American honors in 1977 and 1978, and in his senior season of 1978, Cousineau was named team MVP. When his OSU career ended, he became the first Buckeye football player to be taken 1st overall in the NFL draft.
Cousineau played high school football at Lakewood St. Edward, mostly because his mother did not want him to play for his father, who was the head coach of Lakewood High School. He came to Ohio State as part of what turned out to be the last recruiting class to play four years under legendary head football coach Woody Hayes. Hayes was removed as head coach after the 1978 season, mostly due to "The Punch".
He arrived on campus ready to play on the 2nd team, but he became demoralized as he went against the 1st team offensive line day after day. But he persevered and, when opportunity presented itself, he stepped in and performed admirably as a freshman when senior Ken Kuhn went down with an injury. He played the rest of the season4 and was part of Ohio State's undefeated Big Ten championship team of 1975. Unfortunately, the season ended not with a national championship but with an upset loss to UCLA in the Rose Bowl. But Cousineau had made his mark, and it was only a taste of what was to come.
The 1976 season was a rebuilding year for Ohio State, as they said goodbye to Heisman Trophy winner Archie Griffin, 3-year starting QB Cornelius Green, flanker Brian Baschnagel, and a host of other starters from that marvelous 1975 team. But one thing that was constant was the presence of Cousineau in the middle of the defense.  The Buckeyes won their first 7 conference games, but they were shut out 22-0 at home in the season finale against Michigan, and they settled for a Big Ten Co-Championship. 
Losing to Michigan would normally mean no trip to a bowl game, because Big Ten rules prior to 1975 limited the conference to only one bowl representative. But that year they changed the rules, which allowed conference runner-up Michigan to go play Oklahoma in the Orange Bowl. In 1976, UM's victory meant that it was OSU that was headed to Miami for their first-ever Orange Bowl appearance.  The Buckeyes rolled over Big-8 Champion Colorado 27-10, and Cousineau was named the game's Most Valuable Player. He led the team in tackles that season with 147.
Cousineau had an up-and-down season as a junior in 1977. When he was on the field, he was excellent. But he was forced to the sideline (separated shoulder) at a most unfortunate time, when his team was trailing Oklahoma 20-0 in a highly-anticipated early season clash of traditional powers. The Buckeye defense stiffened with their leader on the bench and OSU roared back to score the next 28 points. However, the Sooners put together a late TD drive to cut the deficit to 26-20, then recovered an onside kick to set up a game-winning 41-yard field goal as time ran out. The stunning loss put a damper on what could have been a great season. 
Still, Ohio State won their next 7 games and were 9-1 heading into Ann Arbor for a showdown with Michigan. It was a classic battle of defense and conservative offense, but the #5 Wolverines prevailed over the #4 Buckeyes 14-6, sending UM to the Rose Bowl again and OSU to the Sugar Bowl for a match-up with Alabama. It was the first and only meeting between legendary coaches Paul "Bear" Bryant and Woody Hayes, but the game was all Alabama, with the Tide winning 35-6. Thus, despite another Big Ten Co-Championship and a 9-3 record, the players felt like the season was a failure.
As a senior in 1978, Cousineau had a monster season. He set a new school season record with 211 tackles, and his resume included 23 tackles against Baylor, 28 against SMU, and a school record 29 against Penn State. Unfortunately, the Buckeyes won only one of those games, on their way to a disappointing 7-4-1 season. Even more disturbing was the way the season ended, with Coach Hayes lashing out at an opposing player on national television and ultimately being handed his walking papers by the university where he had faithfully served for 28 years. 
Still, despite all of the turmoil in the program overall, Cousineau's fortunes were looking up. He was expected to be taken early in the 1st round of the NFL draft, and his financial advisors told him he could expect a contract worth 7 figures. As it turned out, he was taken with the first overall pick in the draft by the Buffalo Bills. The Bills had obtained San Francisco's 1st round pick by trading legendary RB O.J. Simpson to the 49ers, and SF's subsequent season was such that the pick turned out to be the first. 
As Cousineau prepared to move to Buffalo, his agent became incensed at the contract offer the Bills made. Spurning the NFL for a higher payday, Cousineau signed with Montreal of the Canadian Football League and played for three years in the CFL. In his rookie season, his team went to the Grey Cup (CFL's version of the Super Bowl) but lost to Edmonton. Despite the loss, Cousineau was named defensive MVP. 
However, the competition in the CFL was not up to what Cousineau was used to, and so he left Canada to try again with the NFL. He negotiated a deal to play with the Houston Oilers, but Buffalo had the right to match any contract offer and they matched the Oilers' offer so that they could work a trade and get something for their investment. Finally, he was dealt to the Cleveland Browns for draft choices, one of which the Bills used to take Jim Kelly, a man who would ultimately lead them to four Super Bowls during his Hall of Fame career. Ironically, Kelly also spurned the Bills initially, signing instead with the Houston Gamblers of the USFL. But he returned to Buffalo 3 years later and the rest is history.
Cousineau played four years in his hometown (Lakewood is a suburb of Cleveland) and led the Browns in tackles 3 times. But he never quite lived up to expectations and Cleveland eventually released him to be free of his enormous salary. He played two more seasons in San Francisco before finally calling it quits.
After football, Cousineau got into real estate and had more success there. Today he spends his time raising his two children and acting as a volunteer assistant linebacker coach at his HS alma mater, Lakewood St. Edward. He has been married for 20 years and is active in the local chapter of the Fellowship for Christian Athletes. He also spends time pursuing various outdoor activities like hiking, tennis, and skiing.
Tom Cousineau was a great player who played on very good teams at Ohio State. But more than anything else, he always seemed to be part of some great transition. The 1978 season saw Ohio State move from the ultra-conservative "3 yards and a cloud of dust" offense to a more wide-open attack centered around the talents of freshman QB Art Schlichter.
As a college player, he was there at the very end of the line for one of college football's most revered coaches, and his entrance into the professional game marked the end of the line for one of the NFL's most talented (and most controversial) running backs. Finally, his return to the NFL from Canada coincided with the beginning of the career of one of the NFL's all-time great quarterbacks. Cousineau made a lot of history, but he witnessed even more.
1 Tied by Chris Spielman in 1986.
2 This record still stands.
3 Since surpassed by Marcus Marek.
4 Highlighted by a 23-tackle performance against Indiana.