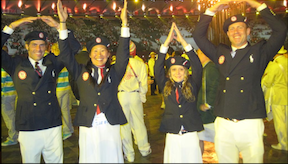 Last weekend, as I tuned into my first Olympic event of 2012, I felt that twinge of excitement that comes every four years. Besides being able to chant "U-S-A!" unironically, my favorite aspect of the Olympics is getting really into sports I normally don't care about at any other point in time.
Still, my love of football is never far. Now that August is here, we can officially consider this the preseason of college football, and even though it's not an Olympic sport1, I couldn't stop my mind from wandering to it while I watched Dana Vollmer dominate the 100-meter butterfly.
I was hardly alone in this train of thought, as EDSBS has been running a series of pieces this week connecting football to the Olympics. My musings, though, were centered around Ohio State, especially when I saw this tweet from linebacker Connor Crowell:
That led to me wondering which player on the team would most excel at each Olympic sport. Some of my choices are obvious, others less so. Following NBC's event schedule, I selected a Buckeye for every sport listed.
Without delay2, here are my picks: 
Archery: Although the goal of a quarterback is to hit his target, there's a specialized art to archery that most fits with that of a long snapper. Accuracy is key, so it's George Makridis who gets the nod to unleash his inner Katniss Everdeen. 
Badminton: One of the most controversial stories during the London Olympics has been the disqualification of eight badminton players who deliberately tried to lose matches in order to go up against easier competition in later rounds. Rod Smith, who drew comparisons to Eddie George before he even stepped foot on campus, exhibited a pair of bad mittens3 with a couple of fumbles last season. You know who else had a fumbling problem as a freshman? Eddie George. I'm not saying that Smith coughed the ball up on purpose so that he could guarantee himself a future Heisman, but I sort of am saying that.
Basketball: Freshman Adolphus Washington, a five-star defensive end from Cincinnati, was named the Gatorade Ohio Boys Basketball Player of the Year in March. As a senior, he averaged 23.1 points and 14.3 rebounds per game.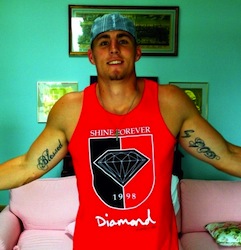 Beach Volleyball: Jeff Heuerman is from Florida and somehow got Jim Tressel to take the bro-iest picture of his life. The sophomore tight end almost certainly has Top Gun on Blu-ray. 
Boxing: No charges were filed against Nathan Williams, but there was that assault incident two years ago...
Canoe / Kayak: Even though I've never been to Colorado, if you asked me to describe it in three words or less, I'd answer, "rocky, mountain, high." If you gave me a fourth word, I'd add "kayak." Since freshman Joey O'Connor is the only Coloradan on the team, this is his event.
Cycling: Bri'onte Dunn, because he'll probably be biking it for a while. 
Diving: It can't be all that different than diving in the end zone for Philly Brown. 
Equestrian: Reid Fragel is from Grosse Pointe Farms. Let's assume that's a horse farm outside of Detroit.
Fencing: Touché. Épée. Etienne Sabino's first name. All French. 
Field Hockey: According to his bio, Adam Bellamy played hockey, and what is field hockey but regular hockey on a football field? (I don't really know much about field hockey.) 
Gymnastics: Gymnasts are ripped, as is Ryan Shazier. While the U.S. men's team struggled with the pommel horse, I have to think that Shazier would conquer anything with a homophone of "pummel" in its name. 
Handball: Sorry, Crowell, but Adam Griffin seems really confident in his ability:
Judo: Just ask Braxton Miller if Ken Guiton can take people down.
Modern Pentathlon: This event covers a wide range of sports (fencing, swimming, horse riding, and a running/shooting combination) and requires a versatile athlete like Jordan Hall, Urban Meyer's favorite hybrid player on the team. 
Rhythmic Gymnastics: Don't let his size deceive you. Johnathan Hankins can flash some impressive moves. 
Rowing: Well, Bradley Roby's last name sounds a little like "rowing", and he grew up in Suwanee, Georgia, home to a river of the same name. I don't actually know if he's ever rowed down it, but I'd guess that paddling would be too slow for the speedy cornerback. 
Sailing: Surely someone named Blake Thomas who attended a private like St. Ignatius knows how to sail. 
Shooting: As the center in a Meyer offense, Corey Linsley is familiar with the shotgun formation. He was also a champion shot putter in high school, and his favorite Sylvester Stallone movie is Stop! Or My Mom Will Shoot4. 
Soccer: Michael Thomas already moonlights for Kansas City's MLS team, so the choice is clear.
Swimming: Wood can float, which means this is Jamie Wood's category.
Synchronized Swimming: Jake Stoneburner and Jack Mewhort can urinate together in the pool and no one would be any the wiser. 
Table Tennis: Drew Basil was a member of a ping pong club in high school. Drew Basil was probably a geek in high school, too.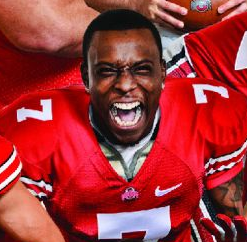 Taekwondo: In middle school, walk-on Nik Sarac earned his black belt.
Tennis: Since Ben Buchanan's younger brother Luke is a tennis player, it stands to reason that the punter has some knowledge of the sport. 
Track & Field: This past spring, Devin Smith competed for the Ohio State track team in the 100m, high jump, and long jump.
Trampoline: I'm not sure what the triple jump is, but Julian Vann was a state champion in the event as both a junior and senior in high school. Presumably, if he can master three jumps, he can handle the trampoline as well. 
Triathlon: Considering that Urban referred to Braxton Miller as "the most dynamic athlete I've ever coached", he has the elite athleticism needed for the triathlon. 
Volleyball: Tyrone Williams had a case of the dropsies last season, but as a volleyball player, he'd simply have to be tall and spike the ball, and at 6'6", he's at least got the first part covered.
Water Polo: The 2012 Ohio State football poster showed us that Travis Howard is the guy on the team most likely to make this water polo face. And as an island, Howard should feel at home in the water. 
Weightlifting: Duh. 
Wrestling: Freshman linebacker Luke Roberts was a member of the wrestling team in high school, and his position coach, Luke Fickell, was a star wrestler who some thought would one day win an Olympic gold medal. I suppose it's never to late, though. He's got four years until the Rio de Janeiro Olympics.
1 Yes, other countries refer to soccer as "football", but people who snootily point that out are just as annoying as those who completely dismiss soccer.
2 See what I did there?
3 I regret nothing.
4 Kidding. He prefers Over the Top, like the true American that he is.