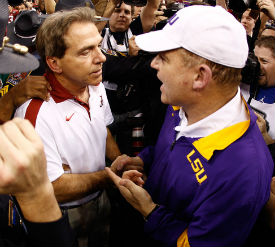 After seeing Athlon Sports and then ESPN do a little back and forth on their top college basketball rankings, it got me thinking about who would be on the list of top college football head coaches currently still in the game.
Of course lists like this have been compiled before, but with camps kicking off across the country this week, it seemed like a good time to examine which programs give themselves the best opportunity to win games by putting the right man on the headset come game day.
Buckeye fans know too well after last season's 6-7 mark what a head coach really can do for you. While Luke Fickell seemed to be doing and saying all the right things off the field, there were too many times where his inexperience kicked in and he looked like a deer in the headlights when football decisions needed to be made.
When looking at the 10 best coaches currently in the game, you can't look at just one year, but rather the complete body of work throughout a career. Lightning in a bottle can certainly strike once or twice, but it is the coaches who have continually had success at the highest level, year after year, regardless of conference or program, that are deserving of recognition. People like Brady Hoke will likely be on this list over the next few years as his fit at Michigan is a glove, but someone of that type can't be included when they held a below .500 record before one very good year.
That being said, it's time to take a look across college football and examine which programs currently hold the best head men in the game. Join us after the jump to find out who they are.
10. Mark Richt, University Of Georgia
After successful stints as Florida State's quarterbacks coach and offensive coordinator during the Seminoles' run atop college football in the mid to late 90's, Mark Richt was hired as head coach at the University of Georgia prior to the 2001 season.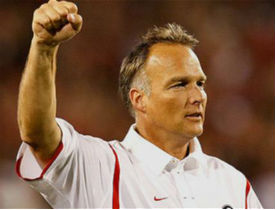 Since landing his first head coaching gig, Richt has posted an impressive 106-38 overall record (73.6%) and 60-28 SEC mark (68.2%) over his 11 year stint leading the Bulldogs.
His teams have appeared in a bowl game every season, where he holds a 7-4 record in those games, including appearances in three BCS Games, all Sugar Bowls, where he holds a 2-1 mark.
While Florida, Alabama, Auburn, and LSU are the names that come to mind of late when you think of the SEC, Richt has done a good job keeping UGA in conference contention year in and year out, winning the overall title in two seasons and the SEC East crown five teams.
While he has been on the hot seat numerous times for his teams underachieving, Richt has rebuilt the Georgia football brand into a powerful one, and headed into the 2012 season the Bulldogs are considered a favorite in the SEC East once again.
9. Steve Spurrier, University of South Carolina
Steve Spurrier, better known around these parts as "The Old Ball Coach" (OBC), was living the dream as Florida's head coach from 1990-2001. The former Gators' quarterback found himself sitting at the end of the 2001 season with a 122-27-1  (81.3%) overall record, 87-12 (87.9%) SEC mark, four "BCS bowl" wins, six conference championships, eight division championships, and one national championship.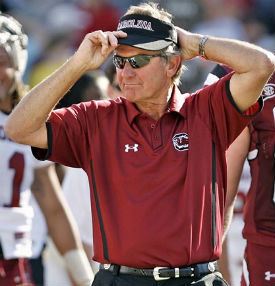 There's not much more Spurrier could have asked for as he not only owned the town of Gainesville, Florida, but also was right up there in the college football world. That was until Daniel Snyder came calling.
Spurrier jetted the college ranks to bolt to the NFL and the Washington Redskins. The move turned out to be a horrible mistake on the OBC's part, as his "fun'n'gun" offense did not work out in the pros, leading to his team's posting a record of 12-20 during his two years in the nation's capital.
Spurrier took a year off from coaching before making a bold move in his return to college football, accepting the job at one of Florida's SEC rivals, South Carolina. Spurrier inherited a Gamecocks team from Lou Holtz and the program was in a bit of a rut after the former Notre Dame legendary coach was unable to pump life into the program, posting a 33-37 record and just two bowl appearances (we will choose to forget this and this) in his six seasons at the helm.
It has taken Spurrier longer than he had likely hoped to get USC to where he wanted them, but the Gamecocks have certainly made great strides. The OBC has posted a record of 55-35 (61%) overall and  29-27 (51.9%) in the SEC during his eight seasons in charge. More importantly, in the last two years, his overall mark is 20-7 (74%) and SEC record is 11-5 (68.8%), including one division title in 2010 and a second place finish in 2011. 
With the Gamecocks continuing to do well on the recruiting trail and executing on the field, Spurrier will look to improve his career mark of 197-75-2 (71.9%) in 2012, where his team should battle with Georgia for the SEC East crown.
8. Chris Petersen, Boise State University
Unlike the other coaches on this list, Chris Petersen doesn't have the luxury of playing in a big time conference with revenue sharing, boosters giving millions annually to the football program, or five star recruits flocking to his school. Like the other coaches on this list though, Petersen continues to keep winning games as head coach of the Boise State Broncos.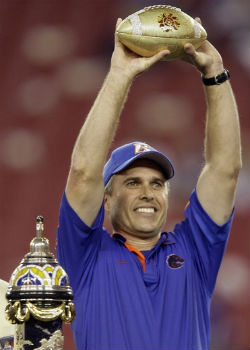 Petersen began his coaching career at University of California-Davis back in 1987 and spent five season coaching the freshman team and then wide receivers there. He moved on to Pittsburgh to coach quarterbacks in 1992, but that was short lived as he moved back west to take over the same gig at Division II Portland State under Tim Walsh in 1993 and 1994.
Moving back west helped his career tremendously, as Petersen really grew up as a coach when he was hired by Mike Bellotti at Oregon and spent six seasons learning to hone his craft. He learned a lot from Bellotti in Eugene as wide receivers coach before accepting a promotion in 2001 to be the offensive coordinator at Boise State under new head coach Dan Hawkins.
After helping Hawkins build Boise State up from little known program to national Cinderella (53-11 record and four bowl games from 2001-2005), Petersen got tabbed as the Broncos' next head coach after his mentor left to take the same position at Colorado.
Petersen took his new job and ran with it, having immediate success with an undefeated season and Fiesta Bowl victory during his first year, and posting an incredible 73-6 (92.4%) during his current six year stay running the program. In addition to a great record, he has notched a 4-2 bowl record, including 2-0 in BCS Games, as well as four conference titles, with second place finishes in the two seasons he didn't win the crown.
More importantly for the Boise State program, he has brought them from the Western Athletic Conference to the more competitive Mountain West Conference, and word recently broke that they will move to a current BCS automatic qualifier in the Big East starting in 2013. Petersen is an incredible head coach who has done more with less during his time at Boise State and will continue to be a name at the top of every university's wish list when their head football coaching job becomes open.
7. Frank Beamer, Virginia Tech
Another coach who has been on the hot seat for not being able to get over the hump despite putting up continuous years of winning seasons is Frank Beamer of Virginia Tech.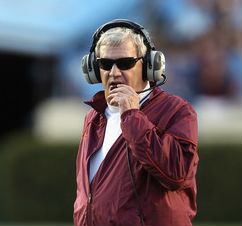 Now entering his 26th season as head coach of the Hokies, Beamer has posted a 209-98-2 (67.6%) overall mark with the school. Like Petersen he helped build the Hokies into the program they are today, taking over in 1987 when they were an independent team, moving them to the Big East in 1991, and finally settling them in their current home of the ACC in 2004. 
Talking about his successes, Beamer has been to 19 straight bowl games, including 8 "BCS games" that featured a loss to Florida State in the title game during the 1996 season. He won three conference titles while in the Big East and has four in the ACC, including six trips in eight years to the conference title game. 
Beamer is best known for his emphasis on defense and special teams generating points for the team in addition to the offense, a philosophy that has been pegged "Beamer Ball". His teams are usually well disciplined and have a knack for blocking punts and kicks or getting timely plays in the return game and/or on defense in order to make a victory the complete team effort.
Beamer heads into 2012 with yet again another successful team, led by QB Logan Thomas, and the Hokies should once again be set to have a successful year in the ACC.
6. Chip Kelly, University of Oregon
Charles "Chip" Kelly has been a well known commodity in college football since bursting onto the scene with his innovative system as offensive coordinator of Oregon in 2007.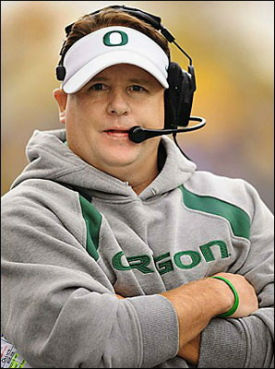 Prior to landing at Oregon, Kelly started his time in the coaching ranks at Columbia University in 1990, where he spent two seasons coaching on the defensive side of the ball. He left Columbia in 1992 for New Hampshire, left in 1993 for a quick stint at Johns Hopkins, before returning to UNH from 1994-2006.
It was at New Hampshire where he studied and developed his current spread offense that he took with him to Oregon. After having immediate success with the offense at UO, Kelly was promoted to head coach after Mike Bellotti stepped down as head coach to accept the role of athletic director.
Since taking over in 2009, Kelly has put together a 34-6 record (85%), including an unbelievable 25-2 (92.6%) run in the Pac-12. He has won the conference title in all three years he has been at the helm, and brought Oregon to two Rose Bowls (1-1) and a national championship game, where the team lost to Auburn 22-19.
Kelly, along with the help of Nike's Phil Knight, has completely reinvented Oregon Football and it seems like he has the program here to stay when it comes to being on top of the college football world. The Ducks will once again be ranked among the top 10 to start the season and if they can get by other conference heavy weights USC and Stanford, they will make a remarkable fourth straight BCS game and have a shot at the national title.
5. Mack Brown, University of Texas
Out of all the names on this list, Brown will get the most criticism, at least on placement, but when you look at the body of work over his career it is hard to argue his place amongst the ranks.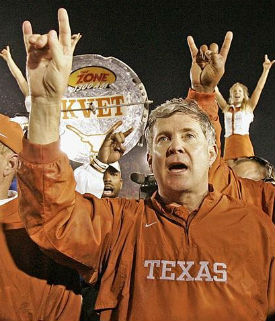 Despite having disappointing results the last two seasons, Brown has led the Texas Longhorns to a 141-38 (78.3%) overall record and 86-27 (76.1%) Big 12 record in his 14 years as their head coach.
Prior to arriving in Austin, Brown coached Appalachian State for a year and Tulane for three years before making the jump to North Carolina. As head coach of the Tar Heels from 1988 to 1997, Brown completely turned the program around. In his first two seasons the team went a combined 2-20, but in his last two seasons UNC posted a combined 20-3 line to give the coach a 69-46-1 (59.9%) overall record and 40-35-1 (53.3%) ledger in the conference.
Texas liked what they saw from Brown and the move to bring him on in 1998 paid off. In addition to his lofty record, Mack has claimed six division titles, two conference titles, and a national title while at UT. He has only has one losing season (5-7 in 2010) and has posted at least nine wins in all but two during his time in charge. 
Brown has led the Horns to 13 bowl games (8-5), including 4 BCS bowls (3-1) that featured 2 national title games (1-1). UT has been down the last couple of years (5-7 in 2010 and 8-5 in 2011), but is expected to make a come back in 2012 now that the quarterback position has been more established and the defensive talent returning is top notch. If Brown continues the trend of the last two seasons, expect him to drop significantly on this list come next year.
4. Les Miles, Louisiana State University
His methods may be unconventional at times, but Les Miles, a.ka. "The Mad Hatter", certainly gets the job done when it comes to bringing his team victories.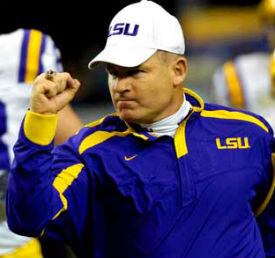 A former player at Michigan in the mid 70's, Miles returned to his alma mater in 1980 as an assistant coach under the legendary Bo Schembechler. His stay was short there as in 1982 he left to go to Colorado, where fellow assistant Bill McCartney was named head coach.
After spending five seasons in Boulder, Miles once again returned to Ann Arbor from 1987-1994, where he helped Gary Moeller's team to eight consecutive winning seasons, including four Rose Bowl appearances.
Upon Moeller's resignation Miles went to Oklahoma State, where he served as offensive coordinator from 1995-1997 before doing a stint of three seasons as tight ends coach for the Dallas Cowboys.
Miles returned to Oklahoma State in 2001 as their new head coach, where he spent four years turning around the program while compiling a 28-21 (16-16) record. During his time in Stillwater, Miles led the Cowboys to three bowl games (and had some fun with this one), giving the program the boost it needed to be a competitor in the Big 12.
Following Nick Saban's departure from LSU to go to the NFL, Miles was named as the Tigers' new head coach and has held that post for seven years. Baton Rouge has brought the head coach great success, as he has compiled a 75-18 overall record (80.6%) and registered a 41-15 (73.2%) record in the SEC.
Under his leadership LSU has won three division titles, two conference titles, and has played in two national championship games, winning one (we will forget that as well). The Tigers have been to a bowl game in every season Miles has been the head coach, earning a 5-2 record in those games, including a 2-1 mark in BCS games. 
The Mad Hatter's accolades were certainly questioned heading into last year, as much of his success was with Saban's players, but Miles has proven himself on the recruiting trail and brought his team to an undefeated regular season and SEC championship before falling to division rival Alabama in the title game.
Miles once again has a top three team heading into 2012 and the Tigers are one of a handful of teams with a great shot to win the national championship this year.
3. Bob Stoops, Oklahoma University
One of Youngstown Cardinal Mooney's finest checks in at number three on this list and that is something not to be ashamed of as the Oklahoma Sooners' head coach has had an outstanding coaching career.
After a four year playing career at the University of Iowa, Stoops started his coaching tenure as a volunteer under Hayden Fry. After spending time with the Hawkeyes he was an assistant for Kent State in 1988, was hired by Kansas State in 1989, where he was named co-defensive coordinator in 1991, and then finally left for Florida to head up Steve Spurrier's defense in 1996. 
During his first year at Florida, Stoops vastly improved the defense which helped the Gators to a national title win in January 1997 over rival Florida State. He quickly became one of the hottest names in the business and his hard work paid off when he was hired as Oklahoma's head coach prior to the 1999 season.
In his 13 season in charge of the Sooners' program, Stoops is 139-34 (80.3%) overall and 84-21 (80%) in Big 12 play. He has been to eight conference title games, winning seven of those, and claimed a national title during his second season.
The knock on Stoops has been his performance in big time games. He has led OU to eight BCS games, but has only gone 3-5 in those, while leading the Sooners to three national title games and winning one. That being said, making eight BCS bowls and three title games is impressive and speaks volumes to the consistency and success he has had while in Norman.
With another talented roster in 2012, led by QB Landry Jones, the Sooners are projected to win the Big 12 once again and should extend his coaching legacy.
2. Urban Meyer, The Ohio State University
Buckeye fans will be disappointed to see Meyer check in at number two rather than at the top spot on this list, but at just 48 years old Urban is still ripe to be carving his place in college football history .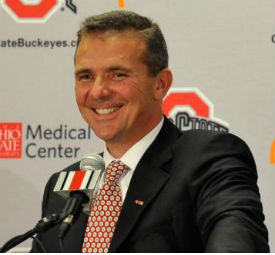 You all know the story already, but Meyer began his coaching career as a defensive backs intern at Cincinnati St. Xavier High School during the 1985 season. Following his stint with the Bombers, head coach Steve Rasso helped Meyer connect with the Ohio State coaching staff, where he served as a graduate assistant under Earle Bruce for two seasons.
It was under Bruce that Meyer first truly realized what it takes to be a successful head coach at the college level and learned many valuable lessons that he still uses today. After his two year gig in Columbus came to an end, Meyer went on to serve as an assistant over the next 13 years at Illinois State (under Jim Heacock), Colorado State, and Notre Dame.
In 2001, Urban landed his first head coaching job at Bowling Green and started to make a name for himself in the college football world. He led the Falcons to a 17-6 (73.9%) mark in his two seasons leading the team, earning MAC Coach of the Year award in his first year and making QB Josh Harris a household name across America.
Utah knew Meyer was a special coach and hired him ahead of the 2003 season. Like with BGSU, a quick turn around was in the books for the Utes' program and Urban led them to a 10-2 mark, conference title, and Liberty Bowl win during his first season. His second year was even better, as the Utes went 12-0 on the year, once again claiming the MWC crown and defeating Pittsburgh 35-7 in the Fiesta Bowl behind future number one overall pick QB Alex Smith.
Meyer probably did just a little too well in going 22-2 in his two seasons in Salt Lake City, as Florida came calling in 2005 after firing Ron Zook. It was at Florida where Meyer reached his current "rock star status", with the coach going 65-15 (36-12) during six seasons in Gainesville before retiring following the 2010 season due to health concerns. Meyer led the Gators to three SEC title games, winning two of them, and six bowl games, where he posted a 5-1 record. Included in those six games were three BCS games (3-0), with two of them being national title victories in January of 2007 (really need to stop bringing things like this up) and 2009.
After a year in the booth working for ESPN in 2011, Meyer returned to grab the headset for Ohio State when he accepted the vacant coaching job in November of last year. Despite not being able to play in a bowl game this upcoming season, Meyer has re-energized Buckeye Nation and the Ohio State football program after "Tatgate" left the Buckeyes limping to a 6-7 mark last season.
Will Meyer bring the Buckeyes the immediate relief they are in need of? The answer is unknown, but his track record at Bowling Green, Utah, and Florida certainly point to yes.
1. Nick Saban, University of Alabama
Following his career as a defensive back for Kent State, Nick Saban jumped right into coaching, becoming a graduate assistant for the Golden Flash from 1972-1974.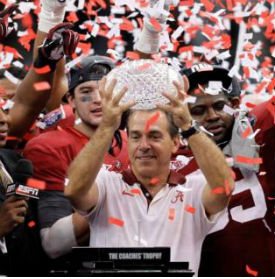 Saban showed a great work ethic and was promoted to an assistant on the staff from 1975-1976, before moving on to other assistant coaching stops in the college ranks at Syracuse (1977), West Virginia (1978-1979), Ohio State (1980-1981), Navy (1982), and Michigan State (1983-1987).
Following his time as the Spartans' defensive coordinator/defensive backs coach, Saban left the college game to coach the Houston Oilers' secondary for two seasons. He made a brief return to the college game to get his first head coaching job with Toledo in 1990, but left after just one year and a 9-2 record to become the defensive coordinator under Bill Belichick for the Cleveland Browns.
After four years in Cleveland, Saban once again came back to the college game, taking the head coaching job at Michigan State, where he stayed from 1995-1999. While in East Lansing, Saban recorded a 34-24-1 (23-16-1) mark that included four bowl berths. He turned around an MSU program that had not had a winning season since 1990, something that went noticed in the coaching world and ultimately landed him the big job he had been waiting for.
Before the 2000 season, LSU hired Nick Saban as the 31st coach in program history. Saban was a great fit in Baton Rouge and rose to the top of the coaching ranks after going 48-16 (75%) overall and 28-12 (70%) in the SEC during his five years with the Tigers. He went to three conference title games, winning two, also helping LSU win a national championship over Oklahoma in the 2003 season. Saban's time in the bayou granted him the same "rock star status" Meyer earned at Florida, and maybe a bit of an ego too, as he left the school in 2005 to go back to the NFL.
During his two seasons in the NFL, Saban went 15-17 as head coach of the Miami Dolphins. Despite maintaining he would continue as the team's head coach following a 6-10 year in 2006-2007, rumors were flying around that the coach would return to the college ranks with a big time program. No traditional power needed help more than Alabama, and the Rolling Tide made Saban their 27th head coach on January 3, 2007.
Since taking over in Tuscaloosa, Saban has done everything and more that Bama fans could have hoped for when he was hired. He has gathered an incredible 55-12 (82%) overall record and has dominated the SEC, going 32-8 (80%) through five seasons thus far. More importantly, Alabama has been to three SEC title games, winning two, and has gone 4-1 in bowl games, including 2-1 in BCS Games with the two wins being national titles.
Despite losing many of his defensive stars and star back Trent Richardson, Saban has Alabama poised for another national title run in 2012 and continues to reload his roster year in and year out with some of the top talent in America.
Honorable Mention: Lane Kiffin, Gary Patterson, Kirk Ferentz, Mike Gundy, Bill Snyder, Brian Kelly, Kyle Whittingham, Bret Bielema, Mark Dantonio, Mike Leach, Pat Fitzgerald