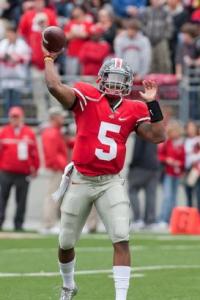 Last Thursday night in Chicago, Urban Meyer didn't go to a famous local pizza joint or scarf down multiple Chicago-style hot dogs. Like any football junkie awaiting the season, he sat in his hotel room at the Hyatt Regency McCormick Place and tuned into Big Ten Network's replay of the 2011 Ohio State-Michigan game.
What he saw left him horrified.
Meyer called the offense "inadequate" with a "non-functioning passing game."
"We have to be able to throw the ball," Meyer said at Big Ten media days in Chicago. "We won a game last season (Illinois) and had one completion. You lose more than you win if you can't throw."
The man in charge of turning Ohio State's passing game around, a unit that ranked 115th out of 120 teams a season ago, is sophomore Braxton Miller. The dual-threat phenom started 10 games as a true freshman and was wildly inconsistent. For every highlight from the Nebraska and Wisconsin games, there were missed open receivers by the dozen against Michigan and Florida.
Miller did show a penchant for stepping up at crucial moments, though. His 40-yard scoring heave to Devin Smith in the closing seconds against the Badgers is a play that will be talked about as long as football is played in old Columbus town. Miller orchestrated another miracle finish at Purdue when, on fourth-and-goal late in the fourth quarter, he scrambled and threw across his body to Jordan Hall in the end zone. A missed extra-point and subsequent loss in overtime nullified Miller's heroics.
"Braxton Miller is dynamic," Meyer said. "He's the most dynamic athlete I've ever coached. What I just said, people should go, 'Whoa!' And he is, by far. That's how good an athlete he is."
Keep in mind Meyer's past quarterback crop includes a No. 1 overall draft pick (Alex Smith), a Heisman Trophy winner and two-time national champion (Tim Tebow) and a one-time national champion (Chris Leak). Not to mention Josh Harris, who, at the time, was one of only two quarterbacks (Antwan Randle-El) to pass for 40 touchdowns and rush for 40 touchdowns in a career. 
"Braxton Miller has a lot of the skill set that (Tebow) didn't have," Meyer said.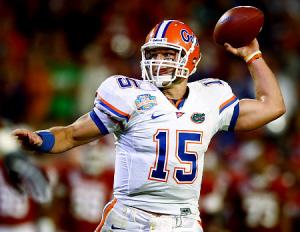 A 4-6 career record as a starter wouldn't leave many head coaches overflowing with praise of their quarterback. But Meyer is astutely aware of the tools Miller exhibits and his more seasoned supporting cast.
"I'm hearing that it's better," Meyer said of the wide receivers. "I've heard Devin Smith has had a very good summer. He looks different to me, much more mature. I think he realizes the urgency. Philly Brown looks better to me. His grades are much better, which is a good sign. He hit a 3.8 GPA his last quarter, so there are signs of some positive things. Evan Spencer has had a very good summer. Verlon Reed is coming off his knee surgery, but I understand he's doing well. All indications are they're better, that they're getting to the level that we expect."
That wasn't the case last season when Smith's 14 receptions and 294 receiving yards were team highs. Freshman Michael Thomas almost topped that total with 12 catches in the spring game.
"There are probably a dozen reasons," said Meyer, when asked about the low production. "I think the whole program expected the other quarterback (Terrelle Pryor) to come back. They got caught with a true freshman and a backup (Joe Bauserman). The quality of skill players didn't perform. When we played in '06, they had two first-rounders in Teddy Ginn and (Anthony) Gonzalez. Last year, they didn't."
But just as the offense was starting to take form, following spring practice and over the summer with player-organized drills, disaster struck. In a freak accident, Jordan Hall, the Buckeyes' do-everything hybrid running back/wide receiver stepped on a piece of glass outside his apartment.
Hall suffered a torn tendon in his foot and underwent surgery to repair the issue. He'll likely miss anywhere from one to four games, with the later more probable. The injury has stunted Ohio State's offense and left Meyer feeling scorned.
"It hurts," he said. "You have to put the brakes on. It's not just the play. Plays are good because of guys. A play might not look as good with another guy. If you had to say what our offense is trying to do, we're trying to stress the defensive ends. We want to take their best player, which is usually the defensive end, and we want him to put both feet in the ground and (stop). When we have extremely fast people and extremely strong people doing that (it's hard to stop)."
Meyer's football philosophy – play great defense, limit turnovers, score in the red zone and win the special teams battle – sounds awfully similar to something termed "Tresselball." And like the former Ohio State head coach's penchant for giving the quarterback added responsibility, the new guy in charge does the same.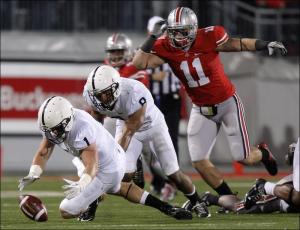 "We're very anti-turnover, too," Meyer said. "If you go back and look at our quarterbacks, we don't throw picks, and if you do, you're out. The quarterback position is not the position to take chances. We've never had a gun slinger and we won't do that.
"The one thing about our offense, you can't have a bad quarterback. And the quarterback can't have a bad day or you'll lose."
Unlike other variations of the spread offenses where the quarterback simply turns and hands the ball off, Meyer's signal-callers have to make a read in a fraction of a second some 80 times per game. At one time, people scoffed at the thought of spread offenses succeeding in major college football. It was viewed as a gimmick and something lower level schools used out of desperation.
The system was born after Meyer, then the wide receivers coach at Notre Dame, and graduate assistant Dan Mullen visited Louisville head coach John L. Smith and offensive coordinator Scott Linehan in 1999. Meyer and Mullen became so enamored that the day trip stretched into four days, prompting them to buy tooth brushes.
In its simplest form, Meyer's spread is nothing more than a power offense. But when Meyer sat down with his mentor, Earle Bruce, the former Ohio State head coach didn't want to hear it.
"He said, 'What the hell is that," Meyer said. "I said coach, it's your off tackle power, your base play. He started watching it and he actually loved it."
When Meyer took his high octane attack to Gainesville, he was mocked and told there was no chance at success. Six years later, he etched his name among the upper echelon of coaches, winning two national titles. On Friday, that same system will begin to take shape in Columbus, as the Buckeyes open fall camp.
The leader of the pack is someone that many believe is a perfect fit for Meyer's vision, including Meyer himself.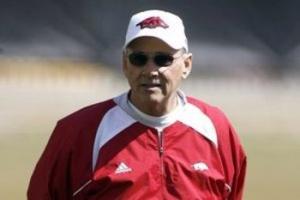 "He's got the release and he's got the arm strength," Meyer said. "His acceleration is off the charts. I've had very few people that can accelerate like that and I've had first-rounders all over the place. His acceleration from Point A to Point B, our strength coach and I laugh at it. And he's strong. He's 215 pounds. Real strong.
"He also has a degree of humility that you almost never see in quarterbacks at Top 10 programs. It's refreshing to see that. It's good for college football. It's good for my son to see it. (Miller's) a hard worker. His positives are that he's extremely competitive. If you put him in a winner-loser day, he's going to try to find the best way to win."
Despite all the accolades, Meyer says Miller's leadership qualities are to be determined.
"I'll tell you after the first week of practice if he's a good leader," Meyer said. "If we throw the ball decent and guys are catching, that means he led them all summer. If we don't, that means he's not where he needs to be."
Already, though, senior fullback and presumptive captain Zach Boren said there's been a change in Miller's on-field character. Last season, Boren said, Miller was just on the field improvising and showing hints of timidness. 
"I think this offseason he's more vocal," Boren said. "He's taking control of the offense. He never really did that before. Now he's out there telling guys what to do. We're going to do this, we're going to do that. He's even bringing guys in on Sunday to throw pass routes."
With Meyer's help, Miller will be throwing passes on future Sundays. But his platform remains Saturdays in the fall for now. On Friday, Miller's next chapter will begin.
It's in his hands – or arms and legs – whether he writes a happy ending.