Today marks the beginning of the annual two-day circus in Chicago known as Big Ten Media Days. And for the second consecutive season, a smorgasbord of questions surrounds the Ohio State football team.
At this time one year ago, Luke Fickell was at the center of attention. The storyline is similar again in 2012, the Buckeyes have a new head coach, but the circumstances are dramatically different. Now, the negative headlines are adorned to Penn State. Still, much of the focus at the conference's preseason kickoff will center on Urban Meyer and Ohio State. The Buckeyes will also be represented by a trio of players – Zach Boren, Etienne Sabino and John Simon.
In the six-plus months since Alabama defeated LSU in the national championship game, college football has undergone a seismic shift with the implementation of a four-team playoff starting in 2014, while the scandal that engulfed Penn State in November has since turned into the biggest indignity in the history of intercollegiate athletics.
With the offseason of 2012 producing a series of tidal waves, the games offer a welcome respite. Here are several storylines that will emerge at the Big Ten's annual gathering.
The topic du jour not only in the sports world but around the world is Penn State. Bill O'Brien was already going to be in the spotlight this week having replaced Joe Paterno. But with the NCAA handing down arguably its harshest set of penalties ever this past week, O'Brien is sure to be the most sought after coach, and he'll be the only representative of Penn State present after the Nittany Lions opted not to send its contingent of players, of which included running back Silas Redd, who's been rumored to be transferring to USC.
It could also be awkward for O'Brien, considering it is now public that several Big Ten schools have contacted Penn State players inquiring about transferring. Illinois assistants have been spotted on Penn State's campus by nearly the dozen, while Kirk Ferentz reached out to O'Brien letting him know he'd be speaking to players.
More than 30 current Penn State players gathered at the practice facility on Wednesday to address the media for the first time since the NCAA sanctions were announced. Their overall message was, "We're going to see this thing through."
"We take this as an opportunity to create our own legacy," senior linebacker Michael Mauti said. "This program was not built by one man and it's sure as hell not going to get torn down by one man. This program was built on every alumnus, every single player that came before us, built on their backs."
Despite the Penn State mess, Meyer's first foray into the Big Ten is sure to attract attention. The former King of the SEC has come home to the North. Like Penn State, the Buckeyes will not be eligible for the postseason – no opportunity to play for a Big Ten championship and no bowl game. The question often repeated: what does Ohio State have to play for? The short answer: a lot.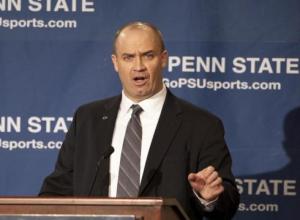 "If we come out and go 12-0, like it should be every year, I think everyone in the country has to stop and look at us and say, 'What could they have done in the bowl?'" defensive lineman Michael Bennett said.
The AP national championship is a possibility, but beyond that, every game is an opportunity for Ohio State to flex its muscle. Coming off a humiliating scandal and losing season, redemption is on the Scarlet and Gray's mind. Then there is that game in late November. Last season, Michigan ended a seven-year losing streak against the Buckeyes and head coach Brady Hoke hasn't stopped gabbing about "Ohio" since his introductory press conference. With Meyer on board and each coach jabbing at their adversary, another Ten-Year War looks to be on the horizon.
Meyer has long been known as a master motivator and he displayed his tactics with precision during spring practice. The change in attitude from the Gator Bowl to drills in March was a dramatic shift. With fall camp almost one week away, fans and opponents will again see the new brashness at Ohio State. Following a season that seems destined for success, it will leave all wanting more.
After a resurgence in Hoke's first season, Michigan enters the year as a dark horse national championship contender. The catalyst is Heisman Trophy contender Denard Robinson. The dynamic quarterback has delivered 'oohs' and 'ahhs' for two seasons. But Year 3 becomes now or never.
A decade has passed since the Big Ten last won a national title – Ohio State in 2002 – and the SEC has since dominated, winning the past six titles. If the Wolverines upset Alabama in the season opener, they'll immediately jump into the conversation, as will Robinson when it comes to Heisman talk.
Greg Mattison's defense is another focal point. He did yeoman's work last season, turning around one of the worst units in the country. Michigan's 11-2 record was evidence of his effort. If Ann Arbor is to party like it's 1997, the defense will have played an important role.
If Michigan – or another Big Ten team – doesn't win the national championship this season, 2014 could mark the appropriate designated change. That is the year college football's new four-team playoff begins, a move Big Ten commissioner Jim Delany praised, even though the league admitted publicly it was in favor of the status quo.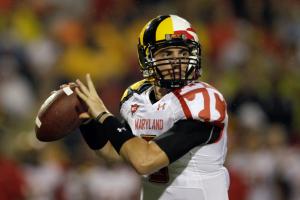 "As we moved forward to identify a new model, we had a couple of really important issues," he said. "We wanted to continue to support the regular season, we think it does that. We also wanted it to be inside the bowl season, it does that. We also think the method for selecting teams is more rational, it has fewer conflicts and is more transparent. So when I think at the whole situation, I think college football, the Big Ten and the players and coaches are well served."
Whether or not those opinions prove to be fact remains to be seen, but Delany's thoughts are generally agreed upon. The Big Ten has struggled nationally the past few seasons, while an expanded postseason gives them a much higher probability of placing a team in the championship hunt. 
Penn State and Ohio State share more than the past year's scandal, they also have first-year head coaching. Joining the two Leaders Division schools is another: Illinois.
The Fighting Illini got off to a dream 6-0 start in 2011 before floundering, ending the rocky tenure of Ron Zook. In comes former Ohio State defensive backs coach and Toledo head coach Tim Beckman. He'll be tasked with turning around a program that has been as inconsistent as any in the country. But the cupboard is not bare in Champaign, and with Penn State and Ohio State facing postseason bans, the Illini have a golden opportunity to steal the division title.
To do so, though, they'll have to unseat inaugural champion Wisconsin. The first year of the divisional alignment nearly ended in a birth in the national championship game for the Badgers, had they not been done in by two Hail Marys – in back-to-back weeks nonetheless.
Bret Bielema's good fortune of securing transfer quarterbacks continued this spring when former Maryland signal-caller Danny O'Brien opted for Madison's cool winters. Last year it was North Carolina State's Russell Wilson who made magic memories for the Badger faithful. The experiment earned A-pluses all around. If O'Brien brings just his B game, Wisconsin will be tough to coral. That's because Montee Ball returns to the backfield as do targets Jared Abbrederis and Jacob Pederson.
A third consecutive Rose Bowl is well within reach for the Badgers.
Everyone is aware that defense wins championships, but the offense still has to contribute. That brings us to one of the biggest curiosities in the Big Ten – the Michigan State Spartans. Mark Dantonio has quickly built the Spartans into one of the elite inside the conference. Four straight wins over Michigan have also changed the balance of power in the state. They'll field one of the top defenses in the country, but on offense they're forced to continue their rise without quarterback Kirk Cousins. Taking his place is Andrew Maxwell, a strong-armed athletic presence in the pocket.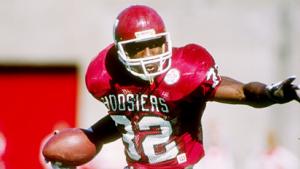 Le'Veon Bell returns at running back and should give Maxwell freedom to throw the ball around. If Maxwell proves to be as good as anticipated, the drop off from the past two year's double-digit win campaign should be minimal.
At Iowa, it's a two-year slump that has the natives restless. Kirk Ferentz has been a hero to many, winning two conference championships in his 13 seasons in Iowa City. But five losses in five of the past seven years quickly warm up your seat.
Several longtime assistants were shown the door in the offseason, providing a breath of fresh air for the Hawks. One of those moving on is offensive coordinator Ken O'Keefe. He'll be replaced by former Texas offensive coordinator Greg Davis. Only five returning starters are back on both sides of the ball, but quarterback James Vandenberg is due for a big year. With the focus squarely on Michigan in the Legends Division, Iowa could sneak up on many.
A direct competitor is rival Nebraska. The first season in the Big Ten didn't go as planned for the Cornhuskers. They were tabbed a preseason favorite, but failed to make the Big Ten championship game. In its first conference game, Nebraska was embarrassed at Wisconsin in front of a primetime national TV audience.
The key to the Huskers being a contender in the Big Ten lies with Taylor Martinez's consistency or lack thereof at the quarterback position. He can be spectacular and terrible all on the same play. Martinez has completed less than 60 percent of his passes in his career and tossed 15 interceptions compared to 23 touchdowns.
That's why his offseason has been spent working on mechanics and footwork. If Martinez can right the ship, the Huskers have a chance to be special. All-world running back Rex Burkhead is back and seven starters return on defense.
Keep an eye on these discussions the next couple of days, and come the fall, how these storylines play out will help determine the Big Ten's fate in 2012.