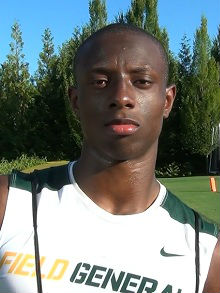 If you have been around this site for some time you have certainly heard from Voorhees (NJ) Eastern DB Eli Woodard, who committed to the Buckeyes back in the middle of February.
Last we heard from Woodard, he was in town for the spring game and was gearing up for a summer full of team and individual work outs, as well as some of the elite camps and combines being held across the country.
Woodard was recently at Nike's The Opening in Beaverton, Oregon, where he and 6 of his future Buckeye teammates competed in a group of 150 of the nation's top players. As usual, Woodard drew rave reviews from those in attendance and was among the top performers for the weekend, despite his Field Generals team losing in the 7-on-7 pool play championship game.
In addition to The Opening, Woodard has also attended the Rivals 100 camp and will be heading to Orlando next weekend to participate in the Gridiron Kings event. The future US Army All-American performed well at all of his camp stops this summer, and now sits as a five star and the second ranked cornerback in the country according to ESPN/Scout's Inc., while also racking up four stars from Rivals, 247, and Scout and being rated as the fourth, seventh, and eighth cornerback respectively by those outlets.
We caught up with Eli to hear about his experience at The Opening, if he is doing any recruiting for the Buckeyes, what the rest of his summer plans are, and when he might be back at Ohio State. Join us after the jump to hear the latest on Ohio State cornerback commit, Eli Woodard.
You were just out in Oregon for The Opening. How was that experience?
The experience was great. I got to meet a ton of the guys I had been hearing a lot about and go up against the best in the nation. Nike really goes all out with everything they do and I just really made sure I appreciated everything about it. My game has grown a lot between attending the Rivals 100 in Atlanta and The Opening at Nike. I picked up great tips and techniques from guys like Patrick Peterson, Joe Haden, and from all the other defensive backs at the event. Everyone that was there at all positions can ball. I made some really good friends and look forward to seeing everyone make it happen in college.
There were six future Buckeyes at the event, including yourself. How much time did you spend with the other guys and did that help you grow closer?
Cam and I haven't worked out together before so even though we weren't on the same team I got a lot out of watching how he works and attacks the game, same with the other way around. We both balled out at the event and are looking forward to playing on the same team for Gridiron Kings next week and then again in the US Army game. Beyond that, it was great getting to spend time with all of the guys, as we got along and had a fun time. Jayme kept us cracking up and I really am looking forward to us all being in the backfield together.
How would you judge your performance at The Opening? How did you stack up to the other top competition there?
It's one of those things that you know when you take the field you're going to get the best from the best and you better be ready to bring your best. I feel I was able to consistently do that throughout the weekend and put it all together in the championship game. I enjoyed every minute of the challenges that all of the receivers brought.
Who was the most impressive player you saw while out in Oregon?
I can list just about every player that was there! There was something to learn from watching everyone and how they played. Guys were really going all out and it helped me see the areas of my own game to focus on. Kendall Fuller, Brice Ramsey, Shaq Wiggins, Noel Ellis, Jourdan Lewis, Cam Burrows, Jayme Thompson, Priest Willis, Vernon Hargreaves III, Ricky Seals-Jones, Laquon Treadwell, OJ Howard, Christian Hackenberg, and Max Brown were just some of those players that stood out, and I really could go on and on all day.
What recruits that were out there were you guys trying to recruit for the Bucks?
We were talking to everyone! There are some guys coming [to OSU], that's for sure, but they will announce on their own time and I will leave it at that.
Coming out of The Opening what are some things you feel you need to work on?
Every part of my game really. Technique and conditioning are only as good as your consistency. I am going to practice everyday to get better so I can take advantage of the opportunity to be the best Buckeye I can be and earn a position on the roster. I want to play when I get to Ohio State.
What are your plans for the rest of the summer?
I am taking summer classes now so that I can graduate in December and be an early-enrollee. Football wise, my focus is on my team and us coming together to make a serious run at a state title.
When is your next trip to Ohio State?
I plan on trying to get out for a few days of training camp and am then looking to come out to the Cal, Nebraska and That Team Up North games. Hopefully I will then be on campus in January.
HIGHLIGHTS FROM THE OPENING: