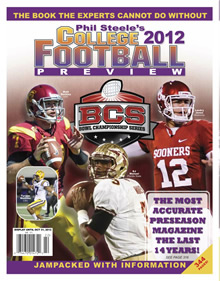 We spoke with prominent college football expert Phil Steele about myriad topics relating to everyone's favorite sport, including what a college football Saturday entails for Steele, the Buckeyes' biggest trap game, the rebirth of Michigan football and, of course, Urban Meyer.
Eleven Warriors: How did you become a college football prognosticator?
Phil Steele: About 30 years ago, I started writing a football newsletter. What I would do was buy all the preseason magazines to gather my information. As you can tell by my magazine, the other ones just didn't have the amount of information I needed. So about 21 years ago, I started compiling the information myself – getting the spring prospectuses, checking rosters. I ended up writing sort of a magazine version for myself for the upcoming season. A couple people I showed it to said, hey, why don't you put this out in magazine form? So 18 years ago we put out the first magazine. It's a little different than the other ones because it's more information on top of information, as opposed to a quick, easy read. But each year it's gotten a little bigger and a little better.
11W: Your predictions are usually the most accurate and people love the sheer amount of content they get out of your magazine. But how has a guy working out of Westlake, Ohio, been able to almost slay the Athlons of the world?
PS: By sheer work ethic. The way Athlon does their magazine, what they do is hire a different writer for each conference, and that writer writes everything, sends it in, they compile them and then do a Top 25.
Ours is different in the fact that I write each of the 124 team previews myself. From December 1 to the middle of May, I don't care about basketball, I don't care about baseball, I don't care about any other sport out there; I just concentrate on football. I do have a staff of about 20 folks that help prepare the teams for me and proof read. We go through seven sets of proof reading on every team. If there's an interesting stat I want to see for the upcoming season, we make sure we put it in the magazine.
I really feel we have four to five times the amount of information. We're twice as thick as the other guys and we just cram information upon information on the pages. The other guys will use full-page pictures and double-spaced type, so I think the sheer amount of information we put on the pages and the accuracy attracts fans. I think that comes from me just working on college football 365 days of the year.
11W: As a sports fan growing up, did you ever imagine you'd get to write about it and have a cult following?
PS: Uh, no (laughs).  In fact, I'll tell my six-year-old daughter when we drive by the place that used to be (a store) that one of my favorite days every June and July was when my dad would take me to the magazine store and I could buy whatever I wanted. I'd get three or four college football magazines and I'd just read them the next three weeks and compile my own set of power ratings. But I had no thought process that it was possible that I could produce a college magazine on-par with what I was buying as a teenager.
11W: Describe a normal work week for you.
PS: Since I write each of the 124 teams myself, during the season I have 12 TVs in front of me. So I watch 12 games all day long on Saturday, then members of the staff compile a play-by-play of each game, as well. I review those Monday and Tuesday just to refresh what I watched and also if I missed any plays. They have interesting notes on the games, too, so I can get all the key plays.
Also during the season, members of the staff will get me articles. Let's say four papers cover Ohio State in a major fashion, with the Internet it makes it easier nowadays. They underline all the key stuff from the articles and type it into a report.
During the offseason, from December 1 through February 1, I read through a stack probably of 150 pages on each team. It basically takes me through day by day of the team. I read those, and then actually do my write-ups on quarterbacks, running backs, offensive line, etc. I have to do two to three teams per day, so it's a hectic deadline. A lot of work weeks are anywhere from 80 to 100 hours. The problem is I'm under a constant deadline.
Once spring hits, we get all the spring prospectuses and rosters. I revise what I wrote in the magazine and revise my nine sets of power ratings, and then after the spring is over and we digest everything that happened, I go in a third time on each of the write-ups. I have my nine sets of power ratings and play them into the schedule for each team. It's very important to me to be the most accurate, so each year I put a lot of work into it.
11W: Wow, that is unbelievable. It sounds like a lot of work, but it also sounds like a lot of fun.
PS: The prediction time is fun. Once you start doing a team and you're on team No. 1, its fun. Then you get to team No. 40 and it's good. Once you're getting to team 80, you're like, is this ever going to end? The problem is I give myself a four or five-hour deadline. You finish the deadline and you're happy. But then you realize you're on the clock for your next deadline and you have to go through the whole process again. It was a lot easier on my first magazine when there were only 88 teams.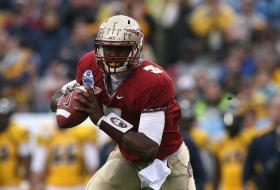 11W: What is your favorite bold prediction you've made that came true? Something that, when you made it, people said was stupid.
PS: There've been a lot of them. I would say Florida winning the national title in 2008 when Georgia was preseason No. 1. I picked a team from their same division to win the national title in Florida, which some folks didn't even have in the Top 10 at the start of the year, and Tebow and Co. delivered. We've had a lot of our surprise teams end up wining in the national title, but that Florida one was pretty neat.
I remember doing the Paul Finebaum Show for the first time. He was pretty skeptical because I picked two out of the box teams to play in the SEC title game and he made fun of me on the air. Then both of those teams actually played in the SEC title game. So he brought me back on the next year and was a little less skeptical. There's always that level of skepticism, but I earned a little bit of respect because I picked the teams to make the SEC title game.
11W: How will the new four-team playoff, tournament, whatever you want to call it, affect your job?
PS: Won't affect it whatsoever. My thing is to predict conference winners and then go from there. It might take me an extra couple of minutes to figure out the four teams for a playoff.
I'll tell you what, though, I wrote about a four-team playoff in the magazine in 2000. I went through and thought the No. 3 team might have been the best team in the country in previous years. So I said the prefect playoff format was No. 1 vs. No. 4 and No. 2 vs. No. 3. Let the winners play a week later in the national title game and we'd have a true national champion every year. I've written about that for 13 straight years. I'm just thrilled that that particular plan has come to fruition and there are no conference champions or anything to mess it up; it's a clear No. 1 against No. 4 and No. 2 against No. 3.
I'm very happy that they signed it for 12 years. I think after 10 years, we'll find that 90 percent of the time, yes, the teams that deserve to be in the national championship mix are in there. The college football regular season is as important as it's ever been, the bowls are still intact and college football is the best sport out there.
11W: Do you think it's inevitable that the playoff will grow to more teams?
PS: I hope not. I hope there is no bracket greed. I believe that's one reason why they made it a 12-year deal. They're very cognizant of the fact they you don't want an eight or 16-taeam playoff. If you go back and look at the BCS, you can't make a case that the No. 5 team was a legitimate national title contender. You can say that the No. 5 team should have been No. 4, but not that they should have been No. 1 or 2.
I'll go back to the FCS playoffs. Recently, there was a three-year stretch where the Colonial (Athletic Association), much like the SEC has two divisions, and the national champion of the FCS was the third-place team in one of the Colonial's divisions.
Because they play a 16-team playoff, it becomes a battle of attrition. I don't think that's a true way to crown a national champ. The third place team in a division, first of all, shouldn't be playing in a national title game, let alone winning it. And I don't think the FCS gets a true national champ, even though they say in quote marks it's decided on the field.
11W: You grew up an Ohio State fan. Do you have a favorite team now?
PS: Yes, my favorite team last year was Alabama, because I picked them No. 1. I am a Seminole fan this year. I'm doing the chop as we speak (laughs). It's whoever I pick No. 1, whoever I pick first in the division, etc.
It's funny, one year I picked Georgia No. 1 in the SEC East and the Florida fans were saying, oh, you love Georgia. The next year I had Florida first and Georgia fans were saying I'm a Gator. The truth of the matter is, whoever I pick first in the magazine is who I root for that year. So, go Florida State.
11W: When, let's say, Louisiana-Lafayette and Idaho play, all the way down to that level, are you rooting for your predictions?
PS: Pretty much. It is very important for me to have that most accurate magazine title. Some games I don't have a rooting interest in. But I do watch each of the games.
You could ask me about UL-Monroe and I could be as in-depth about them as I am Oklahoma because I do study each of the teams the same way.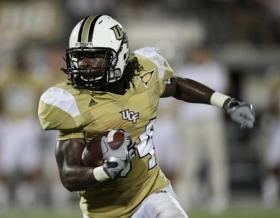 11W: To that point, about your knowledge of what people would call "obscure" teams – this season you picked Central Florida as one of your surprise teams. That's gotten attention in Columbus since Ohio State plays them. What kind of factors went into you believing Central Florida could have a pretty successful year?
PS: If you look at Central Florida under George O'Leary, they have an up and down pattern. They have a bad year then an up year. They've had one time where they had back-to-back winning seasons. Last year they were 5-7, but two years ago this was a team that dominated Georgia in the Liberty Bowl. They won the game 10-6 and finished No. 21 in the rankings.
This year's Central Florida team is stronger than that team. That team only had 14 returning starters, this year Central Florida has 18 returning starters. If you look at them defensively, each of their units ranks among the top units. I have their defense rated No. 28 in the country.
Offensively, they have a solid offensive line with all four starters back. They've got an extremely deep backfield – Brynn Harvey and Latavius Murray are two guys that are capable of 1,000 yards. Then they add in Storm Johnson, a Miami transfer, and I think he's going to make a big impact. Then the quarterback situation, last year Blake Bortles beat out Jeff Godfrey at quarterback. Now they bring in Missouri transfer Tyler Gabbert. Both guys are competing for that job. Godfrey opted to return to the team and they put him out at wide receiver. He's a talented athlete. They have solid special teams, as well.
They're really a complete team, top to bottom. Its O'Leary's most experienced team, probably the best team he's put on the field. I have them favored to win 10 or 11 games. The only game I have them as a clear underdog is at Ohio State. But they're a very dangerous squad.
11W: Now that Jordan Hall appears out for that game and the offense likely won't be at full speed, how realistic is it that Ohio State could stumble in that game?
PS: It's a dangerous spot for them, that's for sure. Look at last year when a 5-7 Central Florida team went into BYU. Yes, they lost the game, but they had a 399-260 edge in total yards. They had a couple blown opportunities.
They went into Southern Miss last year, the Conference USA champs, and nearly knocked them off. They only lost by one on a failed two-point conversion at the end. They've proven they can go in and play with the better teams on their schedule. They also knocked off NC State a couple years ago.
When you have a veteran team that's in the same system they've been running for years against one who's implanting new systems, it makes it a little dangerous. I do think the Buckeyes are the stronger team, and they should be able to get the job done at home. But it's not going to be an easy game.
11W: Michigan is obviously never far from people's minds in Ohio. Last season, Brady Hoke and the Wolverines were one of the bigger success stories in the country. Do you think that can be sustained? Their schedule is much tougher and there was a little bit of luck involved last year. What do you think is on the horizon for Michigan?
PS: Last year, Michigan had the best case scenario. Going 11-2, that's about as good as it can get. When you look at things a little bit closer, the bowl game (against Virginia Tech)for example, they got out first-downed 22-12, outgained 377-184, but at the end of the game, they ended up winning.
You look at the Notre Dame game, heading into the fourth quarter you're thinking Notre Dame is going to win by 24 points. They completely dominated the game and then ended up coming up short when Denard Robinson had a touchdown pass in the final seconds. So I think they overachieved a little bit last year.
They only beat one ranked team in the regular season. In fact, they only played two. So they didn't have a brutal schedule. This year the schedule gets a little bit tougher. I do think this season's team is a little bit stronger if they can get the defensive line going. I talked to Coach Hoke last year prior to the season and he had concerns about the personnel on defense, and it worked out pretty well. (Defensive coordinator Greg) Mattison and Co. got them to allow 129 yards per game less than the year before, so they'll have a decent defense – a Top 25 defense.
Offensively, you have Denard Robinson, you have a solid running back in Fitzgerald Toussaint and they've got some solid receivers and offensive lineman. They're a very good team; I just don't think they'll overachieve like they did last year.
I have them as an underdog against Alabama, a slight underdog at Notre Dame, an underdog at Nebraska and an underdog at Ohio State. That doesn't mean they'll lose all of them, but I think their odds of getting 11 wins are a little more difficult. I do think, with that being Ohio State's bowl game at the end of the season, Ohio State will probably come out on top.
11W: I've been catching a lot of flak since last year because I really, really believe Michigan will beat Alabama in the opener. With it being the first game, I think Denard is so dynamic that with so many new defenders on Alabama, I think Michigan will win that game.
PS: Oh, wow. That will be interesting.
In 2010, Alabama only had two returning starters and on the season they allowed 286 yards per game. So they weren't the best defense, but they were still Top 10. This year they have five returning starters on defense. I rated their defense as No. 5 coming in.
I'm going to keep a close eye on that and see how it comes out. If you get that one correct, wow. That would be an upset.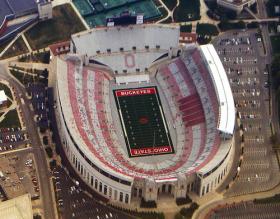 11W: You released a formula the other day that identified national title contenders for the upcoming season based on past trends. One of the teams on that list was Michigan State. I'm not a believer at all in them this year. I think defensively they're going to be really good. Offensively, I just don't see it – they lost Kirk Cousins and B.J. Cunningham. What about Michigan State do you see that will make them a strong team this year?
PS: Look at the past three years' national champion – all three had first-year starting quarterbacks. A lot of it does revolve around defenses. I rated Michigan State's defense No. 8 in the country coming into this season. They've got the No. 10 defensive line, No. 2 linebackers and No. 15 defensive backs. You look at them offensively, yes, they do lose Cousins and they're top four wide receivers. But last year's running game, I thought, underachieved. You have Le'Veon Bell and (Larry) Caper in the backfield – I expect far better than 3.9 yards per carry. I think this year with the bulk of the offensive line coming back – four starters – there's going to be more of a reliance on the run game. I think you're going to see that improve to the 4.4 to 4.5 level.
And Andrew Maxwell is a pretty good quarterback. He's not the veteran that Kirk Cousins was, but he's also not a walk-on coming off the street. He's a 6-foot-3, 212-pound kid with a good arm. He's got enough years in the offense where he understands it. They added DeAnthony Arnett, the Tennessee transfer. They also have a solid special teams, which I rate No. 20.
I do have them as underdogs at Michigan and at Wisconsin. Those are in back-to-back weeks. But I have them favored in every other game. They have Ohio State at home, they have Nebraska at home. They're a team that has a shot at winning the Legends Division.
A lot of people frown on first-year starting quarterbacks, but they own three straight national titles. After three of four games, you turn into a veteran.
11W: Do you see a team, maybe an Iowa, Purdue or Illinois, that could be a big surprise and steal one of the division titles in the Big Ten?
PS: The one team that I would factor into the equation for stealing a division title would be Iowa. And not because they are overly blessed talent wise – they only have 11 returning starters from last year's squad, they do have a veteran quarterback in (James) Vandenberg – they have pieces in place where they'll definitely be competitive in the Big Ten. But they sort of underachieved last year. They blew a couple of games that they had a chance of winning, and then you have to factor in the schedule.
You look at the other big boys in the Legends Division; they have to play the rest of the other big guys. Michigan State has to play Wisconsin and Ohio State, Nebraska has to play Ohio State and Wisconsin and Michigan has to play Ohio State. Iowa, though, doesn't have to play Ohio State or Wisconsin. That's a big plus in the schedule. You look at their road games, they do have to play Michigan State and Michigan on the road, but they get Nebraska at home.  I'm under the impression that each of those teams in the Legends Division probably loses two games. So if they were to knock off Nebraska in the season finale, even if they lose at Michigan State and at Michigan, they'd have a chance to tie for the Legends Division title, and if they pulled off an upset, they'd have a chance at winning it.
So if you're looking at a true darkhorse, I'm not predicting it, but I'm saying Iowa has the best chance of the non-Big Five teams in the Big Ten.
11W: I'm known for making bold and outlandish predictions with my friends. A few years back I told them that UConn would win the national championship in the next 20 years. When they made it to the Fiesta Bowl, I was ecstatic. Any realistic chance it can happen? I think I've got about 15 years left.
PS: Wow (laughs). With 15 years, you might have that possibility. You never know where the landscape of college football will take us.
The fact that they are playing in the Big East means they're going to get a lot more wins because the level of competition isn't really there. But with that schedule, even if they went 12-0, you wonder if they'd even get invited. With a four-team playoff, they'd have a better opportunity.
So, yeah, I'd say within 15 years, I can imagine something like that happening. I don't see them as a national title contender in the next couple of years, so you have a few more years of worry. But that would be interesting.
11W: An Ohio State fan walks up you – they're very excited about the season. They even think 12-0 is realistic this year. How realistic do you think that is and what does the future hold for Urban Meyer and Ohio State?
PS: Urban will have them right back at the top. Ohio State fans have good reason to be excited, and I think the future looks bright.
As far as the 12-0 possibility, I only have them underdogs in two games. I have them as three-point underdogs at Michigan State and a three-point underdog at Wisconsin. So those are pretty close to being tossups, with the home field advantage being the deciding factor. I think Ohio State's capable.
Injuries are always a key factor in any team's chase. You have to stay healthy and keep your starters in line. Injuries pop up at inopportune times. If everything went perfect for Ohio State this year, they would have a shot at 12-0. I didn't call for it. I have them at No. 11 coming into the season.
I'm looking at 10-2 this year, but the 12-0 is a possibility.
11W: Thanks – I appreciate you taking some time to talk with me. 
PS: It was definitely fun talking football with you. We'll have to start pulling stories off of elevenwarriors.com.