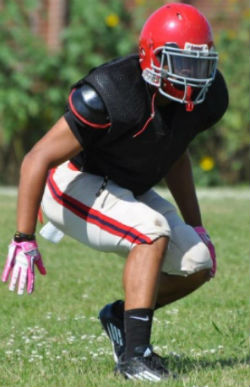 Ohio State continues to put offers out to members of the secondary for the class of 2014 at rapid fire.
Jabrill Peppers, Jalen Tabor, Quincy Wilson, Parrker Westphal, Todd Kelly, Quin Blanding, Damon Webb, and Nick Watkins already hold offers from the Bucks, and recently two Texas players, Brandon Simmons and Chris Hardeman also gathered scholarships from the OSU coaching staff.
The emphasis seems to definitely have been increased in terms of recruiting the state of Texas since Urban Meyer came to town.  The Buckeyes already have a member of the 2013 class from Texas in quarterback JT Barrett, with other offers in the class out to WR Ra'Shaad Samples, OT Jake Raulerson, C Darius James, QB Tyrone Swoopes, LB Mike Mitchell, as well as the 2014 names already mentioned.
The latest offer, Hardeman, is of the shorter variety, coming in at 5'9 and 178 pounds, but like former Buckeye Antoine Winfield, this kid can play.  The corner from Taylor High School in Houston has offers from the likes of LSU, Oklahoma State, Nebraska, Texas A&M, Purdue, Indiana, Mississippi State, Ole Miss, Baylor, and Houston, in addition to the Buckeyes, giving him 18 total offers at an early stage in the recruiting process.
We caught up with Chris to hear what Ohio State's early chances to land him are, how he caught news of the Buckeye offer, if he will visit Columbus any time soon, and more. Keep reading to find out the latest on one of OSU's top targets for the class of 2014, Chris Hardeman.
You were just offered by Ohio State. What was your reaction when you found out about the offer?
I was very excited as I am with all the schools that offer me.  Ohio State is definitely a great offer to have though.  They always are a premiere team so to be thought of highly by them is an honor.
How did you find out about the offer from the Buckeyes?
Coach Herman had been to my school to check out one of our big time defensive ends.  My coach also told him about me and the offers I had and he liked what he saw. We talked on the phone a couple times after that.  I hadn't heard from him in a while so I decided to call Coach Herman and he said that it was great that I had called because he was wanting to talk to me anyway.  He said that Coach Meyer and the defensive coaching staff got my film and really liked what they saw and had decided to offer me.  I'm really glad I decided to call him now (laughed).
Is your contact with the Ohio State coaching staff going to change after the offer?
I am supposed to talk with Coach Meyer this week so it will be exciting to hear what he has to say and how they view me.  I am sure I will be talking to Coach Herman and staying in touch as well.
What all schools have you had the chance to visit already?
I was at LSU the first week of June, but I will be going there again next month.  My parents will be coming with me this time because the coaches there want to meet my family.  I am going to check out Oklahoma State July 12-13, and Coach Herman wants me to go to Ohio State's Friday Night Lights camp July 27.  I'm sure Coach Meyer will talk about that with me this week and I'm going to try to make it to Ohio State for that.
What will be the key factors in your college decision?
I am looking for a school with a great family atmosphere.  I want to go to a place that feels like home.  A great coaching staff will also play a key role.  A place that I can play early at and become a better player at is important to me.  Distance will not play a factor.  Coach Herman actually asked me if the distance will keep them at a disadvantage and I told him no.  If a school is far away but still has everything I am looking for, I would still go there.
Are their any schools that have stood out to you thus far?
No school has a lead over the other.  I am wide open.  All of the schools that want me as part of their program are even.