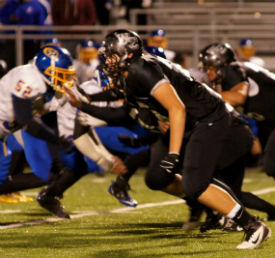 There was a strong group of 2013 offensive linemen at Ohio State's camp last weekend all trying to earn offers, but one of the best in the group may have been a player from the class of 2014.
Nick Richardson of Westerville Central is a name that is quickly becoming popular in recruiting circles and the 6-4.5/280 tackle already has three Division I offers to his name. He might be adding a fourth to the list sometime in the near future if his Ohio State camp performance was any indication.
Richardson was lauded by offensive line coach Ed Warinner, as well as Urban Meyer himself, and was even called out by some of the defensive lineman in attendance as a player who impressed them during 1-on-1 drills.
We caught up with Nick to hear how his experience at camp went, what the latest on his recruitment is, what visits he has planned, and more. Join us after the jump to hear more about one of Ohio's best 2014 linemen, Nick Richardson.
How did the camp at Ohio State go last weekend?
I went really well. I feel like I did well in all the drills and they even moved me and one other player up to the senior group shortly into camp so that was good to see. We did lots of plyometrics and individual drills during the camp and it was a lot of fun.
What coaches did you get to speak to at the camp and what did they tell you?
I got to speak to Coach Vrabel, Coach Barton, Coach Warinner, and Coach Meyer. Coach Warinner and Coach Barton both told me they really liked me, especially my foot work. Coach Meyer told me he likes what he has seen from me so far and that he'll be at some of my games in the fall. They want me to continue to keep in touch with them.
Did the coaches say anything about a scholarship?
They didn't say anything specifically as to if I was getting one or when, but I liked what they were saying to me and feel good that one could come down the road.
Who was the most impressive offensive lineman (other than yourself) that you saw at camp this weekend?
I would have to say Kyle Meadows of Lakota West. He had a great camp.
Did you root for Ohio State growing up? Will that play a factor in your decision?
I did grow up as a big Buckeye fan and they were my favorite school. As for if that will play a factor, it won't necessarily as I may want to get a little bit further away from home to go to school, but we will see.
What offers do you currently hold? What other schools are showing you interest?
I currently have three offers from Illinois, Cincinnati, and Toledo. Indiana, Kentucky, Bowling Green, Michigan State, Boston College, Ohio State, and a couple other schools are showing me heavy interest right now.
What other visits do you have planned this summer?
I have been to Cincinnati and Toledo camps. I am headed to Wisconsin on June 17, Illinois on June 18, and Notre Dame on June 23.
When do you plan on making a college decision?
I'd like to make it before my senior year. I haven't thought much about it much yet, but some time before my senior year starts
HIGHLIGHTS: