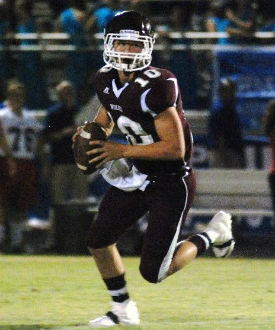 The Buckeyes hosted a number of top recruits last weekend for their first camp of the summer, and all signs indicate the event was a success.
While this camp saw some of the top 2013 recruits around the country come to town, the weekend of June 21-23 will be big as well, specifically for the 2014 class as many big name prospects are set to attend.
One of those players is Scottsdale (AZ) Desert Mountain QB Kyle Allen, who has an early interest in the Buckeyes. The OSU coaching staff shares that interest, but wants to see Allen throw in person before extending an offer, the main reason the signal caller will make the 1,870 mile trip to Columbus on his own dime.
At 6-2/200 Allen has great size and arm strength for a junior-to-be, and has also recently been clocked at 4.88 seconds in the 40-yard dash, showing he can move a bit too, something important in Urban Meyer's offense. Allen already has offers from some of the top programs in the nation and 247 Sports rates him as a four-star prospect.
We caught up with Allen to hear the latest on his recruitment, what he's looking forward to when he comes to Ohio State, his feelings on playing with star teammate Mark Andrews in college, and more. Join us after the jump to get the latest on one of the country's top quarterback prospects in 2014, Kyle Allen.
How did your sophomore season go?
It went well. We had our ups and downs as team. We started off the season great, but finished 4-6 so that was disappointing. Individually I did well throwing for 2,600 yards with 21 touchdowns, but the team could have done better and that is what we are working hard for this off-season.
How is recruiting going so far? What offers do you currently have?
Recruiting is going great. I have been offered by Oklahoma State, Boise State, UCLA, Arizona, Arizona State and North Carolina. I am getting interest from schools like Duke, Michigan, Oregon State, Penn State, Virginia, Nebraska, Ohio State, and some others. 
Ohio State has been in touch with you. Tell us about your recruitment with the Buckeyes.
Coach Herman came down in the spring to watch us practice and I was told to get in touch with him. I have been calling him every other week and we are starting to build a good relationship. He told me he likes me a lot, but that Coach Meyer makes the call on offering quarterbacks a scholarship and he needs to see me throw in person. I like Ohio State and so I am going up there for camp so they can see me throw.
When will you be in Columbus and what are you looking to accomplish while you are there?
I'll be camping there on June 23. I want to see the campus and work with the coaches so that I can see if I fit in well and will have good relationships with them. I'm going up there to have fun and if I perform well there's a chance I can earn an offer.
What has the staff told you about an offer?
Once again, Coach Herman has told me that he loves what I do and how I play, but it's really Coach Meyer's call. If he likes me at camp there's definitely a chance I could get an offer from them.
What do you like about Ohio State?
First, the tradition there is second to none. Then, they are always a big time college football team in a power conference. The Big Ten is a great conference and I love Big Ten football. I have family in the Midwest so I've liked that style for a while. Finally, Coach Meyer is a great coach and I have seen he has success wherever he goes. My father works for the Fiesta Bowl and has gotten to know him when he came here with Utah and Florida and tells me he is great.
You are from Arizona. Will going far away from home for school be a concern for you?
I don't think so. I am keeping all of my options open and location is not an issue.
Are there any schools standing out right now? When do you think you'll make a decision?
Not right now. The schools that have offered are naturally higher on my list, but I am open. I'd like to make a decision some time before my senior season.
What are you looking for in the school of your choice?
Definitely academics before anything else. I want to be successful in life after football so those are important. After that I just want to see if I work well with the coaches and if they can help me play to my full ability. Finally, I have to like the campus and the people in the football program and at the university.
Mark Andrews is a star wide receiver and is your teammate. Have you two talked about going to the same school?
Yeah we definitely have, It would be awesome to go to school with him and play together at the next level. It's something that's definitely a top priority for us, but at the end of the day we have to go somewhere that fits us both best individually. If we can go to the same school that would be great, but we have to do what is in each of our best interests.
What are your strengths on the field? What are some things you feel you need to work on?
I would say my strengths are my leadership and ability to keep the team focused. I also feel I am one of the elite passers in the nation and have a strong arm, make good reads, and have the mental make-up to be successful at the position. I want to work on perfecting all my reads. I know there are really fast corners and safeties at the next level and I'm going to have to be able to beat them not only with my arm, but by making the right decisions. I also want to get bigger and stronger.
HIGHLIGHTS: