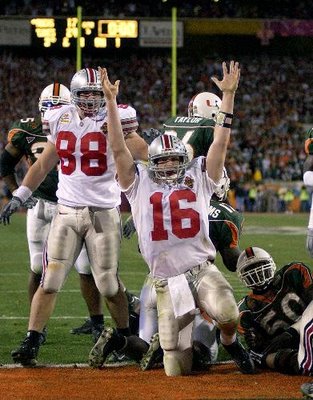 The final installment of the recent Mount Buckmore series in which I attempted to identify the top four players, by decade, worthy of a spot on the imaginary shrine concluded with the 2000s own James Laurinaitis, Troy Smith, A.J. Hawk and Mike Doss. 
A pretty legit foursome in my eyes to be sure though some of you voiced other alternate viewpoints either on the site or by email, quite often questioning the omission – even in the Notables section - of none other than your 2002 national championship season starting quarterback, Craig Krenzel.
Now, I will give ground that Krenzel should've at least earned an honorable mention but maybe I just subliminally talked myself out of it because I don't have a use for a John Deere and have never bought a car from Buckeye Nissan even though Craig always tells me to.
I still don't see Krenzel as being a top four player in his decade but his supporters did bring up a question that I wanted to explore.
That question is, if you had one game to win which Buckeye quarterback would you take to lead the offense?
Coming up with your final choice might be simple depending on how you want to approach it and all of us might value certain traits over others. Some would put a premium on the player most associated with being clutch with others favoring the most dynamic, game-changing player and maybe another sub-set preferring the signal caller they see as the most consistent though all of us probably value a combination of all those traits, plus others.
Regardless of variations in criteria, I think most of us would automatically put Craig Krenzel, Joe Germaine, Troy Smith and Terrelle Pryor on our short list.
Some of you might wish to expand the pool of finalists. Possibly you're a Rex Kern disciple or maybe Hoying's Nintendo numbers during your formative years, particularly '95, have you playing the loyalty card. Or could it be Schlichter never sold you tickets so he's your guy. Or Bellasari. Just wanted to see if you're still paying attention.
Feeling good that I had the right final four with Krenzel, Germaine, Smith and Pryor, I went about refreshing myself with their quarterback play. 
Craig Krenzel
The sport is played to determine a winner and a loser and if a key driver in your selection is winning then Krenzel might be your guy.
After all, he went 14-0 as the starter of the only national championship team of my lifetime and built a reputation of being clutch. Certainly, his penchant for coming up big is more than myth with his running in the championship game against Miami and Holy Buckeye will always be a tear-jerker for every Buckeye fan. In fact, the actual question being posed - which QB are you taking to win just one game - seems right up his alley.
That said, after looking at the numbers more closely, I just can't put Craig any higher than fourth on my list.
There's no question he effectively managed games down the stretch and made more than a few gigantic plays that paved the path to crystal but he also led what could often look like a pretty stagnant offense and played some of his worst statistical football in bigger games.
He was just 4/10 passing in the Washington State game that Clarett had to take over. He completed only 48% of his passes with two interceptions sprinkled among two TD tosses and a TD run in the near miss at Cincinnati. He threw two picks against unranked Penn State and had a fumble that almost went for six before Gamble bailed the squad out with a 40 yard TD return keying a 13-7 and though Krenzel had 81 yards rushing with two TDs against Miami in the title game, he threw another two picks - one in the endzone - and if not again for the heroics of Clarett who stripped Sean Taylor leading a Buckeye field goal, we might be remembering Craig in a whole different light.
I don't mean this to come off as a diss in any way because I've dry humped the 2002 Ohio State vs. Miami, FL DVD just as many times as you but the inconsistency has me passing on Craig as my choice. 
Joe Germaine
Joe Germaine could flat out sling it. You probably have one QB that you have a soft spot for one reason or another, right? Germaine's that guy for me. One behind Hoying and Pryor all-time with 56 TD passes speaks volumes about Germaine did when scanning the field in the shotgun. 
Watching Germaine direct the '98 juggernaut was something to behold. I had gotten my first glimpse of the Buckeyes actually slinging the ball all over the field during Hoying's big '95 campaign with Terry Glenn as his running mate but Germaine to Boston was its own ridiculous highlight reel.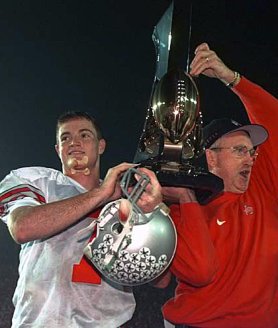 Germaine was a boss his senior year winning 11 of 12 starts on the strength of his school record 3,330 yards passing with 25 TDs against just seven picks. He saved his best for last as he engineered a 65 yard TD drive late in the Rose Bowl, finding Boston in the right flat to win it, locking up a #2 final ranking while making John Cooper the only coach to win the Rose Bowl for the the B1G and the Pac-10. 
Of course, maybe it was just the karma of being part of the Cooper Era, but Germaine had a black eye of his own, delivered by Nick Saban's Spartans in a 28-24 loss in the 'Shoe that derailed the run for a national title. Joe just couldn't get it going that fateful day as Sparty applied consistent pressure, exploiting the one drawback of Germaine's game. He wasn't a statue by any stretch but Germaine also wasn't overly nimble. On this Saturday, he would lose 41 yards on sacks, fumbling on one leading directly to a Spartan field goal but it was his interception in the end zone on the final desperation drive that put an end to what should've been an undefeated season for what appeared to be the superior team in college football in 1998. 
Bottom line, my heart wants to go with Germaine but he finishes third on my list mostly due to mobility issues and coupled with the fact we're talking about Ohio State, I'm going to assume my QB choice might run into some suspect pass pro from time to time. 
Terrelle pryor
Jeff got all numbers-y last week looking at Troy Smith and Pryor plus you saw the guy for youself so you already know what difference maker the kid was, regardless of how you feel about his role in landing OSU on probation and sending Tressel packing. 
It took Pryor awhile to blossom into a respected passer but he was always lethal with his legs and I'm not sure there's been a better 3rd down player and there's no question in my mind he's the best improvising QB in school history. Pryor is actually 18th all-time in career rushing yards at Ohio State - the only QB to rank in the top 20 - with 2,164 yards and 5.0 yards per carry. 
Pryor did put it together through the air as a junior racking up the third best single season totals in both yards (2,772) and TD passes (27) against 11 interceptions. He capped his season with a Sugar Bowl MVP award after accounting for 75% of Ohio State's total yards (336/446) with two TDs. 
His sophomore season produced a 26-17 Rose Bowl win over Oregon as he accounted for 81% of OSU's offensive production totaling 338 yards with two TDs. 
Pryor never quite dominated The Game the way Smith did but he collected W's. 
Another huge plus in Pryor's favor when trying to decide who you'd take for one game is his unflappable nature. His cocky nature oozed confidence on the field once he was a seasoned player and the guys in the huddle, even if they all weren't his biggest fans off the field, knew he was capable of taking over a game at any moment therefore a win was always believed to be in reach. 
The dual threat component he brought to the table and his ability to improvise to keep plays/drives alive has Pryor entrenched as my #2 pick to start with one game to win. 
Troy Smith
My #1 choice to start for Ohio State in a must win game is without a doubt, Troy Smith.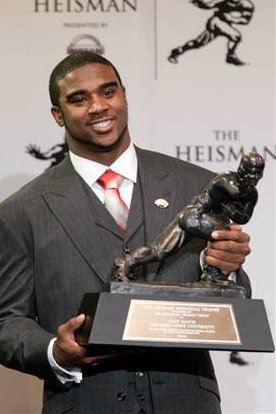 His 2006 regular season was unlike anything I've seen in Columbus. Absolutely surrounded by talent, Smith was the unquestioned ringleader. His Heisman run was fueled by the fifth most yards passing in a single season with 2,542, the #1 completion percentage season with 65.3% and he threw 4TD passes in a game four separate times. He also threw for a school record 30 TDs against just six interceptions. Beyond his riduculous passing stats, he was dangerous with his feet using a determined shiftyness to create a virtually unstoppable dual threat. 
It's well-known that Troy was 25-3 as a starter but what maybe isn't as realized is that he won 19 straight starts before the sh!t show versus Florida. Obviously, the 4/14 stinker he unleashed versus the Gators generates a slight worry and while Smith was certainly culpable, he was far from a lone gunman in the disaster in the desert. 
While Smith was central to the Florida debacle, he was also straight money against the maize and blue. The Glenville product was 3-0 against Michigan as a starter going for over 300 all-purpose yards in each contest. Specifically in those games, remember how reassuring it was knowing Smith was running the show? He was an extension of Tressel and the field and as a fan, I felt invincible with him in the shotgun in total command of the game. 
With his body of work and that feeling he gave me that victory was a forgone conclusion are just two reasons why Troy Smith would absolutely be my choice to start a must-win Buckeye game.