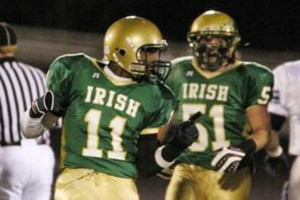 When we received word just a few days ago that former Buckeye recruit Jamel Turner would finally be getting his chance to play college ball with the Akron Zips, I'll admit I was both surprised and elated. 
I'd argue that Jamel has one of the craziest recruitment stories of any Buckeye recruit ever. A former 4-star OLB/DE originally from Youngstown-Ursuline (though there have been many stops in between then and now), Jamel's recruitment has everything from losing sports eligibility in Ohio, committing to the Bucks in late 2008, being kicked off his basketball team, to actual guns (not just threats). 
His story is worth discussing again, as we haven't heard a word from Jamel (not Jamal, his twin brother) in about two years. 
As a football player, Jamel was everything that Urban now likes in linebackers - gifted athletically, with a 4.55 40 (in his junior year, at that) and known for his agility and change of direction.
Sure, there had been rumors of discipline problems and other off the field issues when he committed in December of 2008, but he was a legitimate 4-star prospect and the 6th and 22nd ranked OLB according to Scout and Rivals respectively. It's not hyberbole to compare him to Shazier in terms of play style, though Turner has a bit bigger frame. 
While he had a lot of question marks surrounding his attitude and discipline, he was almost limitless in potential. Turner never had a chance to be RDS' predecessor for the Buckeyes. Instead, poor grades, a reported bad attitude, and then multiple gun shot wounds derailed his original plans. 
Back in May of 2009, even before he was shot multiple times, Duane Long said that
I have multiple sources telling me that the end is near for Jamel Turner, if it is not already a done deal. I do not see him in a Buckeye uniform. In fact, he has so much work to do in the classroom as well as other off the field issues so daunting that he may never play college football. I have seen some talents not make it but I have to put Turner never playing college football up there with Antwon Hight and Chuck Jones as the biggest tragedies that I have witnessed in my time doing this.
That's why it's even greater that Jamel finally made it in to college ball.
Duane was referring to Jamel's academic and discipline problems that ultimately led to his detour to Fork Union for his final season of high school ball. Because he was not going to class or turning in assignments, he was ultimately declared academically ineligible for sports his senior year in Ohio. On the basketball side of things, his head coach Keith Gunther was forced to kick him off the team following several emotional outbursts. 
Ken Gordon relayed Jamel's story at the time, quoting Gunther:
"There were a couple incidents — nothing criminal, but when things didn't go his way, he would react very emotionally and just go off," Gunther said. "At the time, Jamel was living with me, he was basically like a son to me. And I told him, 'I'm going to treat you as if you were my own son,' and I kicked him off the team.
Though Ohio State did not actually pull his scholarship offer after all of this, Turner decided that Fork Union Military Academy would be the best fit for him to raise his grades so that he could be eligible for Ohio State. 
It turned out to be an excellent decision, with Turner praising the rigid and disciplined atmosphere for improving his grades. He was also getting it done on the football field, with 66 tackles and two interceptions as a linebacker and safety in one year of play. Notably, he praised Coach Tress - "Tressel is a good man, and he stands by his word.  So I'm going to stand by my word, and we're going to get it done."
He remained optimistic in his talk with Alex, telling Buckeye Nation,
"Well don't count me out, but count on me because I'm hungry and I want it. I won't fail the Buckeye Nation."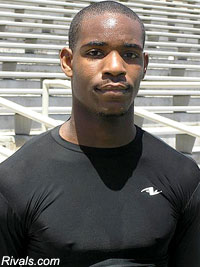 Unfortunately, his story doesn't stop there - in a span of two months, Turner was shot multiple times in two separate and unrelated incidents. The ultimate "wrong place, wrong time", twice. 
In April of 2010, it looked like Jamel was asked to leave Fork Union and was back at home in Youngstown when he was shot, but reportedly doing fine. As his facebook status in the previous link shows, he was doing well enough that his gunshot wound wouldn't affect his football performance. 
However, on June 19th - not even two months later - Jamel went to go visit a childhood friend who was babysitting at the time. His friend was arguing over several text messages and calls with her ex-boyfriend at the time. Though it was unclear to Jamel what the two were arguing about at the time (besides "things that most young people argue over"), the ex-boyfriend arrived at the home and fired several shots into the house, hitting Turner twice. 
Several different media outlets reported different wounds, though it ultimately appears he was shot in the face and then in the leg. 
Jamel's court room testimony is a chilling read, as he describes looking back at his friend, unable to physically speak to her because of his bullet wound, and then hearing her last words. The killer would later get 62 years to life. 
Though things looked bleak for Jamel, especially for his playing career, it was clear that the most important thing for Jamel was simply his own recovery, not football. Some news outlets even prematurely reported his death. Things started to improve by July 7th, after it had been reported that there was almost a zero chance of him playing football again. Coach Tress, being the admirable man that he was and still is, simply offered his prayers to Jamel and his family, along with the hope that he would ultimately be able to join the Buckeyes. 
After he recovered enough, he returned to school, this time at Butler Community College in Kansas, where it doesn't appear he was able to play any football. Other than that, we haven't heard any updates from Jamel for almost two years. That is, until it was announced that he'd be suiting up for the Zips this coming fall.
I'm drawn to Jamel's story because of I think his story is representative of many whose stories are not as well publicized. Even after multiple gunshot wounds and having to leave multiple schools, he's finally getting a chance to play college ball. He is certainly to blame for his high school attitude problems and poor grades, but his background is not unlike other recruits, many of whom haven't had the eventual good fortune and multiple opportunities to break out of a bad situation. 
This is really just the beginning for Jamel, but here's to his eventual success - both on and off the football field.