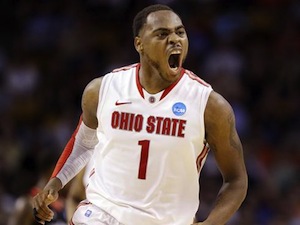 When Deshaun Thomas signed his letter of intent with Ohio State, it was easy to assume that he'd wear a label all too familiar with Buckeye fans: one and done. He seemed to fit the mold of a player who would treat college as a short detour on his road to NBA glory1. 
As part of a highly-rated 2010 recruiting class for Ohio State, Thomas was a five-star McDonald's All-American. Not only had he won the Indiana Mr. Basketball award during his senior year, but he also finished his career with 3,018 points, landing him third on Indiana high school basketball's all-time scoring list.
In and of itself, that is quite the accomplishment. For that to happen in the Hoosier state, where basketball is as prevalent as plasma in the bloodstream of its residents, was remarkable and an unsubtle hint to the Buckeyes that they were getting a gunner with a quicker release than Deputy U.S. Marshal Raylan Givens2.
The 2010 season opener, a matchup against North Carolina A&T, was the first time Deshaun took the court for the Scarlet and Gray, his uniform proudly displaying #1, as if foreshadowing his performance that night. Coming off the bench, he led all scorers with 24 points. The end result may have been a blowout win for the Bucks, but Thomas' game suggested that his early entrance to the NBA was inevitable.
After all, in three of the previous four seasons, at least one freshman had left Ohio State for the pros. The forward could have been Thad Matta's sixth one-and-done player. 
Instead, it turned out to be Thomas' highest-scoring game of his freshman season. That's not to imply that he was a disappointment or put together an unsuccessful first year. Compared to classmates Jared Sullinger and Aaron Craft, though, Thomas was not an immediate star. 
His minutes fluctuated, as did his scoring. A highlight was a February contest against Indiana in which he posted 22 points on 7/9 for shooting. Nevertheless, in two of the biggest games—the Big Ten Tournament final and the loss to Kentucky in the Sweet Sixteen—Thomas was nearly invisible, seeing the floor for only two minutes and three minutes, respectively, and failing to score in either. 
Thomas finished out the 2010-11 season averaging 14 minutes per game along with 7.5 points and 3.5 rebounds. Those are respectable numbers for a freshman, even if they didn't meet expectations, perhaps no more so than the ones Deshaun had for himself. 
While he was not the National Freshman of the Year like Sullinger or the Big Ten Sixth Man of the Year like Craft, Thomas was able to accomplish a feat his teammates did not. In ten words, he described his essence with a brevity that Shakespeare would commend:
"Tank. Thomas the Tank. Can't stop the Tank from shooting."
The nickname only confirmed the reputation—if sometimes exaggerated—that he had earned. Tank did not want to pass the ball or try to lock down his opponent. Rather, it was like he was constantly trying to beat his personal record at the NBA Hoops Arcade Basketball Game.  
For Matta, a coach who encourages shooting but also emphasizes smart shot selection and defense, it made sense that DT's minutes diminished toward the end of the season. It was also clear that the NBA would have to wait. 
As a sophomore, Thomas started every game while maintaining his Tank-esque love for taking shots. In the first part of the season, he would often hit double figures but was also inconsistent, a trait he would share with his team as a whole. He notched a then career-high of 30 points against South Carolina and two weeks later, he only managed five points in a loss to Indiana, a season-low effort that spoiled the return to his home state.
When Michigan State ended Ohio State's 39-winning streak at the Schott, Thomas could not buy a bucket, going 2/12 for 8 points, his second-lowest output. On the defensive end, he struggled to contain Draymond Green. 
And yet, from that moment on, something seemed to click with Deshaun. Whereas a year ago, his production declined, this season, the opposite happened.
Until the final game of the season, he reached double figures in every matchup and turned from an effective rebounder to one who cleaned the glass with reckless abandon. In less than a month, he went from boasting zero career double-doubles to three. 
Even Tank's defense was gaining respect. Matta admitted that he had previously referred to him as "Shaun" for the lack of "D" in his game and by March, the coach said, "I've gone back to calling him Deshaun." He was finally becoming a complete player. 
The rest of the Buckeye team soon followed his example and started playing more soundly and steadily. As a result, they earned a share of the Big Ten title, a #2 seed in the NCAA Tournament, and eventually, a trip to the Final Four. 
None of that would have been possible without Thomas coming on like he did. At times, he carried Ohio State. In the first three rounds of the Tourney, he was the top scorer for the team, including a career best3 of 31 points against Loyola.  
That was fine with his fellow Bucks. After he led the way with 24 points in a victory over Cincinnati, which ensured the Scarlet and Gray a longer postseason run than the previous year, Craft told the press, "Once he gets going, it's tough to stop him. If he's having a good night, you just try to ride him."
His play had elevated so much in a month and a half that many thought it indicated he would declare for the NBA Draft. To them, this was Thomas' last hurrah and his chance to leave college a winner and sell himself as a more desirable prospect for pro teams.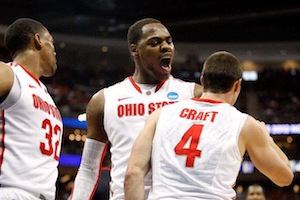 Unfortunately, a meeting with Kansas in the Final Four brought back the Deshaun who was a streaky shooter and struggled on defense. In foul trouble for most of the evening, he was only in the game for 23 minutes and connected on just 3/14 for 9 points. Up until then, he had been averaging almost 22 points during the Tournament. 
As went Tank, so went the Buckeyes.
His sophomore season completed, Thomas' stats had greatly improved from a year ago. He averaged 31.4 minutes, 15.9 points, and 5.4 rebounds per game. The question now was whether that was good enough for the NBA. 
One week ago, Thomas made his announcement. But unlike his (former) teammate Jared Sullinger, there were no cameras around, no microphone in front of his face, no family members sitting by his side. 
Instead, he issued a statement that read, "My family, my coaches and I looked at my future as a professional but I love being a Buckeye and want to continue my education and development as a player and as a person at Ohio State."
Once viewed as a one-year player in college, Deshaun Thomas let it be known that he'd be around for a junior season. 
Granted, a third year might not have come to fruition if he had been projected higher than a fringe first-rounder. But his return should benefit both Thomas and Ohio State. Another year, particularly one where he can be the centerpiece of the offense, can help his draft stock. And as the top scorer coming back for the Buckeyes, Tank gives them a proven offensive threat.
That's especially significant because the Big Ten should once again be as brutal to survive as the Hunger Games. Based on early predictions, Indiana will likely start off the season ranked #1 while Michigan is expected to be a preseason top 10 or even top 5 team. With Thomas joining Craft and Lenzelle Smith, Jr. as returning starters, Ohio State is considered top 10 caliber yet again.   
Still, it depends on how Tank adjusts to life as a leading man. He could take the route traveled by Evan Turner, who emerged during his sophomore season and was able to carry that momentum into stardom the following year.
Matta would certainly prefer the same for Thomas, expressing, "The great thing is the jump he made from year one to year two. That's what excites me about getting him back for year three."
Or, it's possible that like William Buford, he's more comfortable in a supporting role. Without Sullinger, his front court partner-in-crime, Thomas may not be as effective. How Sullinger's replacements develop will also factor into DT's production. If they can step up, then Tank might get his wish of moving to small forward, the position he plans to play at the next level. 
For someone who confessed, "I love to score. I'm sorry"4, it's impossible to imagine he will ever stop trying to put points on the board. 
The hope of the Ohio State fan base is that he'll become the engine that makes the team run, requiring Thomas to slightly alter his motto from "Can't stop the Tank from shooting" to "Can't stop the Tank from scoring."
1 I'm not criticizing players who take a "wham bam thank you ma'am" approach to college basketball. Each guy has to do what's in his own best interest, even if the system is flawed. 
2 If you are interested in watching Raylan's shootings from the first two seasons of Justified, here you go. Violence warning, obvs. 
3 In college that is. I'm sure his past contains a Wilt Chamberlain game. 
4 First of all, everyone already knew this, and second of all, he is not sorry, though I think we can forgive him for the insincere apology.