You went to bed assuming a commitment from Rivals' second-ranked strongside defensive end Joey Bosa was likely in the cards. Now, it's looking like a done deal.
The Fan's Anthony Rothman, citing a source close to the family, is saying the nephew of former Buckeye great Eric Kumerow will verbally commit to the Buckeyes. No timeline was given, but clearly a man can't go too long between Thurmanators, right?
Bosa's commitment is important, not just because he's one of the nation's most talented defensive ends (his offer list included Alabama, Florida State, Auburn, Florida, Texas and Michigan among others), but it also helps keep a pipeline of sorts open to Fort Lauderdale's St. Thomas Aquinas High, which has produced FBS talent at an unequaled pace the last four years.
Bosa would become the 12th commitment in the 2013 class and be stage two of the spring game triumvirate of linebacker Alex Anzalone, who committed Saturday night and tight end Mike Heuerman, who is also expected to go Scarlet at any moment.
In somewhat related news, Youngstown Cardinal Mooney's Courtney Love made his pledge to the Cornhuskers public yesterday. The commitment was not unexpected around these parts and Love and Nebraska are a good fit, with head coach Bo Pelini, offensive coordinator Tim Beck and graduate assistant Vince Marrow all Mooney alumni.
Also, Hole jokes.
DELLA VALLE CAN SHOOT, BUT HE NEEDS TO WORK ON HIS TIMING. Thad Matta received a much needed commitment from Findlay Prep (Henderson, NV) star Amedeo Della Valle over the weekend, shortly after the 6-4, 182-pound guard visited campus on Friday.
Della Valle, a native of Alba, Italy, announced his decision over Twitter an hour before Ohio State's spring game kicked off, which, if you're looking for maximum oomph, is probably not the best time to do something like that, but hey, the kid saw campus, slept on it and woke up excited to tell the world and who can blame him for that? Della Valle chose the Buckeyes over Texas A&M and Arizona and will bring his 53% from downtown and that fine, fine hair to Columbus.
While Della Valle must wait for his mother to arrive in the States before he can complete the signing of his letter of intent (is EchoSign not good enough for the NCAA?) becomes the crucial first member Matta's 2012 class, that could grow to three with the additions of South Carolina transfer Anthony Gill, a 6-8 power forward and 6-8 wing Rodney Hood, a Mississippi transfer. 
 #NEWSTAFFPROBLEMS. New offensive line coach and co-offensive coordinator Ed Warinner and new receivers coach Zach Smith showed up to gate 23 of Ohio Stadium on Saturday morning to take the elevator ride up to the coaches box, but ran into a bit of a problem when the student staffer manning the entrance informed the two coaches that they were not allowed to pass because they were not on the credentials list.
Luckily former Buckeye defensive end Matt Finkes was on hand and kindly explained to the student-staffer that Warinner and Smith might be faces that he should memorize going forward and the two coaches were soon on their way to the elevator.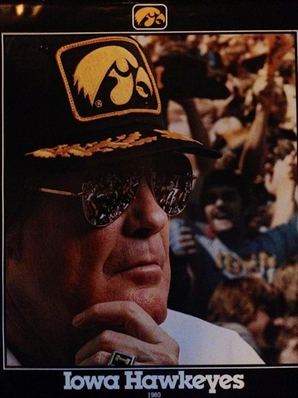 YOU MAY HAVE TO WAIT A BIT LONGER TO SEE SEC TEAMS PLAY IN THE SNOW. Two days after the Rose Bowl said "Huh?" to the wacky "Four Team Plus" option floated in a published internal BCS document, the Tribune's Teddy Greenstein is reporting the most-sensible option (at least from my perspective) may be DOA as conference commissioners prepare to meet in Florida this week:
Aside from SEC teams not wanting to play in Ann Arbor or Columbus in late December, it's logistics. Many schools won't have the infrastructure then because they're on holiday break. Stadium size would be an issue with schools such as Cincinnati (35,100), TCU (50,000) and Oregon (53,800). If there's a playoff, officials will want to maximize revenue by selling hospitality and luxury suites. And, besides, most fans love going to bowl games in places like New Orleans and Glendale, Ariz.
I'm willing to buy the infrastructure argument (although the potential $360 million splashed around has a miraculous way of solving these kinds of problems), but the stadium size argument doesn't hold water. While it would be nice to play these games in larger stadiums, getting a home game in your own, small stadium should be your reward to earning an invitation.
Let's not pretend that stadium gate and concession receipts (even hospitality and luxury suites) will come anywhere near the money TV will deliver and besides, didn't the Pac-12 play its inaugural league championship game in Oregon's 53,800-seat Autzen Stadium?
JEREMY CASH FIRES A (LATE) PARTING SHOT. So, this is unfortunate:
Been gettin texts all day from people saying they miss me in scarlet and gray. Treat your players right or another coach will!

— Jeremy Cash (@jaycash17) April 21, 2012
Cash, a prep teammate of Ryan Shazier's at Plantation High in Florida, was part of the 2011 class but soon left after Urban Meyer took over at the end of last year. No explanation was ever really given for his departure beyond and I'm not sure his tweet really clears anything up.
Best of luck at Duke, Jeremy.
PLEASE WELCOME THE CLASS OF 2012. Six weeks ago, we made a call for new writers to help fill out Team 11W. We're always humbled by the responses we get when we do this, but this round really blew us away. In no time at all, we had over 60 quality applicants (including half of the staff of The Lantern -- we see you guys).
After internally scoring this group, subjecting them to phone interviews and requests for further writing samples, we are pleased to announce four (!!) new members of the team. All four come highly-rated by all of the major recruiting services (VHTs in Phil Steele parlance) and will kick off their 11W careers this week:
Congratulations, gents and thank you to everyone that applied.
Last, but not least, we worked with the Fisher College of Business to place a marketing intern and would like to welcome Andrew Urbanski (@PBR_POUNDER) to the best summer of his young life. Andrew will be working closely with Ramzy which means he'll be learning a lot about bourbon.
BANGIN'. As fun as watching Mike Thomas live up to his Twitter handle was on Saturday afternoon, Saturday night may have topped it. Between bear fights, getting to meet a ton of you and collecting a trunkload of food for the Mid-Ohio Foodbank, we had a blast.
These events keep getting bigger and bigger and we've learned that as long as we stay away from Patrón until later in the night, we'll have the capacity to remember most of what goes down, which in this case is important because the turnout and good times were off the charts.
If you did make it out, thank you. We hope you enjoyed yourself. If you weren't able to make it out, we'll do it again this fall with the 3rd annual Drink Too, Brutus and Eat Too, Brutus the Friday and Saturday of Nebraska weekend (10/5 and 10/6).
ETC: Stirring photo is stirring... Alabama's Jesse Williams got dressed up for his team's White House visit... Roscoe Smith becomes the fifth player to transfer out of UCONN this season... SEC spring game attendance numbers (damn, Kentucky)... WUB WUBBBB WUB WUBBBBB: Skrillex is coming to the South Oval for a free show... "World peace" does not mean what I thought it meant... And "free" doesn't mean what it once did, either... Rocky Potter... Well played, Mr. Gervais... Only in Indiana... The Anti-Prius... NAILED IT!