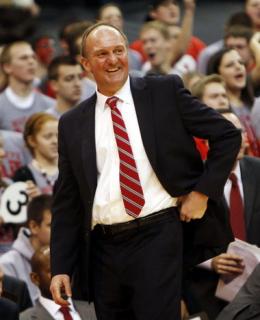 The biggest problem with success is that when you attain it, people tend to expect more of it, and in increasing quantities. For Urban Meyer, this isn't that big of a deal; OSU football fans have a pretty good grasp on the stakes of college football and the overall likelihood of the Buckeyes winning a national championship during a given year. To compete for a national title and reach a BCS bowl is a goal that seems incredibly greedy and kind of ridiculous to expect year in and year out, but Ohio State has shown consistently in the past decade that it's not at all unreasonable.
Thad Matta, on the other hand, has to deal with something else altogether.
It'd be wrong to say that OSU didn't have an accomplished basketball program before he arrived; even though much of the record has been expunged, Jim O'Brien took a basement-dwelling team and almost immediately took it to the Final Four. Still though, all of his teams seemed to be outliers on the college basketball scene: the Big Ten was still dominated by the likes of Michigan State, Illinois, and sometimes Wisconsin/Indiana, so OSU was not the consistent national player that they now find themselves being.
Which is both awesome and pretty crappy for Matta. On one hand, he's created a monster of a program that has been able to draw from the very deep well of talent in Ohio and in Indiana on a regular basis, win consistently in the Big Ten, and challenge for national titles. On the other, he now has to deal with a nouveau riche attitude toward winning; we've (meaning OSU fans and administration) got a taste for meat now, and that isn't going to go away anytime soon.
And that's not at all a bad thing. With the resources and draw that OSU has, there's no reason why Matta shouldn't be able to continue his success. Still though, it'd be unfortunate if the disappointment from a loss to Kansas in the Final Four overshadowed what Jeff Boals called Matta's "best coaching job" since he's been at Ohio State. Looking at the stats on the offensive side of the ball, I'd say I agree with the assessment.
An early blowout win against Duke set some improbably high expectations for the 2011-2012 OSU men's b-ball squad, and made it a little too easy to forget that they had lost an incredible on the ball defender in David Lighty, a reliable defensive big man in Dallas Lauderdale, and a guy coming off of one of the best 3 point shooting seasons in OSU basketball history in Jon Diebler.
Make no mistake, statistically this was a much weaker team than last season. Starting with 3 point shooting, this season's team shot a paltry 33.7%, which pales to the previous season's 42.3%. "Well duh," you're saying, "maybe it's because, I dunno, Diebler had a swig of Bugs Bunny's magic drink and shot the lights out of the ball last year." Well first of all, don't be a jerk.
Secondly, it wasn't just Diebler. Buford and Lighty both shot over 43% from three last year, which took a ton of pressure off of Jared Sullinger inside the paint. This season? Only one Buckeye averaged over 40% shooting on their threes, and that was Sully himself. Buford went from hitting 44% from downtown to just 36%, and no one else picked up his slack. Deshaun Thomas wasn't any better, barely improving on his 33% three point shooting from the previous season.
I hate harping on William Buford for a lot of reasons, not the least being that he played very well when it mattered the most against Kansas. But with that said, he probably had his worst overall season since his freshman year. He averaged 14.5 points a game, almost identical to the 14.4 per he notched in his previous two seasons, but it took him an extra 56 shots to do it. He saw his overall FG% fall from 46% to 42%, and even though he ended up tying Jerry Lucas for 3rd place in all time scoring at Ohio State, he needed an extra 56 FG attempts from last year to reach that milestone.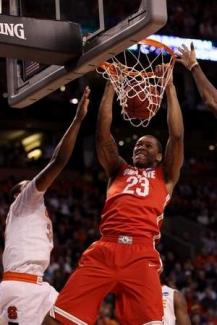 It should be noted, of course, that the Buckeyes weren't completely hapless on offense; in fact they were incredibly efficient and among the best overall scoring teams in the country, largely due to the continued excellence of Sully (who increased his points per game) and Thomas (who did the same by means of more than doubling his).
It should also be noted that while there were some glaring offensive holes on the team, several players (including Willie Buckets himself), started to play much better defense as the season went on. It was a huge factor in their success, especially given how well Aaron Craft played overall. Still, despite some hints last summer that he might develop into a Diebler-esque shooter, he never did. Craft shot 50% from the field this year and averaged 8.8 points per game, but was nonexistent as an outside shooting threat. In fact, Kid A attempted even fewer threes this season than he did last season while playing on the same team as Jon Diebler.
What this all adds up to is a team with greatly diminished offensive firepower from last season, mostly due to the near total lack of a deep shooting threat. Knowing this, I was shocked that OSU made it to the Final Four, and it's a testament to Thad Matta's leadership and coaching that he was able to manage that and also keep a somewhat finicky team in line and on track for the tourney. It's a great coaching job, whether he gets the credit from us or not.
So, this is the new normal of Ohio State basketball. We can forgive a generally crappy season from William Buford because he played like a champion in his final game as a Buckeye. Our adoring love for Aaron Craft will be tempered by the few boneheaded plays he made down the stretch against Kansas. And unfortunately Thad Matta's terrific coaching job of guiding a team that was less talented than they were a year prior to the Final Four will be handwaved away by some because OSU lost to a team they were favored to beat.
In the end it's all about what you choose to remember, and I choose to remember a great (and for anyone that watched this team in February, completely unexpected) Final Four run that exceeded my expectations for this team, and the coach that pushed the Buckeyes there.