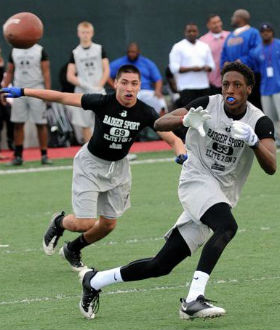 I was trying to think of a good format for a review of Spring Practice, and my analytical mind went straight to a position by position breakdown. I think there was lot about the totality of spring, not just the game, that many fans aren't aware of so I'll try to fill in a few of the blanks.
Defensive Line
This is by far the deepest position for the Buckeyes. Even without the return of Nathan Williams, we still have 6-7 viable players all with experience. We're not even talking about the unknown of the freshman class with many highly touted players coming in.
If you think of a line of Goebel, Hankins, Simon and Williams, you are now in the Spartan's class of defensive line play. Having this much talent across the board forces teams to not focus on one or two players and allows everyone to excel. Now you throw in Bellamy, who had some great plays last year and a guy who made a lot of plays in practice this spring, Steve Miller, and you have an exceptional group.
Another player I was really impressed with was converted OL Chris Carter. He has two things going for him already: a Buckeye name and Big Daddy's number. Can't miss, no?
The line will be the emotional heart of the defense with the most emotional coach on the staff leading them. It all starts up front and with this group, it should start fast.
Linebackers
Probably one of the most physically impressive groups in a long time. The lack of depth here is scary though. Shazier, Grant, and Sabino certainly pass the eye test, Storm Klein has the experience and then...
Playing linebacker is the most mentally difficult position on the defensive side of the ball. The amount of information you have to process is enormous and the time you have to react once the ball is snapped is minimal. You have to be two different people within the a few seconds. Pre-snap you are Stephen Hawking, analyzing formation, personnel, down and distance, hash mark, field position, clock, receiver splits, OL hand pressure, the quarterback's eyes, alignment of the defensive line in front of you, checking coverage and then, God forbid there is motion. Once the ball is in play you are Lawrence Taylor, void of thought and able to react in fractions of a second. The thought process only serves to slow you down once the ball is snapped.
This group has to make that leap to LB mental mastery and it will only come with reps and time. The progress through spring leaves me confident their football savvy will catch up to their physical ability. If they can stay healthy this group will be a force.
Defensive Backs
Second only to the defensive line in terms of depth on this team is the secondary: six guys with starting experience return.
At the corner spot, Howard has shown greatness at times but also mental breakdowns last season. When you don't do your job in the secondary, people will score touchdowns. I think he has played with more discipline this spring and should be a solid performer in the fall as will Doran Grant.
You've probably heard by now, but Bradley Roby is going to be great. He will be a play maker that people will avoid this fall. Being able to grow under fire last year was enjoyable to watch and I look for big things from him this year.
The safeties are all big fast and love to hit, perfect fits for the B1G. I would look for Bryant to take over the Star and expand it with his ability to cover. Like the defensive front, this is a veteran group who should be able to help the linebackers.
Offensive Line
Has there been a position that has consistently under performed over the past decade? Hint: no.
After spending some time with coach Warinner, I feel confident things will change. His pedigree is fantastic and after spending a couple days watching individual sessions, the technique and attitude is refreshing. With the defensive line coaching imparting his attitude on his guys, the offensive linemen will have to fight or be embarrassed, I promise you that.
With the limited runs in the spring game it was very encouraging to see the line moving guys off the ball with a little bad attitude. You've got some experience with Mewhort, Norwell, Hall and Underwood. Moving Fragel and Baldwin will help out but the biggest help will come from Warinner and the giant freshman Taylor Decker. Decker has the attitude and the physical tools to be a great one. Any 17 year old kid who is willing to step in the circle drill and call out Simon is my kind of guy.
Another factor which will lead to more success is Mickey Marotti's transformation of some of these guys into more athletic players. Being able to move the pocket and pull to get to the edge will get Braxton into a comfort zone of throwing on the run and allow routes to develop.
Fullbacks & Tight Ends
It will be interesting to see how Boren and Stoneburner will be used this year. A leaner Stoneburner has some of the best hands on the teams and has been the feature receiver in many a practice session. The big question is whether there is enough talent on the outside to alleviate some focus off of him. If that happens he will have a big year. He is as talented as a receiving tight end as we have had since Ricky Dudley in the mid-90s.
Boren is a bit of a conundrum to me still. His blocking ability is unquestioned and he has good hands, but the stress in Urban's offense is what you can do after you catch it. If he can't show he is a play maker his role might be limited. That said, this is the B1G and we will have to run the ball in the bad weather and that's where Zach will shine as a path clearer.
Heuerman was used a lot and given many reps in practices this spring and can develop into another threat. He catches the ball really well and is picking up the offense fast, as is Nick Vannett.
Running Backs
What will Meyer do with Jordan Hall? RB/Slot/KR/PR? He can do all those things but can we afford for him to be all those people?
Lot's of questions there, so I'll give my answers, which don't really count but might be entertaining. He will be more valued in the slot position than in the back field. Without the prototype Percy Harvin player, Hall most likely fits the bill until someone in the receiving corps steps up. Any of the other backs in the stable can fit the bill as Braxton's other running threat, as #5 will get most of the attention on the read option.
While Carlos Hyde had a good spring, Bri'onte Dunn had a great spring. I am excited to see what an offseason of lifting will do to him. He is naturally smooth and exceptional lateral
movement-wise, though he needs to add some strength to get that top-gear speed to become a real threat.
Wide Receivers
There are a ton of names here but not one has jumped off the page. There are a couple things a wide receiver needs to do in this offense: beat 1-on-1 coverage and get deep when needed. These were the two glaring weaknesses of the OSU receivers last year and throughout the spring. As good as freshman Mike Thomas was on Saturday, he was more of a possession receiver.
The one positive I have is working against our secondary will make these young guys better. With the complexity of the passing game compared to years past, there will be openings in the defense. The key for these guys will be to get the ball to them and for them to catch the ball. Drops were a plague this spring but the work ethic has been something that is encouraging.
I am hoping they will continue the strides they made in the spring into the 7-on-7's in the offseason. Without viable receiver threats, the guys who we know can make plays (Stoneburner and Hall) will have trouble finding space (see Jake's mid-season disappearance act, which to be fair, was not his fault).
Quarterbacks
This was by far the most shocking position to me at the Spring Game.
During the 14 practices leading up to then, the quarterbacks looked lost many times. I have described this to people as taking a kid in a 7th grade math class (Walrusball) and then placing them into calculus II.
Slow reads, late throws and inaccuracy where the growing pains over April. The comfort of both guys throwing on the run and moving in the pocket was good last Saturday. Once you add in the ability to get safeties and linebackers out of position with the threat of the run, I think #5 will thrive. The most encouraging thing about Braxton I thought from last year was the lack of mistakes and turnovers he had. When you have a person thrust into that position of being the main cog in the offensive machine and he is able not to press and force throws, that is showing maturity beyond his years.
Overview
Unlike when the spread came to Michigan, OSU is semi-built for it. We have been running a form of it for years and recruiting offensively to that end.
Where we are lacking the personnel is in the offensive skill positions. Even though we are Ohio State and cupboard is never really bare, it is still hard to get some of the top flight talent to come to the snow from Florida, Texas and California.
Can Urban change that? He will have to if he is to survive and prosper. On the defensive end, it will be the rock we will have to build on for a little while, but it's already a strong rock.
After the 1995 season, we lost record setting quarterback, a Heisman-winning running back, the 7th overall pick at tight end and a Biletnikoff-winning WR. We knew as a defense that we needed to keep the ship until the offense came around in '96. Having two guys on the staff that went through that personally will help them to understand.
I know I have already spoken about this but the intensity level has been noticed by everyone that attended a practice this spring. There is a sense of urgency not only to turn things around but to dominate. I get the sense that the attitude now is "we respect you but we do not like you anymore." We are here to beat you up and take your girlfriend (or recruit).
There is a stigma for losing. It is not politically correct to wear lavender jerseys or make community service a punishment, but I would like to believe that deep down in the heart of most people, they know it's right. To be successful you have to win, to win you have to compete, when you compete someone will lose. It's that simple. Where else in football do you get your starting quarterback in a circle drill before the spring game?
Matt Finkes, an All-American defensive end for Ohio State from 1993-1996, is an Eleven Warriors contributor.