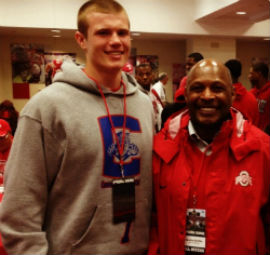 It's impressive to get a 2014 out of state prospect to visit your school just one time this early in the process, but somehow Urban Meyer and the Buckeyes were able to go above and beyond by getting Hebron (KY) Conner QB Drew Barker to campus two times within one week.
The 6-4/205 Barker came to Columbus to visit Ohio State for the first time last Wednesday to attend spring practice. He enjoyed his time so much that he took the coaches up on an invite to the Spring Game as well, making the trip up from just over the Ohio border and back to campus on Saturday.
While it is still early in the process, Barker has already been identified as one of OSU's top targets for the class of 2014 and has been told he is at the top of Urban Meyer's board at the quarterback position. While no offer is in hand yet, it shouldn't be long as the sophomore has proven he can get it done on the field after throwing for over 1,400 yards with 7 touchdowns and rushing for over 1,500 yards and 22 scores last fall.
We caught up with Barker to hear about his experience at the Ohio State practice, how he enjoyed the Spring Game, what his plan with OSU is going forward, and more. Join us after the jump to hear more about one of the Buckeyes' favorite prospects in the class of 2014, Drew Barker.
You went up to Ohio State for spring practice last Wednesday. Tell us about that experience.
It was my first time seeing everything at Ohio State. The coaches were awesome and I got to see the stadium, facilities, and watch them practice. I loved how Coach Herman handled the quarterbacks and how Coach Meyer uses the quarterback in his offense. I talked to Coach Meyer for about 15 minutes that day and it was a great experience.
What did Coach Meyer say to you?
He just told me to keep doing what I'm doing and not pay much attention to any criticism and any praise that comes my way--basically just not let anything get to my head, either good or bad. He told me he wants me to go out and win a state title this year and that he really liked my film. He compared me to Alex Smith who he coached at Utah and became the top pick in the draft, so that was pretty humbling.
You decided to go back up to Columbus for the Spring Game on Saturday. How was that experience?
Yeah, I had a camp scheduled that day and I was originally going to go there, but when the Ohio State coaches invited be to come to the Spring Game I sat down with my mom and we decided it was best for me to attend it. I drove back to campus on Saturday morning and we got to go to the recruiting room before the game. The coaches came out and spoke to us, including Coach Coombs, who is my recruiter, as well as Mark Pantoni and Greg Gillum, both of whom are great guys. We then went down to watch the game and the atmosphere was just awesome. The stadium lived up to all of the hype and I liked the speed that the offense was playing at. After the game I got to speak to Coach Herman and he said they were going to come down to watch me throw at my high school soon. He said he would try to come with Coach Coombs, but at worst Coach Coombs would definitely be there to watch me.
What did Coach Herman say about a scholarship offer?
He said they aren't going to offer any quarterbacks in my class without seeing them throw, which is why they are coming down to watch me. I am hoping and think there is a good chance I will get an offer if they like what they see when they come to my school.
Do you have another visit planned to OSU in the near future?
I am supposed to go down to the Nike Football Training Camp in the beginning of May. It is at Ohio Dominican in Columbus, so I might try to stop by then.
Do you have any offers at this time?
I was just offered by Louisville and they are my first offer. I am seeing a lot of interest from Ohio State, Kentucky, Penn State, Vanderbilt, Cincinnati, Purdue, Wisconsin, Miami (OH), and UCLA, so any of those schools may offer me in the near future.
What other visits have you taken besides Ohio State?
I have been to Louisville, Kentucky, and Wisconsin.
How does the OSU visit compare to those other trips?
Ohio State definitely had the best facilities I have seen out of all of the schools. I really loved the coaching staff at OSU and how they interact with the players. It seemed like a family there and that is something I am looking for.
Do you have a decision time frame in mind?
I have no idea when I will make my decision. This is a once in a lifetime experience to go through the recruiting process, so I am just going to take my time and enjoy going through it right now.
Do you have any favorites at this point?
I don't have any favorites or a top list because I haven't seen all of the schools and it's not fair to judge or rank schools when I haven't seen them. I will say Ohio State is definitely up there for me and I am very interested in them.
HIGHLIGHTS: