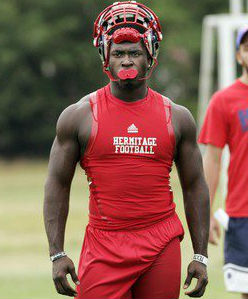 While many Buckeye fans are still celebrating the addition of RB Ezekiel Elliott, Urban Meyer and his staff are still out on the recruiting trail, trying to make the class of 2013 the best in the nation.
One of the players Meyer is pursuing to reach that goal is another running back in the form of Richmond (VA) Hermitage's Derrick Green. Green is a 6-0/215 back who rushed for over 1,500 yards and 20 touchdowns last season. He is rated a four star prospect by Rivals, Scout, and 247, holding 27 Division I offers thus far.
The most important thing for Ohio State fans to know about Green is that he grew up as a huge Buckeye fan and wears the number 27 in honor of his idol, Eddie George. While many prospects don't like to make the fact that they rooted for a team growing up a big factor in their decision, Green certainly does, listing the Buckeyes at the top of his list for a while now, thus giving Urban Meyer an advantage over many of the top programs in the country.
One other tidbit for OSU fans to know is that Green is the one who turned LB Curtis Grant on to the Buckeyes and may be the one to thank if the early reports of Grant holding down the MIKE linebacker spot stick true through this fall.
Even though the Buckeyes are a favorite, Green is certainly doing his homework on all of his college choices and has taken a number of visits to see potential future homes. We caught up with Derrick to hear about some of those visits, get the latest on his recruitment, see how he feels about the Buckeyes picking up another back in Ezekiel Elliott, and more. Join us after the jump to hear the latest on one of the nation's top running backs, Derrick Green.
You have been a busy man when it comes to recruiting. How many offers do you have and who are they from?
I am up to 27 offers now, as I just got offered by Oklahoma State. My other offers include Ohio State, Arkansas, Auburn, Boston College, Clemson, Georgia Tech, Illinois, Miami (FL), Michigan, Ole Miss, North Carolina State, UNC, Oklahoma, Penn State, Purdue, Rutgers, South Carolina, Tennessee, UCLA, USC, Vanderbilt, Virginia, Virginia Tech, Washington, West Virginia, and Wisconsin.
You have been taking some visits recently. What are some of the schools you have gone to in the last few months?
The schools I have visited so far are Ohio State, Clemson, NC State, Michigan, and Wisconsin.
A few weeks ago you took that trip to Wisconsin. What did you do while there and how did you enjoy the trip?
The trip to Wisconsin went well. I got to see the campus, meet the head coach, meet my position coach, and check everything out. They had a beautiful campus and I really like the style of offense they play and how they use their running backs.
Right after Wisconsin you went to Ann Arbor to see Michigan. Tell us about that trip.
Michigan was also very nice. I got to meet my position coach while I was there, but not the head coach because his father was sick. The highlight of my visit was getting to hang out with Denard Robinson and I can definitely seeing myself playing there.
While you were on that visit, word broke that another running back, DeVeon Smith, committed to Michigan. Does that have any factor in your decision to consider the Wolverines?
That doesn't change anything for me with them at all. Wherever I go I will have to compete for a job and I plan on winning that job, no matter who the competition is.
After all of these visits is Ohio State still your leader? Who else sits at the top of your list?
I'm definitely still in the process of seeing schools and narrowing down my list, but Ohio State definitely is still on top. They have a pretty big lead over anyone else, but if I had to say another school that's even close to them it would be Clemson.
Are you planning on taking another visit to Columbus any time soon?
I spoke to Coach Drayton a few nights ago and we are actually trying to figure that out. I want to get out there during my spring break which is April 6-April 13, so it's looking like I might get back out there sometime during that time.
Not sure if you heard but another running back just committed to Ohio State. Does that change anything with OSU?
Another reporter actually just told me that before and I had no clue, but it doesn't bother me one bit. I looked into him and he is a different type of back than me, but as I said before I am going to have to compete with other great players no matter where I decide to go.
How frequently have you been speaking to the Ohio State coaches?
I talk to Coach Drayton and Coach Smith a lot, maybe one or two times per week. I have spoken to Coach Meyer once as well. They are all just telling me they want me to be a part of the Buckeye family and that I have a chance to come in and compete for playing time right away. They think I could be a big time back for them.
What is your timeline for making a college decision?
I don't know right now. I haven't narrowed down my list yet and am still trying to get my teammates some looks from schools, so I'll have to sit down and figure everything out.
Has OSU said anything to you about making a decision by a certain date or are they planning on waiting as long as it takes for you?
They have never said anything to me about a time limit, so I'm guessing they are willing to wait for me. I'm sure they'd let me know if they were running out of room or anything like that.
Have you spoken to Curtis Grant at all lately? What is he telling you about Ohio State?
I actually hung out with Curtis a couple weeks ago when he was home on his spring break. We were working out a bunch together in the gym here. He tells me what he likes about OSU and how the new coaching staff if, as well as what I can expect if I go there, but he doesn't pressure me to commit. He wants what's best for me and will support me even though he wants me to be a Buckeye.
What are your plans coming up? Any combines or camps this spring and summer?
I am actually going to the VTO Camp this coming Saturday and will be at a Nike Sparq event as well. This summer I am planning on getting out to Alabama and Oregon and hope to earn offers from both of those schools as well.
HIGHLIGHTS: