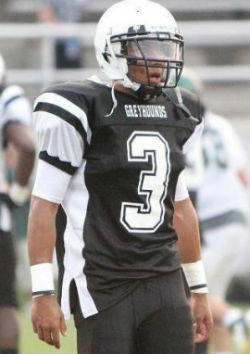 Ohio State had a star-studded cast of prospects come to visit this past weekend, leading to landing two verbal commitments in Ezekiel Elliott and Jayme Thompson, while also making solid ground with the other players on campus.
One of those players who made the trip into town was dual-threat quarterback Chavas Rawlins of Monessen High School in Pennsylvania. Rawlins (6-4/190) had never been to Columbus prior to this weekend, but Rivals' 19th ranked quarterback held the Buckeyes in his top six before making the trip and without even holding a scholarship offer from Urban Meyer.
Having thrown for almost 1,000 yards, rushing for about 600 yards, and scoring a combined 15 touchdowns during his junior season, Rawlins is quickly popping onto the radars of top programs around the nation. While the OSU coaching staff wants to see him throw in person before deciding whether to offer or not, there are plenty of other schools hot on the trail for him and he currently holds double digit offers.
We got the chance to sit down with Chavas to discuss how he liked his visit to Columbus, what the coaches told him about his standing for an offer, what else is going on with his recruitment, and more. Join us after the jump to hear the latest on 2013 dual-threat quarterback, Chavas Rawlins.
You visited Ohio State this weekend. What did you do on your visit?
While at Ohio State I got to first meet with a few of the coaches and some of the graduate assistants, who kind of welcomed us and showed us around a bit. We then went with them to watch Ohio State's practice. After that, we got to meet with the rest of the coaching staff and have some one-on-one time with both Coach Fickell and Coach Herman.
What was your favorite part about the visit?
My favorite part of the visit was watching practice, especially when they were 1's vs 1's with the offense against the defense. The excitement from the players and all of the coaches was just awesome.
Did you get a chance to talk to the coaches at all about your situation? What did they tell you about that and a potential scholarship offer?
I got a chance to talk to most of the coaches and they were all good people. Coach Herman told me my tape was awesome and that they want to see me throw in person before they offer. He is going to come to my school during the evaluation period and watch me throw so they can see what I can do. He said after that they will more than likely offer at that time.
What other visits have you taken? What visits do you plan to take in the near future?
I have taken visits to West Virginia, Pittsburgh, and Penn State. My next visit is to Virginia on Wednesday and then I am going to both UNC and Duke on Thursday.
What schools have offered so far? 
I have offers from Duke, UNC, South Florida, Pittsburgh, Purdue, Northwestern, Illinois, Akron, Kent State, West Virginia, and Virginia.
While at OSU did you get to talk to any players or fellow recruits? If so, which ones?
No I didn't get to talk to any current players or recruits, as I was really only there for the day.
What is a timeline for you to make your college decision?
I will probably try to make a decision around the start of my football season in the fall.
What are you looking for in the school of your choice?
I would like to go somewhere I can see myself living for the rest of my life and excelling if the NFL is not an option for me after my college career is up.
What position are schools recruiting you for?
Every school is looking at me as a quarterback other than USF, which is looking at me as an athlete.
What are your strengths on the football field? What do you feel you need to improve on?
My strengths are my ability to both throw and run the ball very well, as I am very unpredictable with the ball in my hands. Also, my football IQ is very high on the field. I have the ability to help players around me to play at their best. The one weakness I have is maybe my accuracy. It is not that bad but it definitely needs some work.
HIGHLIGHTS: