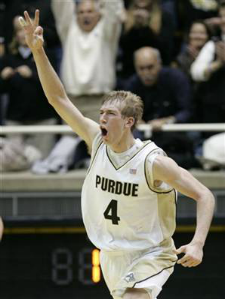 After a thrilling victory in East Lansing Sunday to capture their third straight B1G title, the Buckeyes look to accomplish the same feat in Indianapolis this weekend. Winners of six straight and 13 of their last 16 in the tournament, Thad's squad enters as the three seed for the first time. 
The matchup pits two teams who met only once this year and went down different paths after the Ohio State 87-84 home win. Since that game on Feb. 7, the Boilermakers have played their way into the NCAA Tourney by winning six of eight, with the only losses coming to MSU and Indiana, both by double digits.
Meanwhile, the Buckeyes fought through a stretch where they lost three of five, but battled last week for two road wins. Willie B hit the game winner Sunday and had a career high 29 against the Boilers the first time around. We've all been saying for weeks, this team goes as far as he takes them, so here's hoping for a Randolph Childress type tourney in his final go round.
| # | Name | YR | HT/WT | PTS | REB | ASST | P | # | Name | YR | HT/WT | PTS | REB | ASST |
| --- | --- | --- | --- | --- | --- | --- | --- | --- | --- | --- | --- | --- | --- | --- |
| 4 | A. Craft | SO | 6-2/190 | 8.6 | 3.0 | 4.5 | G | 23 | L. Jackson | SR | 5-9/165 | 10.5 | 3.2 | 4.2 |
| 32 | L. Smith, Jr. | SO | 6-4/205 | 6.0 | 4.6 | 2.1 | G | 0 | T. Johnson | SO | 6-2/207 | 8.4 | 3.2 | 1.8 |
| 44 | W. Buford | SR | 6-6/220 | 15.1 | 4.9 | 2.9 | F | 21 | R. Smith | SR | 6-3/189 | 9.4 | 2.6 | 1.2 |
| 1 | D. Thomas | SO | 6-7/225 | 15.1 | 4.9 | 0.9 | F | 4 | R. Hummel | SR | 6-8/215 | 16.8 | 7.0 | 2.0 |
| 0 | J. Sullinger | SO | 6-9/265 | 16.9 | 9.3 | 1.2 | C | 50 | T. Carrol | SO | 6-9/231 | 2.6 | 3.0 | 0.5 |
Opponent
Purdue easily took down Nebraska yesterday, 79-61, lead by Anthony Johnson's career high 17 off the bench and Terone Johnson's 16 points, six boards and six dimes. Hummel had a quiet day, going for 10 points on 3/7 shooting, while Ryan Smith hit five from behind the arc, accounting for all 15 of his points. The Boilers were scorching from deep, connecting on 13/25 and were 28/50 overall.
The first matchup between these two schools was one of the more entertaining games of the season. Each team took it to the rack with consistency, as both hit over 50% of their shots and attempted a combined 59 FT's, with Ohio State making 26/34. Purdue made 11/19 from deep, while the Buckeyes tried to keep pace with a 9/16 effort. I would expect nothing different tonight.
This may not be Painter's toughest defensive team, as they rank near the bottom in most statistical categories, but they handle the rock with great efficiency and make enough threes to be dangerous. During B1G play, Purdue gave up an average of 69.7 PPG, while allowing teams to connect on 47.5% from the floor, both put them at 11th in the league. They ranked third behind Indiana and OSU with 70.4 PPG, making 43.6% overall from the floor and 37.5% from deep in conference play.
As you can see, the Buckeyes will enjoy a height advantage tonight. Purdue ranked in the bottom half in rebounding, snagging just 31 a game, while allowing opponents to get just over 33. OSU won the battle of the boards, 31-21 the first time. As mentioned, the Boilers take great care of the ball, averaging just 8.1 TO's during B1G play. It's quite remarkable if you think about it, less than 10 TO's a game in the toughest conference, that alone will keep them in most games.
Painter will probably bring just two players off the bench. Kelsey Barlow was kicked off the team back on Feb. 17, while B1G sixth man of the year, D.J. Byrd was suspended for the MSU game, but remains the first guard off the pine. He hit 7/9 from downtown in the first matchup, en route to a career high 24 and chipped in with 10 points yesterday on 3/7 from deep. On the season, the 6'5" JR., averaged 8.5 PPG and connected on 43% from the arc. Also seeing significant action will be the aforementioned, Anthony Johnson. The 6'3" FR. scored five PPG this season and reached double figures only one other time in league play.
I think we all were impressed with Purdue the first time around, as they played with an aggressive attitude that seemed to rub off on the Buckeyes that night. Teams that can hit the three have given OSU fits this year and there is no reason to believe the Boilers aren't going to stay in this one. The game is less than an hour from their campus and the fans will have had all day to get good and saucy.
Buckeye Breakdown:
It's amazing what one shot will do. The Buckeyes were up against the ropes heading into the final week of B1G play, but fought hard in two highly contested games and William Buford stroked a beauty to cap off another conference title and give OSU some serious momentum heading into both tournaments. There had been something off for a couple weeks with this team and the grumblings of another early exit from the tournament were starting to surface once again. But one shot stopped all that.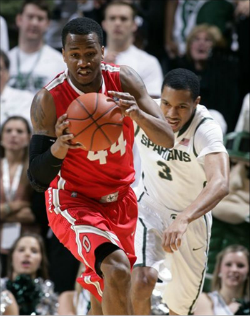 This is the time of year Thad thrives. In his seven previous B1G conference tourneys, he is 14-4, playing in five championship games and wining three. In his career as a head coach, Thad has played in eight title games in his eleven seasons, winning six of them. No one questions his shortened bench in March and his teams have simply elevated their game in the B1G tourney.
I talked last week before the Northwestern game, about Ohio State being able to "flip the switch" now that it's March and get out of the funk they were in. They played with determination last week and seemed to be more focused. The talent has been there all year, but the collective minds necessarily haven't been.
All the bad referees we have been complaining about this year are in one place this weekend, so Sully is going to have to focus solely on his play. Travis Carroll has played him well in the past and he got into a bit of foul trouble against Purdue the first time, but he has a chance to dominate this tournament and put up numbers similar to last year, where he scored 16.3 PPG and snagged 14 RPG over the weekend. The refs were kind to him last year, giving him 38 FT attempts in the three games and Sully took advantage, hitting 25 of them. He was named B1G POW for his performance last week and who knows, perhaps there is a burning desire inside him, knowing this is his last conference tourney and his OSU career is coming to a close.
We do know that this is the last tournament for the lone senior, Willie B., who gave us fans a rare collective jump-off-the-couch moment when he drained the 19 foot jumper and stared down the Iz-zone, as he won his third B1G regular season crown. It's hard to believe he was held below double digits in three of his last seven, including Wednesday, but he too should have that sense of urgency and he has averaged 14.3 PPG in nine BTT games, playing an average of 40.4 minutes per contest. Buford is 8-1, with two titles and if memory serves me correct, would become the first player to win three B1G titles.
First and foremost, the main key for tonight is to have the good Ohio State team show up. I have little doubt this won't happen, for the reasons mentioned above. Second, Purdue is going to make their threes, so OSU needs to be aggressive driving to the rim, looking to get PU in foul trouble and get to the line. The ball should be fed to the paint all night, looking to get Sully and Thomas going down low early on. Carroll is the only decent big guy they have, so sending him to the bench early, gives OSU a bigger advantage in the paint.
Finally, Thomas and Craft have to continue their hot shooting and take nothing but good shots. Buford and Sully are each good for a couple of questionable shots a game, so OSU can't afford to have Craft and DT follow suit. Matta always talks about the importance of valuing EVERY possession and the emphasis grows in March, as one bad shot or TO can end your season.
I think Ohio State got a nice draw, having to face Purdue and Michigan on the way to the title game, versus facing Whisky, MSU or Indiana on the other side of the bracket. There is no doubt they can win this tournament, but the focus must be on their play, not the refs and each possession has to be viewed as if it is the last one of the season. If they take care of the rock, take good shots, stay aggressive on offense and continue doing what they do on the defensive side, OSU should be cutting down the nets for the third straight season.
Etc
Thankfully, Gus Johnson get the call tonight and Ted Valentine is currently doing the Iowa/MSU game. Haha, as I type this, Teddy V. just T'd up Fran McCaffery and now McCaffery is mocking Valentine across the way.
Chris is making it rain in Indy courtside, so if you're in the area, hit him up @Chris11w. He's claiming the first round is on him.