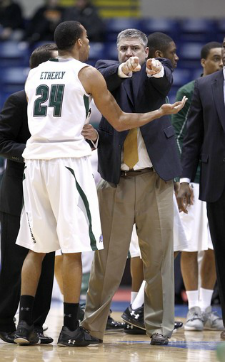 The Buckeyes travel to Pittsburgh tonight, making their 24th NCAA Tourney appearance, which includes the last four. This is the sixth time in Thad's eight years he has taken the Bucks to the Dance and though the last three have been disappointing earlier than expected exits, OSU has reached the Sweet Sixteen in consecutive years for the first time since '91-92. 
Conversely, Loyola is making just their second appearance and first since 1994, when they lost to Arizona in the first round, 81-55. The Greyhounds have won 12 of their last 15, including the MAAC championship, but shouldn't pose a threat to Ohio State.
OSU is the sexy pick to make it to New Orleans out of the East region, especially in light of the Fab Melo situation. There is no question Ohio State has the talent to get it done, but as Alex pointed out yesterday, there are some good teams in the East and the Buckeye's mental focus has to be equivalent to their physical tools. Survive and advance, that's all you have to do this time of year.
| # | Name | YR | HT/WT | PTS | REB | ASST | P | # | Name | YR | HT/WT | PTS | REB | ASST |
| --- | --- | --- | --- | --- | --- | --- | --- | --- | --- | --- | --- | --- | --- | --- |
| 4 | A. Craft | SO | 6-2/190 | 8.6 | 3.2 | 4.6 | G | 12 | R.J. WIlliams | FR | 5-8/155 | 4.0 | 1.6 | 2.5 |
| 32 | L. Smith, Jr. | SO | 6-4/205 | 6.1 | 4.5 | 2.1 | G | 3 | D. Cormier | SO | 6-2/176 | 13.4 | 3.3 | 1.9 |
| 44 | W. Buford | SR | 6-6/220 | 14.7 | 4.9 | 2.9 | F | 25 | R. Olson | JR | 6-4/191 | 11.2 | 3.4 | 1.9 |
| 1 | D. Thomas | SO | 6-7/225 | 15.4 | 5.0 | 0.9 | F | 24 | E. Etherly | JR | 6-7/218 | 13.5 | 7.5 | 1.9 |
| 0 | J. Sullinger | SO | 6-9/260 | 17.6 | 9.3 | 1.2 | C | 5 | S. Walker | SR | 6-10/222 | 4.0 | 6.4 | 1.5 |
Opponent
Loyola finished second in the regular season MAAC standings, two games behind fellow tourney participant, Iona. The Greyhounds only played one ranked team this season, which was Kentucky back on Dec. 22, a game they were down just six at halftime, before losing by 24.
The Greyhounds aren't the best shooting team, connecting on 42.8% overall from the field, which puts them in the lower third of all D1 teams. They do hit 34% of their three point attempts, but don't rely on chuckin' up a bunch from there. They make about five a game on almost 15 attempts.
Jimmy Patsos's squad scores roughly 68 PPG, but managed just 48 in their MAAC championship game 10 days ago. As you can see above, they are not the tallest of teams, but Patsos is from the Gary Williams mode and they take pride in their rebounding. On the season, the Greyhounds snagged 35.3 RPG and had a +4 rebounding advantage.
Oddly enough, Loyola has held teams to the exact shooting percentage as they have shot, at 42.8, allowing teams to score almost 64 PPG. They do a nice job of taking care of the rock, turning it over just 13.5 time a contest, while also dishing out 12 assists.
Pastos will run with about eight guys, all averaging between 17-31 minutes a game. Leading the way off the pine will be 6'4" SO. Justin Drummond, who scores just under 11 points and grabs four boards per game. Also slated to see some time tonight is Anthony Winbush and Jordan Latham. Winbush, a 6'7" JR., gives his team roughly three points and boards in 17 minutes of action, while Latham, a 6'8" SO., is a big body who will probably see the least amount of time, knocking in a couple of points per game, to go along with two boards.
I don't know what type of defensive scheme Pastos will have up his sleeve, but there is little doubt he'll try something. He knows his team can't match up with Ohio State physically and the only way they can stay in this game is to confuse the Bucks defensively and hit some threes. Loyola has balanced scoring and Etherly looks to be a decent player, but I don't see them having enough fire power to make this a close game.
Buckeye Breakdown:
Minus the second half of their last game, Ohio State has played some great basketball over the last five games and earned the two seed in a region that many are predicting them to win. I thought Ohio State played some of their best basketball all season in the first 2.5 games of the B1G tourney and we can only hope the offensives mindset we saw the second half against MSU on Sunday, doesn't carry over to the Big Dance.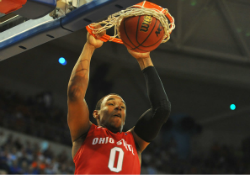 I know Sully is a great player and he is probably playing his last games as a Buckeye, but this team isn't going to win if he is taking every shot. William Buford and Deshaun Thomas took a combined seven shots in the second half Sunday, three of which were in the last :37 seconds of the game, while Sully took 16 shots in the second.
Thad was determined to go through Jared, but the ball rarely came back out and the crisp movement of both player and ball that we had seen for the first 100 minutes of the tourney, stopped. I'm sure they watched tape and learned from it, because if they haven't it could mean another disappointing exit.
Regardless of how the offensive shots work out tonight, Ohio State shouldn't have too much trouble with the Greyhounds. The Buckeyes will be the best defensive team they have seen all season and Thad won't need to pull out any tricks to win this one. This is the type of team OSU was disposing of with ease in the OOC slate.
If all goes well, Thad will be able to play his bench a little more tonight, giving the youngsters a taste of NCAA tourney action, which will be critical as they move on in the bracket. We have criticized B1G officials all season for their inconsistency and there's a good chance the games are going to be called different, so Ohio State players can't get wrapped up in what is/isn't being called. We saw Sunday how foul trouble can affect this team and if there is a spot where Craft or Sully has to take an early seat due to foul trouble, Shannon Scott and Evan Ravenel have to continue their recent play. Solid minutes tonight will only boost their confidence.
I expect this one to be over early. The Buckeyes can't have a good taste in their mouth after letting one slip away on Sunday and this could be the last few games for Buford, Sully and Thomas(hopefully not). They want to put the recent tourney woes behind them and make a mark on OSU history. The stars are aligning for it to happen, so we can only hope they remain unselfish on offense and continue their solid work on D.
Etc
Kevin Harlan, Len Elmore and Reggie Miller have the call tonight.
William Buford becomes the fourth all-time scorer with at least 11 points.