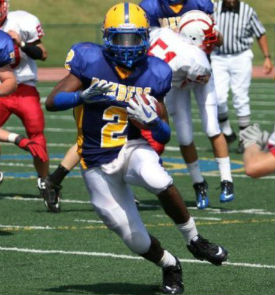 The basketball Buckeyes are in New Orleans and the football Bucks continue spring practice, but neither of those events may be the most important on Urban Meyer's mind this coming weekend.
Instead of rooting on his counterpart in Thad Matta or focusing on who is starting tailback will be, Meyer and the rest of his staff will be shifting their focus over the next few days to trying to bring in the next group of Ohio State stars as a group of big time high school football prospects will be on campus over the next few days.
As of today, the Bucks are expecting seven players in this all-star cast, including 2013 players OT Ethan Pocic, RB Ezekiel Elliott, DB Darian Hicks, LB Alex Anzalone, DB Devin Butler, and LB Tim Kimbrough, as well as 2014 stand out LB Raekwon McMillian.
While we plan to catch up with as many of these rising stars as we can after their visits this weekend, we wanted to give you a little bit more insight into the type of players each of them are, as well as what their current recruiting situation is and where the Buckeyes may stand when it comes to being their future destinations.
Please join us after the jump as we introduce you to these seven prospects that will be in Columbus this weekend and will get the red carpet treatment from Urban Meyer and the rest of his coaching staff.
Ethan Pocic of Lemont High School in Illinois is rated as the #3 offensive tackle in the nation by Rivals. Standing at 6-7/285 Pocic (pronounced Po-chick) is an imposing figure but moves very well, fitting the Meyer/Warinner mold for linemen. After a great junior season, Ethan has seen offers come in from OSU, Michigan, Notre Dame, Alabama, Auburn, Florida, Tennessee, USC, Wisconsin, and others, but all the information we are getting has the Buckeyes on top. The Alabama offer will definitely intrigue Pocic, but Meyer has a chance to wrap this one up over the weekend and I expect Ethan to be a Buckeye some time this spring.
Ezekiel Elliott has done things more quietly throughout his recruitment, but that doesn't mean colleges haven't taken notice of Scout's ninth ranked running back in the class of 2013. The 6-0/195 Elliot has been clocked at 4.4 seconds in the 40-yard dash and will be making his second trip to Ohio State this year, this time bringing his mother with him. If you have followed recruiting since the fall, you know Meyer is great with parents and this is a tremendous opportunity for the staff to put themselves in the lead for this speedster from John Burroughs School in St. Louis. In-state Missouri and Notre Dame are said to be the Buckeyes' biggest competition, with other schools that have offered being Arkansas, Georgia, Nebraska, Penn State, Tennessee, UCLA, Vanderbilt, Virgina, Wisconsin, and others. I think the Bucks have a great chance to land Elliott and getting a second visit is a great sign, but let's see how things play out over the weekend before we peg him in Scarlet and Gray.
Darian Hicks of Solon High School does not yet have an Ohio State offer, but had a solid junior season and continues to be in contact with the Buckeye staff. Hicks (5-10/175) is a 4-star prospect and the 15th ranked corner back in the country according to 247 Sports, but the Bucks already have two corner backs in Eli Woodard and Cameron Burrows and it is to be determined if they plan to take another player at the position. Hicks does have offers from Michigan State, Illinois, Iowa, Boston College, Cincinnati, Indiana, Louisville, Penn State, Purdue, and West Virginia, but looks to favor the Spartans and may commit to Mark Dantonio in the near future if OSU does not come through with an offer. Now that Kerry Coombs and Everett Withers can size Hicks up in person, we will see this weekend where things stand with one of Ohio's fastest rising prospects.
Alex Anzalone is someone with whom we talk often and he is also making his second trip back to Columbus to check out the Buckeyes. It looks like the four schools in serious contention here are the Buckeyes, Florida, Penn State, and Notre Dame, but the Gators and OSU have consistently been out on top for the Wyomissing Area two-way star and Scout's 10th ranked outside linebacker. Anzalone will make a trip out west to UCLA, Stanford, and USC following his visit to Columbus, as he is on spring break, but as mentioned before I expect Urban Meyer or Will Muschamp to win this one in the end. I really like Ohio State's chances with the second visit on tap and would be slightly surprised if this one doesn't go in favor of Ohio State.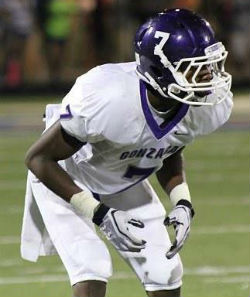 Devin Butler isn't a name too many recruiting fans are familiar with, but they better be soon as the athlete from Gonzaga High School in Washington DC is blowing up fast. At 6-1/175 Butler has starred for Gonzaga at both wide receiver and defensive back and registered 43 tackles, 12 pass break-ups, 6 interceptions, a fumble recovery, and a touchdown on defense last year, while also catching 11 passes for 168 yards and 3 scores on offense. Butler currently holds offers from Baylor, Georgia Tech, Iowa, Maryland, Michigan, Michigan State, Nebraska, UNC, Notre Dame, Penn State, West Virginia, Wisconsin, and others, and says he expects the Buckeyes to offer in the very near future. That offer may come this weekend when he makes an unofficial visit to Columbus, and we will see how the staff feels about him depending on if that happens or not in the next few days.
EDIT: Butler has cancelled his visit to OSU according to Evan Flood of 247 Sports
Tim Kimbrough has been a fan favorite of Ohio State recruiting fans for a while now as the Indianapolis Warren Central linebacker has listed the Buckeyes as a favorite despite not holding an offer from Urban Meyer. At 6-1/222, Kimbrough can pack a punch and has earned a ranking as Rivals' and Scout's fifth ranked middle linebacker, while earning honors as 247's fourth ranked inside linebacker after a strong junior campaign. Kimbrough has been to Columbus a few times already, but returns this time trying to add an offer from the Buckeyes to add to his list of Louisville, Wisconsin, Arkansas, Cincinnati, Florida, Georgia, Illinois, Michigan State, Penn State, UNC, Mississippi State, Purdue, and Vanderbilt, among others. I think the Bucks will look to take Anzalone and Courtney Love at linebacker and then make a decision on whether they want to offer Kimbrough or wait on Jaylon Smith. Once again this weekend could be telling for how this one will play out, as Kimbrough isn't going to wait forever for the coveted Ohio State offer. If he does get offered, I wouldn't be shocked to see him accept on the spot though.
EDIT: Looks like Tim Kimbrough may have delayed his visit by a week or so
Raekwon McMillian is just a sophomore, but is getting plenty of recruiting attention already and the Buckeyes are showing serious interest. McMillian is reciprocating that interest and the 6-3/230 linebacker from Liberty County High School in Hinesville, Georgia will make the trip up north this weekend to check out Ohio State for the first time. Already holding offers from Georgia, Ole Miss, and South Carolina, I expect Raekwon to land a scholarship from the Buckeyes this weekend and move Ohio State towards the top of his list once they do so. McMillian is already built like a college star and will only improve after a tremendous sophomore season in which he totaled 84 tackles, with 16 coming for a loss. There is still plenty of time in McMillian's recruitment, but you can tell the staff really likes this kid as they are going after him early.
Finally, as a bonus, a little birdie is telling us that current West Virginia commit and Toledo Central Catholic star, Jayme Thompson, may be visiting Columbus this coming weekend. Thompson verballed to WVU back in early February, but growing up in Ohio, always was a fan of the Buckeyes. OSU told the Rivals 13th ranked safety that he would get an offer once he showed a commitment to school and Thompson responded by performing well this past semester, and thus earning the Ohio State offer a few days ago. Word is it may not be long until Thompson flips his commitment from the Mountaineers to the Buckeyes and I look for some action on this to happen as early as this weekend. Stay tuned folks.