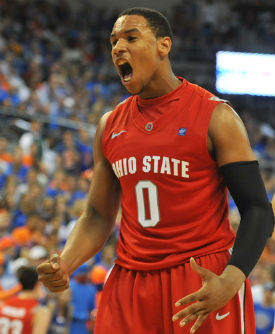 When Selection Sunday started to roll this past weekend all I could do was cross my fingers and pray that Ohio State was not in the same bracket as the all-mighty Kentucky team. I not only got my wish to avoid John Calipari's squad in a regional match-up, but I was also thrilled to hear the Buckeyes were not even on the same side of the bracket as the Wildcats, meaning the only time OSU and UK could square off would be in the finals.
Not caring which bracket the Bucks ended up in after that, I became even more pleased after hearing Jared Sullinger would not have to go up against the two headed monster of John Henson and Tyler Zeller, but rather would be placed in the same regional as Syracuse, an over-seeded and over-hyped FSU team, Wisconsin, and another media-hyped team in Vanderbilt.
While I felt the road to the Elite 8 was well within grasps, I was surprised to come into work on Monday to hear all the chatter about the Eastern Regional being the most difficult road to New Orleans. I understood that Florida State and Vanderbilt were both "hot" after pulling off upsets to win their conference tournament and that the Badgers would always be stingy, but to hear that top to bottom people thought the East was the most difficult bracket boggled my mind.
Upon doing some research I found that while I still thought Michigan State had the toughest draw in the West, that the Buckeyes' region would be a little more difficult than I thought at first glance. I did some digging on Ohio State's prospective opponents and was surprised to find that while certainly achievable, getting to New Orleans would be a much greater task than flipping the on switch.
Today we take you on a journey through that research as we break down Ohio State's road to the Final Four by taking a look at each of the 15 other teams in the Eastern Regional. You too will be surprised to learn some facts about OSU's prospective opponents and the path that lies ahead for William Buford, Jared Sullinger, and DeShaun Thomas in what could likely be their last hurrah in the Scarlet and Gray.
Join us after the jump to take a look at the buzz surrounding Ohio State in March Madness and what it will take for the Buckeyes to become the Beast of the East and earn a place in the Final Four in New Orleans.
#16 UNC Asheville
The Bulldogs may not have Kenny George anymore but they are still making noise as winner's of the Big South Conference this year at 24-9 overall.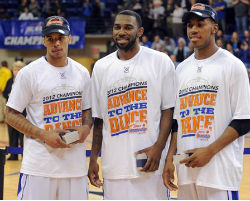 Five of their losses came from quality teams at the hands of North Carolina State by 9, North Carolina by 16, Tennessee by 4, Ohio by 19, and UConn by 10, while also notching a quality win against Utah out of the Pac-12. They hung around late in some of those games, so for a 16 seed they can give a deflated Syracuse team a game in the second round on Friday.
The Bulldogs are lead by three seniors in guards Chris Stephenson, Matt Dickey, and JP Primm, who will certainly use their experience to give the Orange everything they have. UNC-Asheville does lack size on the inside, but with Fab Melo out for the tournament, that won't be as big of a factor as it was earlier this week. 
Expect the Bulldogs to put up an early fight, but get blown away by the athleticism and talent advantage of Syracuse. Definitely a team that is strong for their 16 seed, but I don't see them being the first in that spot to pull of the upset of a 1 seed.
#15 Loyola (MD)
We'll focus more on the 24-8 MAAC Champs later this week in the preview, but the Greyhounds are certainly going to have to grow up fast if they want to upset the Buckeyes.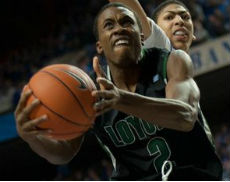 With an average years of experience at 1.57, this is a young team lead by sophomores G/F Justin Drummond and G Dylon Cormier, as well as junior F Erik Ehterly, and senior C Shane Walker. While they have balance in their scoring, their youth 
While they have balance in their scoring, their youth is displayed in their inconsistency. Their "quality" losses this year have come against Wake Forest by 12, St. Bonaventure by 10, Kentucky by 24, and Iona by 11. They did beat Iona once for a quality win and have a couple victories against other "known" teams such as Siena and George Washington.
The Buckeyes should handle Loyola (MD) from the start and I expect this one to be well over by half time.
#14 St. Bonaventure
I'm personally a big fan of the Bonnies after seeing them rise to win the Atlantic 10 tournament and earn a bid into the field at 20-11 on the season.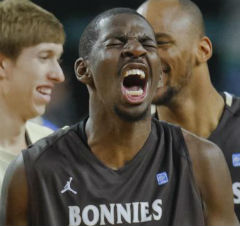 While they may not be that appealing with 11 losses, Florida State will have their hands full. Six of those losses came at the hands of either tournament or power conference teams, including to Virginia tech by 9, Illinois by 5, North Carolina State by 2, Xavier by 13, St. Louis by 24, and Temple by 6. They did beat St. Joseph's twice, Xavier once, Dayton once, and Loyola (MD) ironically enough. 
Their star player is senior C Andrew Nicholson, who gets help from juniors F Chris Johnson and G Eric Mosley. While this is an overall young team (average experience is 1.84 years), those three upper classmen have shown the veteran leadership anytime would love to have come tournament time.
I think St. Bonaventure has a very realistic chance to upset the Seminoles, but I would still be surprised if it happens. Expect a close game down to the final minutes with FSU pulling away towards the end.
#13 Montana
The Grizzlies are a team I have not had a chance to watch, but they are a hot pick for an upset in the first round as they take on the Wisconsin Badgers.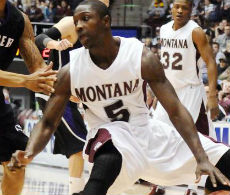 As the Big Sky Conference champs at 25-6, Montana can do some damage from the outside, shooting 38.3% from 3-point range as a team. They'll certainly need to shoot well on Thursday to be able to match the Badgers prowess from the perimeter and will need junior G Will Cherry and sophomore F Kareem Jamar to be on their "A" game to pull of the upset.
Wisconsin always performs well in the tournament, mainly because teams are not used to playing against their type of style. Montana will likely struggle with this as their "key losses" have not come against high level teams (Nevada, Oregon State, and Colorado State), while their only quality win was against a guard-laden team in Long Beach State.
While many are picking the upset, I'm not buying it. The Grizzlies will have to "deal with it" this week and Buckeye fans likely won't have to worry about seeing them any time this March.
#12 Harvard
I was disappointed Harvard got their 5-12 draw against a hot Vanderbilt team, but the Crimson Tide (26-4, Ivy League Champs) have plenty to be optimistic about as they enter the tournament as the 39th ranked team via Ken Pom.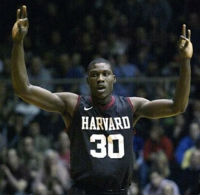 Tommy Amaker's team is young (1.71 average years of experience), but dangerous as they are lead by forwards Kyle Casey (Jr), Jonah Travis (Fr), and Keith Wright (Sr), as well as guard Brandyn Curry (Jr). They shoot 35.5% from behind the arc and a solid 75% from the charity stripe, both solid numbers to do some work in the tournament.
Quality wins have come against Utah, Florida State, Vermont, Boston College, and St. Joseph's, while their "good loss" came from UConn by 14 points. They were ranked often throughout the season and definitely have the ability to take down Vanderbilt if they catch the Commodores on an off shooting night.
This game has been overlooked by many because of Vanderbilt's hot streak, but watch out for Harvard come Thursday. I have Vandy in my bracket but I think this will be one of the better games the first round will see.
#11 Texas
Texas comes in as an 11-seed which is not where you usually see them, but the young Longhorns (0.98 average years of experience) can definitely shock the Bearcats of Cincinnati if they come out as Dr. Jekyll instead of Mr. Hyde.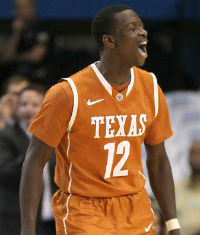 Lead by junior F J'Covan Brown and freshmen guards Myck Kabongo and Sterling Gibbs, Rick Barnes' team has been up and down all season long. They are #27 in the Ken Pom rankings, showing that they do have a quality squad, but the story of their season has been proving it and that is something they will have to do against a very good defensive team in UC.
UT was 20-13 this year, but all of those 13 losses came against power conference teams. The Horns lost to Missouri three times, Kansas and Baylor twice, Kansas State, Oklahoma State, UNC, Iowa State, NC State, and Oregon State. Their quality wins came against Iowa State twice, UCLA, Temple, and Kansas State.
The Longhorns are a very interesting team. I am not completely sold on Cincinnati which is why I am picking Texas to advance, but saying that, I also wouldn't be surprised if the Bearcats' interior game tore apart Texas. This is definitely an interesting game, but either way, don't expect UT to last long enough to face the Buckeyes.
#10 West Virginia
The Mountaineers are seeded fairly at a 10 (Ken Pom #42), but have a built in advantage in the first two games as they play under an hour from their campus at Pittsburgh.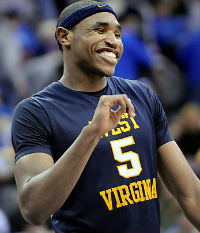 Leading WVU 919-13) are seniors F Kevin Jones and G Darryl Bryant, as well as juniors F Deniz Kilicli and F Dominique Rutledge. Watch out for freshmen contributors in G Jabarie Hinds and G Gary Browne as well.
The Mountaineers struggle both from the free throw line (67.1%) and from behind the arc (30.2%), which has contributed to losses against some bad teams such as Kent State, St. John's, and Pittsburgh. Their other losses are of the "quality" variety against Baylor, Mississippi State, Seton Hall, UConn twice, Syracuse, Notre Dame twice, Marquette, and Louisville. Their good wins come against Kansas State, Miami (FL), Georgetown, Cincinnati, and USF.
A first round draw against a solid Gonzaga team is certainly difficult, but Bob Huggins' team is talented enough to win the game on a neutral floor, let alone a pseudo home game. Their second round match up against the Buckeyes could be a good game and as an OSU fan I'm certainly feeling a little bit of heat playing the Mountaineers in Pittsburgh. I think WVU's run ends after one win, but the Bucks better be ready for a hard fought game if they want to advance to the Sweet 16.
#9 Southern Miss
I don't know much about Southern Miss, but as you can tell I'm a big fan of Ken Pomeroy and his rankings holding the Golden Eagles at #74 don't have me feeling too good about their chances against Kansas State in round one.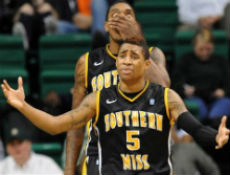 USM went 25-8 in Conference USA this year en route to earning an at-large bid. They shot a solid 35.6% from three point range and 73.7% from the charity stripe which can be valuable come Friday, while also getting some help with an average experience of 2.26 years, good for 27th best in the country.
Out of their eight losses, I would consider only two to quality teams in Memphis and Murray State which is concerning. Their good wins come against Colorado State, New Mexico State twice, USF, Arizona State, Ole Miss, and Memphis, which aren't exactly games to brag about.
The star players on the team are senior F Darnell Dodson, junior F Jonathan Mills, and sophomore G Neil Watson, who could come up clutch down the stretch as he shoots 84% from the free throw line on the year. Other contributors to look out for include senior C Maurice Bolden, senior G Angelo Johnson, and senior F Torye Pelham.
Once again, I am not that impressed with Souther Miss and would be surprised if they topple KSU in round one. Either way, they look to exit before the Sweet 16, as a Syracuse team even without Fab Melo should take the Golden Eagles down fairly easily.
#8 Kansas State
Nothing is better in March than seeing KSU head coach Frank Martin's face turn beet red during the tournament. Well, there may be a lot of things better, but you can be sure this will be one of the highlights of my day on Friday.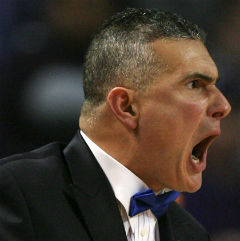 The Wildcats (Ken Pom #22) come in at 21-10 after an up and down year, but have an opportunity to make some noise in the top half of the Eastern Regional bracket. With Fab Melo out for Syracuse, this K-State team is talented and could potentially upset the #1 Orange if they play to their potential.
KSU's quality losses this year have come against West Virginia, Kansas twice, Baylor twice, Texas, and Iowa State twice. Good wins have come in the form of victories against Virginia Tech, Alabama, Long Beach State, Missouri twice, Texas, and Baylor.
The key player to watch his freshman G Angel Rodriguez who seems to be the straw that stirs the drink for this team. He gets help from juniors G Rodney Magruder and C Jordan Henriquez (7-0/245), senior F Jamar Samuels, and freshmen C Adrian Diaz (7-0/220) and F Thomas Gipson.
Height is an advantage for K-State and I expect them to use it to beast USM in their first game and at the very least give Syracuse a scare in round three. I have the Orange beating Purple Power in that game, but without Fab Melo the Wildcats will have an advantage on the glass which could lead to a potential upset.
#7 Gonzaga
As mentioned above, Gonzaga will have the difficult task of having to fly across the nation to take on West Virginia, but Mark Few's team is extremely talented and will be prepared for the challenging journey ahead.
The Bulldogs finished the season at 25-6, earning an at-large bid after falling to St. Mary's College in overtime of the West Coast Conference finals. Of those six losses, five came against quality teams at the hands of St. Mary's twice, Michigan State, Illinois, and BYU. On the flip side, good wins came against Notre Dame, Arizona, Butler, Xavier, St. Mary's, and BYU twice.
The player everyone is talking about as being the x-factor for the Zags is freshman G Kevin Pangos. Pangos averages 13.8 points per game and 3.4 assists per game for Gonzaga and if he can have a good game against the Mountaineers in a defacto road game I expect the Bulldogs to emerge victorious.
WVU-Gonzaga will be a really good game and either team can definitely pose a threat to Ohio State. This is a well coached team that goes nine quality players deep and can make things happen from both the outside and the inside. I think Ohio State is more athletic and talented but at the end of the day if William Buford and DeShaun Thomas have off-games, don't be surprised if the Zags give the Bucks all they can handle.
#6 Cincinnati
The Bearcats have some momentum after reaching the Big East Championship last week, but they will have their hands full with the athletic and speedy guards of Texas.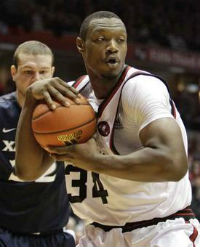 Defense is the name of the game for Mick Cronin's squad, who rode that mantra to a 24-10 season and an at-large bid. If they want to advance in the tournament, they will have to score though, and the x-factor for this team will be senior C Yancy Gates.
Gates has sort-of lived up the bill of heralded recruit coming out of high school, averaging 12.4 points and 9.2 rebounds per game during his senior season this year. He has been a force in the middle at times, but has been "disinterested" and lacked focus at others. His play will be the difference for UC in the tournament and he will need to get his act together if they want to move on past their first round game against the Longhorns.
Cincinnati's other contributors include sophomores G Sean Kilpatrick and F Justin Jackson, juniors G Jaquon Parker and G Cashmere Wright, senior G Dion Dixon, and freshman G Jeremiah Davis. Kilpatrick is the leading scorer at 14.3 PPG (36.8% from 3-point), and Wright leads the team with 4.6 assists and 2 steals per game.
Cincinnati has a more difficult draw in Texas than most people think and if they have to face Florida State in the second game that would be an even bigger challenge. While I have them exiting to UT, they are certainly capable of winning those first two games, potentially setting up an all Ohio match-up against the Buckeyes.
#5 Vanderbilt
Vandy could be considered the hottest team in tournament after toppling Kentucky in the SEC Championship game to improve to 24-10 overall and turning around their season after a disappointing start.
A pre-season top 10 team, the Commodores (#16 by Ken Pom) took bad early season losses to Cleveland State and Indiana State to tumble from glory. Their other eight losses were more of the quality variety, coming against Xavier, Louisville, Mississippi State, Arkansas, Florida, Kentucky twice, and Tennessee.
They did have some quality wins though, beating Oregon, North Carolina State, Oregon State, Davidson, Marquette, Alabama, and Kentucky. Their next opponent, Harvard, isn't the 12 seed you'd want to play in round one, but momentum is on Vanderbilt's side as they see a chance to do some damage in the top half of the bracket.
Vandy is lead by junior G John Jenkins (19.9 PPG) and seniors F Jeffery Taylor (16.4 PPG 5.8 RPG) and C Festus Ezeli (10 PPG 5.5 RPG 52.9% FG). As a team they are deadly from three, ranking 21st in the nation with a 41.3%, as Jenkins leads the team at 44.8%, while Taylor chips in at 43.2%.
The Commodores are a sexy pick to emerge from the Eastern regional and if they get past Harvard they certainly have winnable games against Wisconsin (can match their shooting) and Syracuse (can shoot out of the 2-3 zone). They are certainly a dangerous team for Ohio State to face, but I'm not buying the hype completely and have them losing their second game to the Badgers.
#4 Wisconsin
Year after year I consistently pick the Badgers to bow out of the tournament early, but after seeing them only lose once in the first round under Bo Ryan in the last 10 years, I completely buy in for this year's bracket.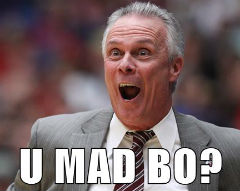 Many teams outside the Big Ten aren't used to the Buzzcuts' plodding style of hoops that lures you in to what many would call "boring" basketball. When the Badgers come to the tournament with this style of play opponents don't really know how to react and get caught sleeping while all five players on the court are shredding you from behind the arc. 
Ryan's team always plays great defense, usually rebounds well, and is fundamentally sound. They rarely get blown out of games and in their nine losses they only were defeated by double digits twice (away vs Michigan and Michigan State). Their quality losses come against the Wolverines, Spartans three times, OSU, UNC, and Marquette. Good wins come against the Bucks, BYU, UNLV, Purdue, and Indiana twice.
By now you know the team is lead by senior G Jordan Taylor, but don't forget about the rest of the gang. Juniors F Ryan Evans, C Jared Berggren, and F Mike Bruesewitz can all have their moments, while senior G Rob Wilson (41.1%) and sophomore G Josh Gasser (45.3%) can stroke it from three.
As mentioned before Montana is a hot pick to upset Wisconsin, but I like the Badgers to take care of the Grizzlies and slow down the Commodores en route to the Sweet 16. If they get there they are capable of shooting out of Syracuse's zone and playing good defense to set up a potential B1G Elite 8 match-up against the Buckeyes. That would certainly be a good game, heh?
#3 Florida State
Like Cincinnati, the Seminoles are a team that is built around their defense, but at times this season they have shown they could put some points on the scoreboard as well.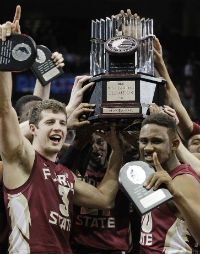 Finishing the year 24-9 after defeating both Duke and UNC to win the ACC Crown, the Noles are sizzling hot entering March Madness but will have to keep up with the hype, as they have a tough road to New Orleans.
Out of their nine losses, only two were lacking quality with the other seven coming against Harvard, UConn, Michigan State, Florida, Clemson, Duke, and Miami (FL). Their good wins include victories against Duke twice, UNC twice, Miami (FL) twice, and Virginia twice. The only thing concerning for this team is they don't have a quality win outside the conference, which can be trouble in the next few weeks.
The leaders on this team are F Michael Snaer who does it on both ends of the floor, as well as G Ian Miller and C Bernard James. Other important role players are C Xavier Gibson, G Luke Loucks, F Okaro White, G Deividas Dulkys, C Jon Kreft, G Jeff Peterson, and F Terrance Shannon. As you can see this team is deep and coach Leonard Hamilton likes to use his bench often.
I know they are hot, but I am not completely sold on FSU yet. They will have tough games from the getgo in St. Bonaventure and then either UC or Texas before having to take on Ohio State and then likely Syracuse, Vanderbilt, or Wisconsin. I wouldn't be shocked if they lost in round one, but I do have them going to the Sweet 16 where I see them falling to an overall better Buckeyes team. FSU has the potential to knock off anyone, but let's see them prove they are contenders and not pretenders first.
#1 Syracuse
All the chatter is about Syracuse exiting early from the tournament after finding out Fab Melo is ineligible, but this is a team that has some talent behind their missing big man, as their 31-2 record shows.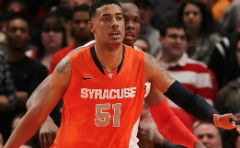 Sure, the Orange lost their only regular season game when Melo was out earlier this year, but beating teams like Virginia tech, Stanford, Florida, North Carolina State, and everyone in the Big East wasn't solely on the shoulders of the sophomore star..
Kris Joseph has plenty of talent in his own right and the senior had a fine year averaging 13.8 points, 4.9 rebounds, and 1.4 steals per game. he was helped out by sophomore sensation Dion Waiters (12.6 PPG 48.1% FG), senior Scoop Jardine (8.3 PPG 4.7 APG), junior Brandon Triche (9.3 PPG), and sophomore CJ Fair (8.6 PPG 5.5 RPG). The Orange go deep on their bench, as you can see, having 10 players log double digit minutes per game.
The key for Syracuse isn't scoring though, but rather defense. Famous for Jim Boeheim's 2-3 zone defense, the Orange create problems for teams like Ohio State that can take advantage of man-to-man defense by using their size, speed, and athleticism. 'Cuse forces you to hit your shots consistently from the outside and make crisp passes to beat their swarming defenders, something many teams at the college level have failed with for years.
Without Fab Melo playing I like Ohio State's chance against Syracuse more than I originally did when the brackets came out. If the Bucks and Orange do meet in Boston, look for Thad Matta to take advantage of the Jared Sullinger and DeShaun Thomas down low to try and beat 'Cuse there rather than hoping the inconsistent outside game can beat the zone. I don't think Syracuse makes it past the Sweet 16 now that they lack a true big man that can score, but they are a still a dangerous team to watch out for.