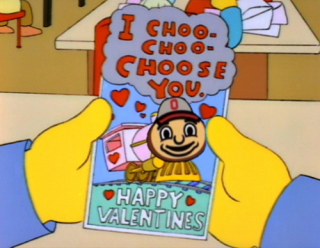 Dear Reanimated Corpse of Woody Hayes,

My girlfriend wants to watch a movie with me, but the only things playing in theaters are girly romantic comedies and live action remakes of 80s cartoons! Do you have any suggestions for a helpless guy? Thanks,

Confused in Clintonville

JESUS H CHRIST YOU NUMBSKULL SHE WANTS TO PRESS HER WOMANLY MOUTH ON TO YOURS. AVOID THIS HARLOT AT ALL COSTS AS SHE WILL WEAKEN YOUR INTERNAL HUMOURS AND SIGNIFICANTLY DECREASE YOUR FOOTSPEED. IN THE EVENT THIS JEZEBEL CANNOT BE EVADED, RESTRICT ALL PERSONAL CONTACT TO PLATONIC HANDSHAKES IN A WELL VENTILATED ROOM WITH THE LONGEST DAY PLAYING ON A LOOP IN THE BACKGROUND.

Lt. Com. Hayes
Love is beautiful. It really is.
It also takes many forms. For example, some people see love as an all day Bones marathon on TNT, sighing as they stare deeply into the murky pools of David Boreanaz's eyes. Other people see love as manifested through a five pound bag of pork rinds, three liters of Mountain Dew, and a limited edition copy of Skyrim. And I guess still others see love in human connections and relationships, expressed in bonds manifested through family and friends that last throughout the ages blah blah blah who cares.
But if you're reading Eleven Warriors you know that another, weirder, yet just as valid kind of love is football love.
I know football love exists, because I know what happened in my heart on November 25th 1995 as a ten year old me (likely wearing sweatpants and sporting a Lloyd Christmas bowl cut) watched Eddie George commit various felonious acts against 11 defensive players from Illinois over the course of an evening to the tune of 314 yards rushing. I blame that game for two things: ruining my ability to play football videogames with any sort of proficiency as I refused and still refuse to pass the ball under any circumstances, and also planting a spore in my heart. A spore that's grown into a debilitating fungus that causes respiratory distress and prevents me from enjoying anything at all unless it's filtered through the context of Ohio State football.
This is only a slight exaggeration.
Dear James Louis,

I want to make my boyfriend a special dinner for Valentine's that he won't forget. Any suggestions? Thanks!

Cooking in Columbus

Cooking,

I knw dats bout right doe, pasta pasta pasta gotta have it tonight. I wanna fart so bad right now but dis gurl sitting behind me adn I'm afraid she gonna smell it. Dese cookies are too good. I will never drink dis much milk again mane. Dat lifestyle ain't fa everybody fa real doe.

J
This past fall, I was sitting on my couch, watching the Penn State game with a girl I had just started dating. As Ohio State was somehow outcoached and outplayed by a Nittany Lion team made up of bits of string and moxie, I tried to show her how Not Mad I was by denying my inner rage at the absolute lunacy of Matt McGloin outplaying Braxton Miller by going 10/18 for 88 yards and an INT seriously that was enough to beat Ohio State at home holy crap I'm going to break something I swear to-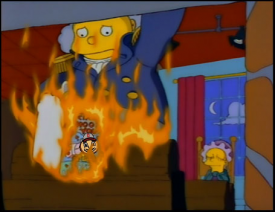 "Are you mad?"
"What? H-ha ha. No, of course not. I mean, it's just football, right? Come on. Whatever! You know? Geez. I'm cool. Great, even."
"You seem mad."
"YEAH I'M MAD ARE YOU KIDDING ME BRAXTON MILLER HOW CAN YOU BE THAT ATHLETIC AND THAT BAD AT THROWING THE BALL GOOD GOD LUKE FICKELL BOOM HERRON WHAT??? WHY? HUH WHY? WHY. WHY."
And then we made out.
A few months later and the relationship was over. I could only sustain such manly rage and vitriol for so long; the Michigan game, which sent me into a downward spiral of shame and apathy, was just a mopey appetizer to the grand ennui entree that was the Gator Bowl. My Ohio State fandom had let me down, and childishly I wanted to put it aside for a while.
In reality I don't actually attribute the breakup to Ohio State losing the Michigan game. Sometimes things just don't work out between two people, even when Jim Bollman isn't actively sabotaging the entire operation. However it is probable that Miller hitting Posey in stride for a touchdown and giving OSU an insurmountable lead would've made me way more attractive by proxy. I'm pretty sure that's how it works.
Dear Gene Smith,

I need some advice. I told my wife that I'd make her a fancy dinner for tonight; candles, steak, wine, the works. Instead, I fell asleep in bed while reading Doonesbury and she's going to be home in 15 minutes. Will she be angry?

Frightened in Franklinton

Frightened,

No way. I can say, with absolute certainty, that your wife will have no problem whatsoever with you breaking your promise, your "contract," so to speak. I forsee no additional punishment from either her or her mother, and if she forces you to sleep on the couch you will see behavior from me you haven't witnessed. Put on some pants, get some Arby's, and don't worry about it. You'll be fine.

Gene
The hiring of Urban Meyer and his subsequent dominance of the recruiting scene turned my mood around in a hurry. There are plenty of fish in the sea, and in this case said fish is an incredibly intense and motivated 47 year old man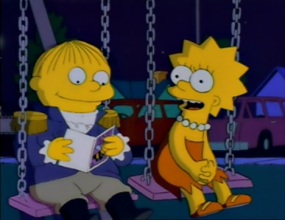 who energizes all around him with a weird, testosterone-y vibe that you can't help but get sucked into.
And that's a good thing. Since Meyer has been hired, he's hit all the right notes to make us love him: he's put his family first, declared that he wants his coaching staff to have strong Ohio connections, made Bret Bielema look like a tremendous crybaby, put together a semi-miraculous recruiting class, and generally been the type-A hardass coach that people in the Midwest identify the most with.
More importantly, he's made people excited. There ain't no kind of love like new love, and Urban Meyer has a grace period of roughly eight months to bask in the adulation of grumpy Ohioans who generally express themselves through squinted eyes and half nods to indicate that something that meets with their approval, like a hot dog that's still steaming hot or a billion dollar gift card to Lowe's.
This may change, because ultimately what'll decide how Meyer is thought of is wins and losses. It's exciting, fun, and a little scary. But that's the thing about love: unless you're dead inside (which in my case may be debatable), the prospect of something new, something that could be great, makes you believe in the whole enterprise all over again.
...
Football/basketball/Ohio State sports in general will always pale into comparison to the relationships that we form with other people; our families, friends and significant others. That love is something beyond what I'm talking about today, and we hold on to it like grim death because we don't want to lose it and would be devastated if we did. We guard it jealously, like Smaug's gold or Hoke's chocolate.
So no, love for Ohio State or sports in general isn't as important as that. Fate just spins some kind of goofy roulette wheel when we're born and arbitrarily choo-choo chooses that we'll be stamp collectors or mandolin enthusiasts or college sports fans at a young age. What that does mean is that we can get mad at that affection and chuck it into the fire sometimes, hoping it goes away for a while. But nope, that sucker is laden with asbestos, always right there on the swings afterwards to bee friends in the end.
And ultimately that's not too shabby of a thing to have.
Happy Valentine's Day everybody.