Morning boys and girls and welcome once again to your Thursday morning Skull Session with me, your humble host, Jeremy Birmingham. If I can be honest with ya, I've missed you. And You. I hope you've been thinking about me as much as I've been thinking about you. 
We have had our close shave of the week, our "Oh my gosh I can't wait until September" moment of the week, and our "if I paid more attention to girl's hoops that would be awesome" moment of the week. 
Oh yeah, we also had our "nana-nana-boo-boo, stick your head in doo-doo" moment of the week, and as usual, that moment refers to Bret Bielema. Overall, it's been a good week in a time when most of us are, admittedly, mourning the removal of football from our day-to-day thought process.
Today is February the 9th, and we have 205 days until Ohio State begins its 2012 football season, but who's counting? (570 days until kick-off on a season that counts for something, thanks NCAA)
BALLARD GOES HARD. I know that Sarah touched a bit yesterday on Jake Ballard and Jim Cordle's involvement in the NY Giants Super Bowl win, but I felt compelled to touch a bit more on Ballard's role for the Giants this year, and his lack of usage in his time at Ohio State.
Hypothetically speaking, if you had a torn PCL in your right knee, it should be easy to get yourself motivated to play in the Super Bowl, and of course Ballard was able to do that. The former OSU TE, who was criminally underutilized in Jim Bollman's hyper-complicated offense, tore the PCL in his right knee in week 15 of the regular season against the Washington Redskins. He fought off the injury and got back on the field for the NFC title game in San Francisco.
In that title game, Jake contributed minimally, hauling in two catches for 10 yards on three targets. His longest reception was nine yards, but his effort and willingness to be there for his team despite his injury is worth noting. He was hell-bent on being ready and productive come Super Bowl Sunday, and 5 weeks after his injury in week 15, he and Jim Cordle lined up as ex-Buckeyes playing in the 46th edition of the Super Bowl.
In Indianapolis, in the Super Bowl, Jake Ballard had two catches, for ten yards, on three targets; with a long reception of nine yards. It was exactly what he contributed two weeks before on the left coast, when he was nursing his torn PCL. In the Super Bowl, in a gut-wrenching sequence captured on replay screens in a bajillion homes throughout the world, this former Buckeye was seen running as hard as he could on the sidelines of Lucas Oil Stadium, mere minutes after tearing the ACL in his LEFT knee. That sprint ended in Jake collapsing in a heap into the arms of a trainer on the Giants' sideline and it was obvious that Ballard was not going to be available to his team for their crucial fourth-quarter comeback.
We all know the G-Men came back and defeated the hated New England Patriots, but as Buckeyes, it's important to note the contribution of Ballard to what the Giants were able to do this season. In his four years at Ohio State, Ballard was on the receiving end of 34 receptions, for a total of 377 yards and three touchdowns, without a TD in his junior or senior seasons. Yes, we remember him for his (perhaps) game-saving catch against Oregon in the 2010 Rose Bowl, but his offensive abilities were ignored wholesale by the Walrus, and by proxy, the Senator. 
In his first full NFL season, the 6'6", 280 pound "block first" tight end with the 5.1 forty went out and became a vital part of the offense for the eventual Super Bowl champion, recording 38 catches for 604 yards and four touchdowns as Eli Manning's primary target in the clutch. Twenty four of Ballard's catches and all four of his scores happened when the Giants trailed, along with 421 of his yards. 
"Do you have a point, Jeremy???"
The point is that Ballard's a tough SOB and great ex-Buckeye, but even more so, it's this: Jake Stoneburner is going to benefit more than any single Buckeye from the change to Urban's offense, one that actually recognizes the value of having a weapon at TE. In Urban's time at Florida, his most valuable and dangerous TE weapon (Aaron Hernandez) caught 111 passes for 1382 and 12 scores in three seasons. In Hernandez's junior and final year in Gainesville, he had 68 catches for 850 yards and 5 touchdowns.
Compare that to Ohio State's offense in which, during the same three-year span (2007-2009), saw 66 total receptions from the TE position for a combined 618 yards and four trips to the endzone, all from three different players. 
It's not hard to understand why Stoneburner came back for his senior year, and why he's excited to play for Meyer and the offense we could potentially see this upcoming fall.
WILLIE, OR WON'T HE? In Tuesday night's showdown with the Boilermakers, senior William Buford passed another Toledoan, Jim Jackson, on Ohio State's all-time scoring list, slipping past JJ into 6th place. Buford scored a career-high 29 points, including a vital stretch in the second half of the second-half that included him scoring seven straight points to push the Bucks ahead of Purdue for the duration. 
That stretch was notable not only because it could potentially buoy Buford's waning confidence, but also because it happened with Jared Sullinger and Aaron Craft both on the bench with four fouls. Buford and Deshaun Thomas were sharing the court with three guys who absolutely were not going to shoot, meaning the Purdue defense was honed in on the only two potential scorers on the floor. It was "Big Time Buford", when the Buckeyes needed some senior leadership the most, and Buford came up huge.
The frustration for Buckeye fans is knowing that Buford has those sort of moments in him, but that he is so regularly plagued with wild inconsistency that there are many times when he's the last guy Joe Schmoe at home wants with the ball in a clutch situation. 
It will be very curious to see which Buford comes out Saturday night against Sparty, in a game that will mean as much as any game this season for the Buckeyes and for MSU.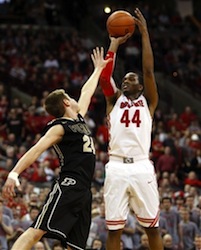 ELI, OR HE TELLING THE TRUTH? Alex told you last weekend that the Buckeyes would be hosting four-star CB Eli Woodward from Voorhees, New Jersey this weekend in what could be the last visit that he takes before making his college choice known.
It's widely assumed that Woodard will choose the Buckeyes as his eventual landing spot, due in large part to admitting that Ohio State is, and has been, his favorite. While he has gone on the record to deny that he will be committing to Ohio State this weekend, don't be surprised if his tune changes by the time he's back in the armpit of America.
If Woodard were to pull the trigger for Ohio State, he would be the third commitment in what's already becoming a very good 2013 recruiting class for the Buckeyes. He would be the second of what's likely to be a three-man haul at cornerback, joining Trotwood-Madison's Cameron Burrows (already committed) and Hilliard's Caleb Day (who we assume will end up as a Buckeye barring something significant changing). Of course, the 2013 class is headlined by Jalin Marshall, of Middletown, Ohio. 
 DIGG-ING A CHANGE OF SCENERY? Tomorrow night at 10pm, Olney, Maryland WR/ATH Stefon Diggs will be announcing (finally) his college choice between an assumed final four schools of Auburn, Florida, Ohio State and Maryland. I say "assumed" final four because Diggs has played his recruitment so close to the vest that it appears everyone who is anyone in the recruiting world is simply guessing what the electrifying star is thinking. 
Is that because Diggs is so unsure of his choice, or because Diggs is really enjoying the "game" of recruiting and the attention that it's brought him? 
According to Scout.com's Kristen Kenney, who is a field reporter for the network, it's likely because of the latter. 
I will not go into full detail of her comments, but suffice it to say, she believes that Stefon is a tremendously talented athlete, yet one that suffers from a bit of the ol' immaturity bug and she thinks that he would thrive in an environment where he is surrounded by other great players as well as a strong personality-havin' leader to help him grow up. 
From that perspective, it would appear that Ohio State could be the perfect place for Stefon. The Buckeyes offer top-notch talent, world-class facilities and one of the strongest personalities in the coaching profession to serve as a "molder" of Diggs as a person. It's also "close" to home in Maryland, which matters to his mother. 
Of course, if he's immature and needs to grow up, doesn't that mean he's more likely to make a choice for all the wrong reasons?
QUICK SLANTS. Crazy ending to the Duke-UNC game last night... This is how you'd respond if you were the 3rd pick in the 1987 NBA draft... Oh the sadness of not being able to discern parody... That ankle must have been hurting real bad.... TV's signature dance steps.... Raise your hands if this has happened to you... Jeremy Lin, defying stereotypes.