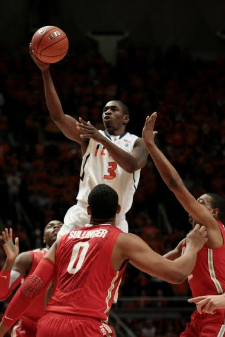 For the second straight Tuesday, Ohio State looks to put a Saturday loss behind them on the national stage, as they play their last two home games this week. The Buckeyes fell to #9 in the coaches, #8 in the AP and Joe Lunardi's most recent Bracketology has them as a two seed.
As for Illinois, well they've completely tanked since beating the Buckeyes, 79-74 on January 10th, losing five straight and eight of the last nine. Unless a quick turn around happens and a late season run ensues, the Illini will find themselves missing the NCAA tourney for the third time in five years.
Bruce Weber may shakeup his starting five tonight, trying to find some type of spark to get this team going. He's feeling the heat and their 80-57 loss at Nebraska, Saturday didn't help matters.
| # | Name | YR | HT/WT | PTS | REB | ASST | P | # | Name | YR | HT/WT | PTS | REB | ASST |
| --- | --- | --- | --- | --- | --- | --- | --- | --- | --- | --- | --- | --- | --- | --- |
| 4 | A. Craft | SO | 6-2/190 | 8.1 | 2.9 | 4.6 | G | 13 | T. Abrams | FR | 6-1/185 | 4.1 | 2.2 | 1.9 |
| 32 | L. Smith, Jr. | SO | 6-4/205 | 6.0 | 4.7 | 2.0 | G | 3 | B. Paul | JR | 6-4/200 | 14.9 | 4.8 | 3.0 |
| 44 | W. Buford | SR | 6-6/220 | 15.0 | 4.9 | 3.1 | F | 1 | D. Richardson | JR | 6-3/195 | 12.1 | 3.0 | 1.9 |
| 1 | D. Thomas | SO | 6-7/225 | 14.6 | 4.7 | 0.9 | F | 2 | J. Bertrand | SO | 6-5/195 | 6.6 | 2.7 | 1.4 |
| 0 | J. Sullinger | SO | 6-9/265 | 17.5 | 9.2 | 1.0 | C | 12 | M. Leonard | SO | 7-1/245 | 12.9 | 8.0 | 1.3 |
Opponent
Weber is trying to rally his players for a late season push, declaring Monday they need to man up and stop worrying about his job status or feeling sorry for themselves. He also told them there is no more crying until after the season, after an Illini player was spotted crying on the bench Saturday.
The Illini have given up an average of 75 points the last five games and their lack of toughness is not allowing them to finish close games with a win. Illinois has had 13 games decided by five points or less on the season, including eight straight at one point. The Illini are 7-6 in those games, with 5 of those losses coming in B1G play and the other to Missouri.
Overall on the season, Illinois is scoring 66.2 PPG, but like most teams, that has dipped to 63.3 in league play, while giving up 67.5 in B1G games. Their FG percentage has held steady all year, connecting on 44% overall and in conference games, while holding opponents to 45.3% from the floor in B1G play, which puts them seventh. In conference games, the Illini are tenth in FT's at 67.7%, attempting the third lowest and next to last in 3-pointers, hitting just 30.6 percent. Since hitting 11/18 against the Bucks the first time around, Illinois has eclipsed the 35% mark just once.
Leading the way off the pine will be Sam Maniscalco, who missed the first matchup with an ankle injury. Maniscalco, a 6'0" SR. transfer from Bradley was a boost early in the season, but hasn't been the same since the injury, making only 2/20 shots since his return, including 1/17 from deep.
Tyler Griffey, a 6'8" JR., will also see some time, but it may not be too much. Griffey exploded for 18 against Michigan three games ago, but has scored just five points in 27 minutes over the last couple. Myke Henry and Nnanna Egwu could also see some action.
Of course the main key for tonight will be stopping Brandon Paul and preventing him from duplicating his 43 point feat in the first meeting. Paul was brought in off the pine against Nebraska, making just 1/7 shots for two points in 26 minutes. On the season he is hitting just 39.6 percent overall and 34 percent from deep, but still remains the third leading scorer in conference play.
Beyond Paul's heroics in Champaign, the Illini put three other starters in double digits, lead by Meyers Leonard's 14 on 7/12 shooting. However, Leonard has just 23 points over his last three and has scored more than nine points in just four of his last six. Even though he leads the league in blocked shots, Ohio State would be smart to go at him early and often to see if they can draw him into foul trouble.
We'll see what team shows up tonight. If Weber was successful in rallying his troops, the Illini can obviously give OSU a run for their money, but if the same uninspired, defeated team that went to Nebraska comes to town, Weber might leave Cbus with a sorer butt than Coach K.
Buckeye Breakdown:
Even though the Buckeyes have lost two of their last three and have shown some flaws, I'm not ready to push the panic button quite yet, but my concern is growing. This team has struggled on offense recently and lacks the vocal leader the elite teams need. Kentucky and Syracuse are the two best teams, with Kansas and UNC right behind talent wise, but beyond that, OSU is in that group of eight to nine teams that could make it to the Final Four.
They've proven in some games that they can put it all together and destroy teams, so if Buford or Sullinger(?) can grasp the finality of their college careers coming to an end and take on the leadership role this team needs, they can turn this recent trend around.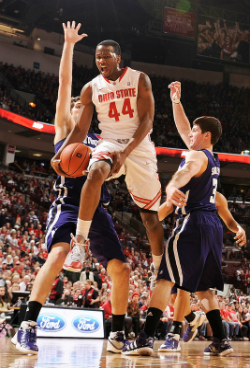 I would hope the Buckeyes come out pissed off tonight, looking to put Saturday behind them and for revenge from Champaign. A key will be to turn those feelings into an aggressive, quick start and getting the ball inside to Thomas and Sullinger.
Sullinger is averaging a double-double(17/10) at home this year and against the Illini(20/11) in his career. Sully has been emotional lately, as the rigors of the B1G season and a mounting number of non-calls is getting to him. The Big Fella has made less than 50 percent(35/76) of his shots over the last six and with the lack of Illini height, he has a chance for a big game tonight.
Thomas single handedly kept OSU in the Michigan game, scoring 25 points on 8/13 shooting, while also grabbing a career high 14 rebounds. It was the first game Thomas had scored more than 16 points since his 23 against Illinois the first time around and if he can stay around the hoop most of the night, he too should have another big game. I know he has to get his three point shots up each game, but dude is shooting 59% inside the arc and 74% from the line, compared to 33% from deep. This team is much better when he is roaming the paint. 
As expected, Ohio State is a heavy favorite tonight and if they can mimic their game plan against Purdue and Minnesota, they should be able to start another home winning streak. At some point you have to think Buford gets out of his funk and he has two games left in his career at the Schott. He is 50 points behind Michael Redd for fifth all-time, so tonight would be a great spot for him to knock off at least half that total.
I think Ohio State controls the paint and does a better job shutting down the perimeter tonight, leading to a win, but the Illini will play inspired ball and give the Bucks all they can handle. We need to see some signs of things coming together as we are less than three weeks away from Selection Sunday, because if they don't figure it out, this team could have just six or seven games left.
Etc
Once again, Mike Tirico and Dan Dackich have the call.
William Buford ties Alex Davis and Jamar Butler tonight for most starts in a Buckeye uniform with 126.