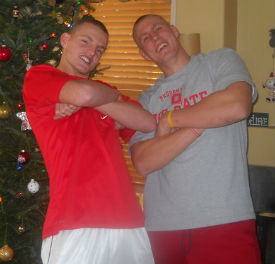 Tight end is currently a position of strength with Jake Stoneburner, Jeff Heuerman, Nick Vannett, and Blake Thomas set to be on the roster for 2012, but Urban Meyer and the staff are looking to keep the talent level at the position high when recruiting the class of 2013.
Looking to take at least one, if not two tight ends in the class, Meyer had offered a scholarship to uncommitted to prospect Adam Breneman prior to this weekend and was in constant contact with a number of other promising players in the group.
One of those players was Mike Heuerman of Naples (FL) Barron Collier, who has been on the program's radar ever since Jim Tressel brought in brother Jeff with the class of 2011. Mike became the second tight end for 2013 to receiver an offer this past weekend, when he got the long awaited news during a visit to Columbus.
While Jeff is very talented and made an instant impact as a true freshman this past season, Mike may even be better. Cut from the Aaron Hernandez cloth of tight ends, Mike is slighlty more longer and leaner than his older brother and is probably a little bit of a better pass catcher, while Jeff is slightly superior when it comes to blocking. 
Despite being a Rivals.com four star prospect, Heuerman hasn't gotten as much hype from some other sites. That will not last long as there is a lot of chatter in recruiting circles that he could end up the consensus number two tight end in the class behind Breneman and possibly even surpass the Pennsylvania native when their class is all set to sign come February 2013.
The good news for Buckeye fans is that Mike shares the same love for Ohio State that his brother does. This past weekend he was up in Columbus to visit Jeff, as well as meet the new coaching staff in person and take a look around. We got the chance to sit down with Mike to discuss the visit, how he feels about landing an Ohio State offer, his plans for making a college decision, and more.
Join us after the jump to get the latest update on class of 2013 tight end Mike Heuerman.
You went up to Ohio State this weekend. What was the purpose of the visit?
Anytime I go up to Ohio State, the purpose will always connect with football in some way and this time it was mainly football. I wanted to meet the new coaching staff and check things out. I hadn't seen Jeff in a while and it's always good to see him too, so that was sort of an added bonus. I also got to hang out with Joel Hale and Evan Spencer for most of the weekend, as well as some of the other players and it was good to bond with those guys. 
What did you do during your trip to Columbus?
I flew in Thursday night and flew out Monday morning. I hung out with Mark Pantoni for most of the morning on Friday at the Woody and spoke to Coach Meyer on the phone while I was with him. He was in Florida this weekend, but wanted to speak to me as he knew I was there on a visit. I then met with Coach Herman for a little which was cool before going to lunch at the Ohio Union with Coach Hinton. After lunch, we went back to the Woody and Coach Herman found me and told me that Coach Meyer just called him. Coach Meyer told him that they saw what they needed to see out of me and that they were excited to offer me a scholarship. After that, I watched film with Coach Hinton and he was showing me some things they had in store for me.. The day at the WHAC ended when I got to meet with Coach Marotti, who started testing me a little bit [laughs]. The rest of the weekend I really just hung out with all of the guys and went out with them on Friday and Saturday night. It was a great time.
Did you know Coach Hinton or Coach Warinner from when they were at Notre Dame?
Actually, as funny as it is, I didn't. Notre Dame is recruiting me, but Coach Hinton wasn't the coach recruiting me for them so I didn't know him until he came to Ohio State.
How does it feel to finally get the Ohio State offer? Were you expecting it to come this weekend?
I kind of interpreted the situation and figured they were going to offer. I knew from talking to Pantoni that it was coming soon, but if they didn't offer this weekend I wouldn't have left Columbus hanging my head or anything. It felt really good to get the offer, though. Ohio State is and will always be one of the biggest and best programs in the country. They can offer things most schools don't and will always be on the top of my list throughout the recruiting process, no matter what I decide.
Was it hard not to commit before leaving this weekend?
Not really, only because the coaches didn't really expect me to commit, as I told them I was going to take a few other visits before making my decision. After I was offered, Jeff, Joel, and Evan also told me I should take some visits to make sure I was comfortable with my decision, just like they did during their recruiting process.
What did Jeff say to you after you got your OSU offer?
He was really happy and it came even earlier then when he got his. He was really supportive of me taking my time though and didn't put any pressure on me to commit. I know he would do anything to have me at OSU, but it's great to know he respects my decision, whatever it ends up being.
You mentioned you would take other visits. Do you have those scheduled yet?
Yes I do. I will be going to LSU on March 8, Florida State for a spring practice in the middle of March, and to Notre Dame on March 31.
Do you have a time frame for making your decision?
It will probably be some time in the spring as long as I'm ready. This is a life long decision and I don't want to rush it so it could come sometime in the summer, but it will most likely be in the spring.
After sitting down and meeting with the coaches, how do you feel you would fit in with what Ohio State is trying to do on offense?
I'm really excited for their offense. I know I'd come in and fit right in to what they're trying to do with the type of player and tight end I am. I watched film with Coach Hinton and he talked to me when we were watching Aaron Hernandez on the screen and told me some ways they would use me. I know I would fit in well and would be ready from day one to perform whatever my role would be.
What are you working on improving right now in the off-season?
Right now we have workouts at 6 AM four days per week. We are also participating in some 7-on-7's at Dunbar High School, which is about 45 minutes up the road, so those are giving me some good practice against real competition. I am always looking to put on muscle and get stronger, faster, and quicker.
Finally, on your flight home, you bumped into Jim Tressel who was flying down to Florida as well. What was that interaction like?
Yes I did run into him on the plane. I was walking down the aisle and didn't even notice him. All of a sudden I felt someone punch my arm and I looked down and it was Coach Tressel. I spoke to him for like 5 minutes before getting to my seat and then for another 15-20 minutes while we were waiting for our bags when we landed. We just spoke about life in general and how things were. I wasn't going to ask him about the things that went down at Ohio State, but I wished him the best at his new job at Akron and it was great catching up with him. I have a lot of respect for Coach Tressel and it is always great seeing him.
HIGHLIGHTS: