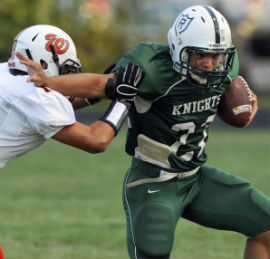 The past weekend was a big one for Ohio State in terms of recruiting as the staff hosted a large number of prospects for the programs second Junior Day of 2012. Both out of state and in state prospects came from all over to take in the new era of Buckeye football and see what Urban Meyer has in store for the school in the coming years.
While Ohioans dominated the list of attendees, the state of Illinois brought a couple players across two state borders to check out the scene in Columbus. One of those prospects was Peoria Richwoods RB Kendrick Foster, who is one of the fastest rising prospects in the Midwest.
The 5-8/185 junior who has been clocked at 4.4 seconds in the 40-yard dash only has one offer thus far, but after a spectacular 2011 season and some impressive combine numbers, that is expected to change quick. Ty Isaac usually steals the limelight when it comes to running backs in the state, but Foster is certainly a name buzzing around recruiting circles both in Illinois and across the nation right now.
We got the chance to sit down with Foster to discuss how his junior season went, how he enjoyed his trip to Columbus this past weekend, what the future holds, and more. Join us after the jump to hear more about 2013 running back prospect, Kendrick Foster.
How did your junior season go? How did your team do and how did your perform individually?
My junior season went great, as our team went to states. I broke records, rushing for over 2,400 yards and 33 touchdowns.
How is recruiting going for you so far?
Recruiting started really slow for me, but is starting to pick up a little bit.
Do you have any offers do you have at this time?
The only offer I have right now is from Illinois State. I am waiting on offers from University of Illinois, Northwestern, and Ohio State.
Where are some of the places you have gone on visits?
So far I have been to Illinois, Iowa, Northwestern, and now, Ohio State.
What other visits do you have planned?
The schools I am planning on visiting are Wisconsin, UCLA, Oklahoma, and Purdue. I have been in contact with all of them.
You went to OSU's junior day on February 12. What did you do while in Columbus and how did you enjoy the visit?
I really enjoyed the visit and think it was the best visit I have been on so far. We met the coaches, toured the facilities, and had a meeting with the position coaches in their offices.
What coaches did you get to sit down with and what did they tell you?
The coaches I got to see were the head coach, Urban Meyer, and the running backs coach, Stan Drayton. I really like Coach Drayton as you can tell he really cares about you as a person and is honest. They told me they really want me to get a degree and that they love my running style and want to further build a relationship between us.
HIGHLIGHTS: