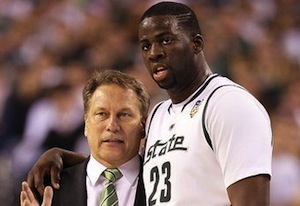 Welcome to another edition of the Big Ten Hoops Recap. With three weeks until Selection Sunday, five conference teams are locks to make the Big Dance while four are still considered on the bubble. Just as presidents seek re-election, those squads are hoping their campaigns will entice voters on the NCAA Tournament selection committee.
On that note, we celebrate Presidents' Day in a historical and completely apolitical way1. Similar to certain teams in the B1G, some presidents are popular during their terms. Some are disappointments. Some, perhaps, aren't appreciated until later, and some are eventually revealed to have been vampire hunters2.
By going 0-2 this week, Minnesota and Illinois did not help their bids to make the Tourney. Bruce Weber vented his frustration with the Illini's free fall in a speech deemed as successful as the slogan, "Let's Make It a Landon-Slide." Luckily for Illinois, the season isn't over just yet. After all, Dewey did not, in fact, beat Truman.
Once again, Michigan State earned team of the week honors by posting a 2-0 record. They also took over sole possession of first place in the conference standings and unlike other teams who shall remain nameless, the Spartans appear to be gelling at just the right time. 
MICHIGAN STATE (2-0) // Beat Wisconsin 69-55, Beat Purdue 76-62
Remaining perfect at home, Michigan State topped Wisconsin, the sixth time this season the Spartans have beaten a ranked team. Draymond Green, who is "leadership that's working", was his usual stat-stuffing self with 20 points, 10 rebounds, and 5 assists.  Keith Appling also put up 20 points as MSU made 52.2% of their field goals, an unheard of percentage against the Wisconsin defense.
Giving them a one-game lead for first place in the Big Ten, Michigan State went on the road to defeat Purdue. Because you "don't swap horses in the middle of the stream", they once again rode Green for the win. The senior nearly matched his same numbers from the game before but this time, he added two dimes to his total.  Fourteen of those points came in the second half when the Spartans overcame a three-point halftime deficit. Austin Thorton (17 points), Branden Dawson (15 points), and Derrick Nix (12 points) all contributed to a 50.8% shooting effort while the Sparty defense was again stout, holding the Boilermakers to 33.8% from the floor.
MICHIGAN (1-0) // Beat Ohio State 56-51
Michigan blah blah hate blah blah against Ohio State. It's the shooting, stupid3.
NEBRASKA (1-0) // Beat Illinois 80-57
Winning for the first time in five games, Nebraska routed Illinois. Bo Spencer decided to get Nebraska moving again and thanks to his 27 points, the Cornhuskers went on an incredible 36-4 run. Overall, they made 55.6% of their field goals and 50% (10/20) from distance. 
INDIANA (1-1) // Beat Northwestern 71-66, Lost to Iowa 78-66
In a seesaw battle, Indiana emerged victorious over Northwestern, giving Tom Crean his first 20-win season with the Hoosiers. Cody Zeller, "a big man for a big job", led the way with 23 points and 7 rebounds, but it was Verdall Jones III who came through in crunch time after missing a couple games due to injury.  Although he only finished with 6 points, he scored them all in the final four minutes, including the basket that put IU up for good.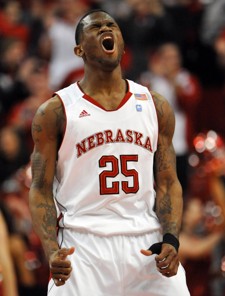 Indiana tried to keep the ball rolling on to Iowa, who instead, ended the Hoosiers' three-game winning streak. Even with a dub-dub from Zeller (15 points, 13 boards), Indiana made less than 38% of their shots and lost the rebounding battle, 41-35.
WISCONSIN (1-1) // Lost to Michigan State 69-55, Beat Penn State 65-55
In East Lansing, Wisconsin actually beat the Spartans on the glass (33-30), but the Badgers only made 34% of their field goals. With 13 points, Jordan Taylor was the second highest scorer for Wisky after Ryan Evans (17 points), but the senior, "a tested leader", was just 3/13 from the floor. 
Wisconsin bounced back in their next game, taking down Penn State in a game that somehow did not play out in James K. Polk "54-40 or fight" fashion. Josh Gasser, with 15 points, led four Badgers in double figures. Unusually for them as of late, Wisconsin was hot from three-point range, connecting on 11/22.
PURDUE (1-1) // Beat Illinois 67-62, Lost to Michigan State 76-62
A close contest in the second half, Purdue managed to put away Illinois. Responding to calls of "Give 'em hell, Robbie!", Hummel recorded a double-double (19 points, 11 rebounds) and hit three key free throws near the end of the game. Lewis Jackson and DJ Byrd each chipped in with 13 points apiece.
Despite a halftime lead and 24 points from Hummel, Purdue could not hold off Michigan State. Only six of his points came in the second half, which the Boilermakers started by going an atrocious 1/23 from the floor. "Prosperity for all" was not in the cards that afternoon, and not helping their offense was the absence of a suspended Byrd and a dismissed Kelsey Barlow. Purdue was also outrebounded 44-32, almost half of which came from Hummel, who grabbed 15 boards. 
NORTHWESTERN (1-1) // Lost to Indiana 71-66, Beat Minnesota 64-53
Though they took a second half lead after a 12-2 run, Northwestern couldn't hold on against Indiana. Friend of the people John Shurna (29 points) and Drew Crawford (18 points) were the only two Wildcats to reach double figures. They didn't receive much help from the bench, which was outscored 22-1.
Deciding "we can do better", Northwestern handled Minnesota. With 18 points in the game to give him 1,902 for his career, Shurna4 became the all-time leading scorer in school history. His impressive stat line included 5 boards, 5 assists, 3 blocks, and 4 steals. Yet it was Dave Sobolewski who came away with a game-high 22 points, including 4/5 from the perimeter.
PENN STATE (1-1) // Beat Iowa 69-64, Lost to Wisconsin 65-55
Because "you can't lose 'em all", Penn State edged Iowa. For anyone who knows anything about Penn State basketball5, it's of no surprise that Tim Frazier paved the way with 18 points, 4 assists, and 4 steals. Freshman Jon Graham, who did not miss a shot, sank two free throws near the end to help secure the win. He tallied 10 points, 6 boards, and 2 blocks for the game.
Big Ten Standings

| TEAM | CONF | OVERALL |
| --- | --- | --- |
| Michigan State | 11-3 | 22-5 |
| Ohio State | 10-4 | 22-5 |
| Michigan | 10-4 | 20-7 |
| Wisconsin | 9-5 | 20-7 |
| Indiana | 8-7 | 20-7 |
| Purdue | 7-7 | 17-10 |
| Northwestern | 6-8 | 16-10 |
| Iowa | 6-8 | 14-13 |
| Minnesota | 5-9 | 17-10 |
| Illinois | 5-9 | 16-11 |
| Nebraska | 4-10 | 12-13 |
| Penn State | 4-10 | 12-16 |
A typical 20-point effort from Frazier wasn't enough for the Nittany Lions versus Wisconsin. Following Truman's advice of "Don't let them take it away", Penn State only committed five turnovers, but it did not negate their 4/18 performance from downtown. 
IOWA (1-1) // Lost to Penn State 69-64, Beat Indiana 78-66
Against Penn State, Matt Gatens began a three-point shooting assault that continued into the next game. After a cold first half, Gatens was fired up and ready to go, connecting on 5/7 from long range and nearly leading a comeback for Iowa with a hand from Aaron White (16 points, 10 boards). Instead, with under a minute remaining and the Hawkeyes down three, Melsahn Basabe missed a couple free throws and PSU came out ahead.
In the eyes of Iowa fans, Gatens was "a cure for the blues" in the upset over Indiana. He totaled a career-high 30 points, including 7 3s, four of which came in the second half after the Hoosiers cut the lead to 10. Basabe came off the bench and accounted for 13 points, 7 rebounds, and 5 blocks. 
MINNESOTA (0-2) // Lost to Ohio State 78-68, Lost to Northwestern 64-53
For Ohio State, it was a temporary "return to normalcy" when Buford and Sullinger guided them to the win over Minnesota on Tuesday night. 
Despite outrebounding Northwestern 42-22, Minnesota lost for the third game in a row. Julian Welch gave the Gophers 21 points, but they also built a bridge to the 21st turnover and only went 5/17 from behind the arc.
ILLINOIS (0-2) // Lost to Purdue 67-62, Lost to Nebraska 80-57
Down 36-28 at the half, Illinois cut the deficit to two multiple times but could not overcome Purdue. Though they tried to go all the way with JJ Tracy Abrams, who notched a career-high 22 points, the Illini came up short, due in part to a dismal 3/21 effort from the three-point line.
You won't have Bruce Weber to kick around anymore after his players rewarded him with an almost guaranteed pink slip thanks to an embarrassing loss to Nebraska, their eighth in nine games. The youngest team in the Big Ten showed its immaturity and unraveling, represented by Meyers Leonard crying on the bench. DJ Richardson (15 points) and Abrams (11 points) were the only ones able to accomplish much offensively for the Illini.
At this point, while it doesn't look like Illinois will be singing, "happy days are here again", I would also not underestimate Brandon Paul's dark magic. 
1 I'm making no political commentary whatsoever in this post, so the only debate that would be acceptable is whether "Tippecanoe and Tyler too" or "I Like Ike" is the catchier rhyme.
2 Somewhat surprisingly, the Big Ten's vampire hunter? Matt Painter.
3 And a lack of leadership, chemistry, and consistency. But mainly the shooting. 
4 Beautiful jumper, that one. 
5 What's up, three people?