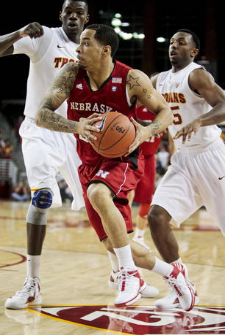 Nebraska travels to Columbus tonight for their initial visit as B1G members. The Buckeyes and Huskers have met 6 times previously, with Ohio State holding a 4-2 advantage, including the last three. However, the last game between these two came back in 1989, an 85-79 victory in the 2nd round of the NIT, in what was Chris Jent's freshman year.
After an 8-3 OOC record that included just one game against a ranked opponent(loss at #22 Creighton), the Cornhuskers were welcomed to the B1G by hosting #11 Wisconsin and #17 Michigan St., before trips to #7 Ohio State and Illinois, who is 12-3. It is the first time Nebraska has opened up conference play with three straight ranked opponents.
Meanwhile, Ohio State dropped just five spots to seventh in the coaches poll and four spots to sixth in the AP poll, after their loss in Bloomington. The schedule sets up nicely for them over the next six, with Nebraska twice, trips to Iowa and Illinois, along with home tilts against Penn St. and Indiana.
| # | Name | YR | HT/WT | PTS | REB | ASST | P | # | Name | YR | HT/WT | PTS | REB | ASST |
| --- | --- | --- | --- | --- | --- | --- | --- | --- | --- | --- | --- | --- | --- | --- |
| 4 | A. Craft | SO | 6-2/190 | 8.3 | 3.1 | 5.3 | G | 3 | B. Richardson | SR | 6-0/190 | 6.4 | 3.0 | 3.1 |
| 32 | L. Smith, Jr. | SO | 6-4/205 | 5.3 | 5.0 | 2.3 | G | 23 | B. Spencer | SR | 6-2/193 | 15.1 | 3.5 | 4.2 |
| 44 | W. Buford | SR | 6-6/220 | 16.1 | 4.3 | 3.5 | F | 24 | C. Walker | SR | 6-4/205 | 7.6 | 4.4 | 1.2 |
| 1 | D. Thomas | SO | 6-7/225 | 15.1 | 4.1 | 0.9 | F | 0 | T. McCray | SR | 6-6/210 | 10.2 | 4.6 | 0.8 |
| 0 | J. Sullinger | SO | 6-9/265 | 16.2 | 9.5 | 1.2 | C | 13 | B. Ubel | JR | 6-10/240 | 7.3 | 6.2 | 1.2 |
Opponent
Nebraska comes into the game scoring almost 64 PPG, while giving up about 62. They rank second to last in the B1G with 43.3 percent shooting from the floor, including 34% from deep, while holding their foes to 42% from the floor and 36.8% from the arc. The Huskers do lead the conference in FT percentage at 76.6, but have attempted the second fewest amongst B1G teams. Nebraska ranks near the bottom of most B1G categories, including rebounding (33.3/game) and assists (13.1), putting them at 11th and 10th respectively.  
The Huskers have been banged up over the last four games and it shows, scoring just 40 and 55 points in their first two conference games. Out is starting center, Jorge Brian Diaz, a 6'11" JR., who is the second leading scorer on the team at 10.9 PPG, while playing over 30 minutes. Also out is Dylan Talley, a 6'5" JR. who plays just over 20 minutes a game and goes for around nine points and 4 boards.
Bo Spencer, a transfer from LSU has shot the ball poorly this year(38.3%) despite leading the team in scoring. The loss of Diaz and Talley has put more pressure on him and he made a combined 6/27 against Whisky and MSU, including 4/13 from deep. Spencer is shooting 31.9% from the arc thus far, where he has attempted more than twice as many as his nearest teammate. Without the benefit of seeing Nebraska play this year, it looks like Spencer will have the rock in his hands most of the time and will try to do it all, which plays into the defensive hands of Craft and Smith.
Coach Doc Sadler, in his sixth year at Nebraska brought Spencer off the bench last game and has switched his lineup around since the injuries. He'll play his starters the majority of the minutes, but has used at least 10 guys in each B1G game, unfortunately for him, he just doesn't get much scoring help from his reserves. Josiah Moore and Christopher Nieman should see the most minutes off the pine.
Moore, a 6'5" FR. played in just one of their first seven, but has averaged around 10 minutes a game over the last six, making only one of his nine shots, including 0/7 from downtown. Nieman is a 6'11" JR., played 14 minutes against MSU, missing both his shots, while picking up four fouls and three boards. Also seeing action tonight could be Mike Fox, Corey Hilliard and David Rivers, all of whom average less than two points on the year.
Buckeye Breakdown:
OSU shouldn't have any problmes shaking off the Indiana loss tonight, unless of course we have the same referee trio as Saturday. I know Ohio State executed poorly down the stretch at IU, but that was one of the worst refereed games I have ever seen. I can only hope the favor is returned in 12 days when Indiana comes to Columbus for a little Buckeye home cooking.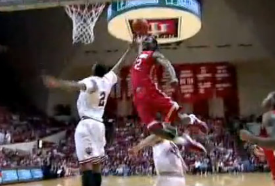 The foul trouble Saturday forced Thad to use his bench more than he normally would in that tight of a matchup. I thought Sam Thompson played well overall, netting six points, a monster block and two highlight reel dunks off alley-oops, but unfortunately, Jordan Sibert returned to his recent self, missing all three of his trey attempts in seven lackluster minutes. Tonight could be the night Thompson gets the first nod off the bench. I like the way Amir Williams is coming along too. He looks way more comfortable out there and has gone for 5 points and 8 boards in 15 minutes of B1G action.
Another curious aspect of Saturday's game was Thad's choice of putting Buford on Hulls late in the game. Hulls took full advantage of this, going for eight points and an assist in the three minutes Buford was guarding him. By the time Matta put Craft back on him, the momentum had shifted. Buford has been lazy on defense at times this year, failing to recover quick enough and letting his player get open looks. If Ohio State is going to be B1G champs and make a deep tourney run, Buford has to correct his mental mistakes on both ends of the floor.
A key for tonight and moving forward is getting the ball inside to Jared Sullinger more. This is the best player in the nation and at times it seems like he doesn't touch the rock enough. The offense should run through him most of the time and he should get at least one touch per possession. I know he was hampered in the first half by foul trouble, but five shots in 29 minutes is too low and since his return from injury, he is averaging just nine shots a game. He does a great job of passing out of the double team and is an unselfish player, but he needs to be getting 12-15 shots per game.
I expect the Bucks to come out pretty pissed off tonight and if I'm not mistaken, the students are back, which should add to the atmosphere. It was a rare weekend for Buckeye fans, having to suffer through two losses, but all will be forgotten when the ball is tossed up tonight. The Urban Meyer Era is here and there is plenty of action left in the B1G hoops season. 
Expect OSU to be able to shut down Spencer tonight and force someone else to beat them, which won't happen. Ohio State controls the paint and the boards, leading to plenty of time for the bench and an easy home win.
Etc
Dave Revsine and Jim Jackson have the call tonight.
During commercials, switch to ESPN2 starting at 7:00 for Michigan St. at Wisconsin.