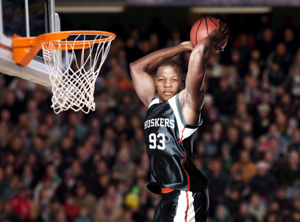 The Eleven Dubcast rides again.
The second full week sans the sweet, sweet nectar of football is upon us and consequently we do everything we can to stave off resorting to cannibalism this early in the process. Ohio State did their part by taking a disappointing week before and converting it into a satisfying #BEATEMDOWN of the once mighty Indiana Hoosiers.
For the second time in as many weeks, Johnny and yours truly get deep and introspective as we seek out all of the answers to the universe -- or at least pretend we have them. Whether you love to learn or love to laugh, the probability is high that there's something for you in the hills of that there podcast, I reckon.
We also look forward to the awkward second date with Bill Nebrasky. Sorry about that whole 71-40 thing last time but... Would you mind if we went to your place this time and had the exact same outcome play out? I'd promise it's not like this every time, but... The basket-Bucks never claimed to be good ambassadors for the conference or anything. As per usual, the affair ends with us dramatically performing a real user's comment we deemed to be particularly engaging. Could it be you? There's only a 1-in-a-number-higher-than-either-you-or-I-is-comfortable-counting chance.
0:35 - "Ohio State basketball begins their 2012 renaissance how," you might ask? Behind the expert marksmanship of one... Lenzelle Smith, Jr.? The sun has to shine you know where every once in a while. While I go on record (as I've done elsewhere on these very interwebs) claiming Mr. Smith as my favorite Buckeye on this particular team, the two of us are weary about the narrative being painted elsewhere that he's somehow turned the corner and is evolving before our very eyes into a legitimate third offensive option for the team.
1:11 - Just a reminder, but if you haven't already thrown a few bucks (seriously, every dollar helps) towards our quest to better our coverage of Ohio State athletics and bring someone on board full-time, what better time to do so than now?
6:01 - After talking about what we think this Ohio State team needs to do to best ensure long term success, we take a look around the conference and break down who we think has staying power and who we think might just be a paper tiger (Indiana, whom we falsely assume during taping will maintain a 10 point lead against the Cornhuskers; WHOOPS).
11:52 - Our most popular new segment, Ask Us Anything, returns. While we didn't get the overflow of inquiries we would've liked, you're still more than welcome to get your questions in (be it about Buckeyes hoops, football, recruiting, life in Columbus, deep ecumenical concerns, or whatever you'd like, really) for next week by e-mailing us here. We don't have to read your name/username on air if you don't want, so if you'd like us to give you advice on how to tell your parents that you got an Urban Meyer-high-fiving-a-unicorn tattoo, we will be more than happy to. There are still some gems in what we did have to work with this week, so definitely listen up (and enjoy).
31:32 - We discuss the David Perkins commitment: what it means, who this kid is, and what we can expect from Urban Meyer and co. moving forward. As per usual, we wax glowingly over the caliber of recruits Meyer continues to lock up as well as again revisit whether we have a problem with the stylistic differences in Meyer's approach vs. that of his predecessor.
41:44 - In case you missed it, we talk about the great insight into the philosophies of both new offensive coordinator/quarterbacks coach Tom Herman and co-defensive coordinator Everett Withers contained in two interviews from this past week.
45:52 - We look ahead to the basketball game. Nebraska? Sure, why not. It shouldn't be too drastic of a departure from the previous affair, but you know what they say: "anything can happen when two [teams] share a [court], 'cos."
Our intro music today was courtesy of The Kooks and their 2011 track, "Eskimo Kiss". The post Q&A segment transitional music is Dale Earnhardt Jr. Jr.'s "Skeleton". Finally, we end things with Cut Copy's "Sun God".