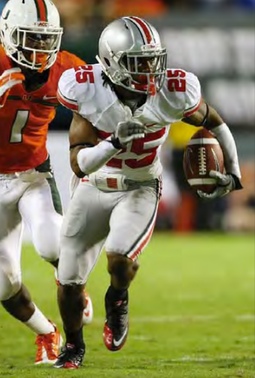 Much like the linebacker corps, the Ohio State secondary largely underwhelmed in 2011.
Yes, there were bright spots, like the emergence of Bradley Roby at corner and CJ Barnett at safety, but the enduring image of the Silver Bullet defensive backs from last season will be of a hyped corner getting roasted and a young safety following a boneheaded play with a big hit and chatter.
Plenty of chatter.
Luckily, the unit will return plenty of experience and depth heading into the 2012 season. The entire two-deep, save for corner Dominic Clarke, who was booted from the team just last week after running into trouble with the law for the second time in four months, will return.
However, the group will have to contend with the departure of two long time coaches. In early December, co-defensive coordinator and safeties coach Paul Haynes accepted Bobby Petrino's offer to become the defensive coordinator at Arkansas. Last week, on the same day that Urban Meyer was his new staff at halftime of the Indiana basketball game, Haynes snatched good friend and Buckeye cornerbacks coach Taver Johnson. Within a matter of five weeks, Ohio State lost nine years worth of secondary coaching.
Meyer will eventually add a staff member to focus on the secondary and while co-defensive coordinator Everett Withers has made a career of coaching up defensive backs, look for another secondary specialist to come aboard. The name that jumps out is Chuck Heater and although he's a Michigan Man having played for Bo in the early 70s, Heater played a major role on Meyer's Utah and Florida staffs.
Regardless of who takes the position, this is an Urban Meyer team now, so you can expect speed and intensity out of the group this fall.
As I mentioned, the secondary will be nothing, if not seasoned this year. The four returning starters accounted for 47 starts last season and that could easily have been more had it not been for Travis Howard's early season suspension and Christian Bryant's injury for the Michigan game.
Howard entered the 2011 campaign with plenty of hype (thanks in small part to a pick-six against Penn State's Matt McGloin in 2010), even earning his own t-shirt from a group of opportunistic cotton peddlers. His year started with a dud, however, as he sat out the first two games (along with Jordan Hall and Corey Brown) for accepting improper benefits. He would go on to start the final 11 games of the season, but often looked lost in coverage against elite defenders. This was on display early against Michigan State when Westerville product B.J. Cunningham roasted Howard for a couple of huge catches, including a touchdown on a bomb.
Departing

| # | Name | Notes |
| --- | --- | --- |
| 8 | Dionte Allen | Limited PT in 4 games |
| 13 | Jeremy Cash | Transferred to Duke |
| 5 | Dominic Clarke | 2 Starts, Booted |
| 34 | Nate Ebner | Career special teamer |
| 30 | Donnie Evege | Graduated |
| 18 | DerJuan Gambrell | Booted |
| 26 | Tyler Moeller | 13 career starts; Warrior |
Returning

| # | Name | HT/WT | YR |
| --- | --- | --- | --- |
| 4 | CJ Barnett | 6-0/190 | R-JR |
| 3 | Corey Brown | 6-1/189 | R-JR |
| 2 | Christian Bryant | 5-9/190 | JR |
| 16 | Zach Domicone | 6-3/211 | 5-SR |
| 12 | Doran Grant | 5-11/180 | SO |
| 9 | Adam Griffin | 5-7/180 | R-SO |
| 23 | Chad Hagan | 6-0/225 | R-SO |
| 7 | Travis Howard | 6-1/190 | SR |
| 19 | Orhian Johnson | 6-2/205 | 5-SR |
| 25 | Bradley Roby | 5-11/185 | R-SO |
| 28 | Ron Tanner | 6-1/190 | R-FR |
| 21 | Jamie Wood | 6-1/200 | R-JR |
Incoming

| Name | HT/WT | YR | Rivals |
| --- | --- | --- | --- |
| De'van Bogard | 5-11/172 | FR | ★★★★ |
| Najee Murray | 5-11/175 | FR | ★★★★ |
| Tyvis Powell | 6-4/185 | FR | ★★★ |
He finished with 41 tackles, two forced fumbles (leading the team) and two interceptions (both of which were huge fourth quarter snatches coming against Illinois and Indiana). He will obviously need to improve his coverage, but another year working on strength and speed to go along with the confidence of being a senior should help.
Starting opposite Howard at the other cornerback spot was redshirt freshman Bradley Roby. While Howard had all of the hype coming into the season, most fans thought Roby was the best corner by season's end. He was the only freshman to start all 13 games and finished with 47 tackles and tied for the team lead with three interceptions. His future is scary bright.
After showing up on the scene with several huge hits before ultimately going down with a season-ending knee injury as a redshirt freshman in 2010, safety C.J. Barnett started in all 13 games for the Buckeyes last season, amassing a team-high 75 tackles to go along with two interceptions and six pass break-ups. In the Michigan game alone, Barnett recorded 12 stops and was rewarded for his breakout campaign earning the Arnie Chonko Award as the team's outstanding defensive back and capturing 2nd team All-Big Ten honors. Expect more of the same and then some for Barnett's redshirt junior season this fall.
While junior Orhian Johnson started the season at the other safety spot, he soon lost his job to sophomore Christian Bryant. Bryant was very much the definition of Jekyll and Hyde last season, finishing 3rd on the team with 68 tackles and 2nd in the Big Ten with eight pass break-ups, but for every two outstanding plays, there was a missed assignment or a play that saw Bryant out of position. With a year of on-the-job training under his belt by way of his 10 starts, expect him to be much improved in 2012 and hopefully a bit more mature. While some yapping on the field is fun to watch, it's hard to stomach after giving up a first down on a 3rd-and-11.
All four starters are back and seasoned, but nearly as importantly, there is seasoned depth in the secondary heading into this fall. Dominic Clarke, who backed up Howard at corner and actually started the first two games of the season in his absence is gone, but Doran Grant, who served as Roby's backup at the other corner spot is back after seeing action in all 13 games. Grant was a USA Today All-American at Akron St. Vincent-St. Mary and a state champion hurdler he has the genetics, as well, as his father, Ted Jones, was a wide receiver at Michigan State.
Johnson will be a fifth-year senior with 15 career starts under his belt and any time you have that kind of experience with a backup, you have to like it. Indeed, he filled in admirably for Bryant when he was out with an injury for the Michigan game. Though he was often knocked for his safety play, he did still manage to tie for the team lead with three interceptions in just four starts.
Zach Domicone will return as Barnett's backup after seeing action in all 13 games and he has a knack for finding the ball. he recovered a fumble on the punt team against Colorado and took a blocked punt back for six against Minnesota in 2010. Ron Tanner, who redshirted last year, and Jamie Wood, who saw action in every game, may also get into the mix for backup playing time at safety.
Corey "Monroeville" Brown saw mostly special teams action in all 13 games as a redshirt sophomore and could vie to see time as Howard's backup. If he doesn't emerge, Glenville's De'van Bogard, a Rivals four-star, could force his way onto the field. He's coming to Columbus as a safety, but could make the switch to cornerback with ease. He took a recent visit to USC, but from all accounts, it was just to get some free sunshine in the dead of winter.
Steubenville's Najee Murray, another Rivals four-star, will arrive as a safety while Bedford's Tyvis Powell, a kid born to be a Buckeye if there ever was one, will challenge for time at cornerback.
While the secondary has plenty of room for improvement and growth, the pieces are in place to achieve that. We'll be back next week to take a look at the offensive line.