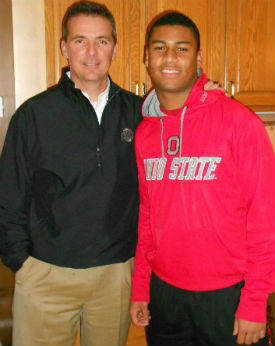 It was just a few months ago that West Roxbury (MA) Catholic Memorial LB Camren Williams thought his college plans were all set. The longtime Penn State commitment was excited to be the next great player at "Linebacker U" in Happy Valley where he would play under the legendary, late Joe Paterno and help the Nittany Lions try to win Big Ten and National Championships.
Those plans quickly changed, as the Jerry Sandusky case emerged, Paterno was relieved of his duties, and the Penn State football program was in flux both on and off the field. At the same time, the son of former NFL veteran Brent Williams had a new school knocking on his door, as Urban Meyer took over Ohio State and rapidly moved in recruiting the top player in the state of Massachusetts.
A mid-December visit to Ohio State went well, but no decision was on the horizon as Williams wanted to stay loyal to Penn State and wait for a head coach to be named. He left Columbus promising Urban Meyer that he would return with his mother who didn't get to make the first trip, but also said he would visit Penn State officially to give the school of his verbal pledge a chance to show him why he should be a Nittany Lion.
Bill O'Brien was named head coach of Penn State, but because of his duties with the New England Patriots, was not able to recruit players as aggressively as PSU would have liked. This caused Williams to push back his Penn State visit to January 27, moving his Ohio State visit up to January 18, where he would return this time with mom.
Williams never made that Penn State visit, as things went as well as expected on his return trip to Columbus and he gave Urban Meyer and the OSU coaching staff his verbal commitment just a few days after, becoming the 23rd member of the recruiting class of 2012 to pledge to the Buckeyes.
We got the chance to sit down with Williams to discuss his commitment to the Buckeyes, what sealed the deal on his second visit, what he is telling good friend and fellow Buckeye target Armani Reeves, and much more. Join us after the jump to hear more about Camren Williams' commitment to Ohio State.
You just committed to Ohio State last week. How does that feel?
It feels good. The weight of the entire recruiting process is finally over. I had people asking me every day where I was going to go to school and when I was going to commit. I can finally settle down and enjoy my senior year, as well as enjoy the opportunity to be a Buckeye. It is an honor to be part of the Buckeye family.
This past trip to Columbus was your second time visiting. What was it this time that sealed the deal for you?
Well, I left the first visit thinking that OSU was the place for me. I really wanted my mom to come back with me though, so I can get her opinion on the school and make a more educated decision. I felt the same way after this visit that I did after the first, when I fell in love with the school. I knew Ohio State was the best overall place for me after this trip.
What did your mom think of Columbus?
She love it all. We got to meet with Dr. Devor, who is the head of the exercise physiology department. That is what I want to major in and it is one of the best, maybe one of the top five undergraduate programs in the field. It was great for her to see the academic side of the school, but she also loved the football part. She loved Coach Meyer , Coach Fickell, Coach Vrabel, Coach Withers, and all of the other coaches. It was easy for her to see that I would be taken care of by a great staff, arguably the best staff in the country.
When did you tell the Ohio State coaches you were committing and what did Coach Meyer say?
I told them on Thursday night when we were all out to dinner at Eddie George's Grille. Coach Meyer was really excited and told me "now that you're committed and a Buckeye, it's time to prepare and get to work". They also told me they have no bodies at the linebacker position so I need to be ready to play right away. My strength and conditioning coach from high school is going to talk to Coach Marotti to see what type of training schedule I should be on and I'm going to get to work to be ready to play when I get to campus in June.
Did OSU discuss a position with you at all?
Yeah they said they saw me as a WILL or a MIKE linebacker. They told me they are pretty interchangeable and that I should be ready to come in and get reps at both positions. Either way it doesn't really matter to me.
When did you tell the Penn State coaches of your decision? Was that difficult?
I told them the Friday before I committed to Ohio State. It was definitely difficult because I do love Penn State and I felt it was a good fit. Ohio State is just a better fit for me overall for both academics and football and that's what I explained to the coaches there. The reason I held off on making my announcement was because I wanted to be fair and let them know that I would be a Buckeye and tell them first hand of my decision.
Your best friend and teammate, Armani Reeves, is down to Ohio State and Michigan. What are you telling him about his decision and when do you expect him to announce?
I'm just trying to be as least biased as I can possibly be. He's my best friend and I know he needs me to help him make a decision. I would love for him to come with me to Ohio State, but I have to try and be open-minded when talking with him so I can help him make the best decision for him. They are both great programs with great coaching staffs and provide him with great opportunities. I think he'll be announcing on national signing day.
What do you want to say to Buckeye Nation?
I just want to say thank you for all the support and welcoming me to the family. I am really excited to be a Buckeye and play under Coach Urban Meyer and my position coach, Luke Fickell. I am going to give you all my best both academically and on the field. We're going to do big things here and I hope to bring you all a national championship by the time I leave Ohio State.