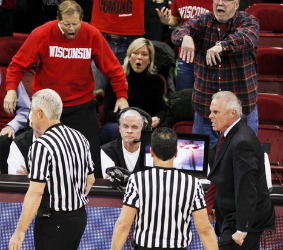 Welcome to a new edition of the Big Ten Hoops Recap. After taking a break last week to cover the B1G bowl games, which fell on January 2, thus allowing me to enjoy The Twilight Zone marathon on New Year's Day, we're back to basketball, where league play is in full swing.
Big Ten action is another dimension—a dimension of sound, a dimension of sight, a dimension of mind. Within 24 hours, the Michigan State football and basketball teams celebrated thrilling three-point overtime victories. Within those same 24 hours, the Wisconsin football and basketball teams were victims of The Time Element. Perhaps one day, like bibliophile Burgess Meredith, they will be the sole survivors of a nuclear holocaust and finally have Time Enough At Last. The twist? Bret Bielema would accidentally spill his entire stash of Axe Thai Massage shower gel, and Bo Ryan would break the hair clippers his squad uses to maintain their buzz cuts.
For further proof that we've moved into a land of both shadow and substance, of things and ideas, Bo's bunch has now lost three conference games in a row, two of which were at the Kohl Center. Iowa, of all teams, was one of those who emerged from Madison victorious. It's early January, and the Hawkeyes already own two wins in the B1G while Penn State also has one. 
Meanwhile, the team of the week is once again Indiana1, whose results on the court this year suggest that they've embraced the idea that there is No Time Like the Past. After defeating another ranked opponent in Michigan, the Hoosiers traveled to Penn State and reveled in their first B1G road triumph in two years. Their fifteen wins so far this season is the highest total in Tom Crean's tenure as head coach. 
INDIANA (2-0) // Beat Michigan 73-71, Beat Penn State 88-82
Pulling out another close one, Indiana edged Michigan on Thursday night. Although a buzzer beater by Christian Watford was not needed this time, the junior led all scorers with 25 points, including 3/4 from behind the arc. Cody Zeller added 18 of his own, and at one point, was guarded by Zack Novak, making everyone wish the punchable two would just board a spaceship with the Kanamits. The Hoosiers held several double-digit leads, but Michigan rallied each time until Zovak's Hail Mary three failed as the clock expired, and the Maize and Blue realized too late that To Serve Wolverine was a cookbook.
Yesterday, Indiana topped Penn State in State College, which ended the Hoosiers' conference road game losing streak at 16. For number 12 Indiana, Jordan Hulls (28 points) and Matt Roth (22 points) together rung up 12 three-pointers and then said to one another, "and the nicest part of all, I look just like you!" Late in the game, when Penn State was attempting a comeback, the two were a perfect 8/8 from the charity stripe. 
ILLINOIS (2-0) // Beat Northwestern 57-56, Beat Nebraska 59-54
In the first of two close calls, Illinois held off Northwestern. With 17 seconds left and the scored tied at 54, Myke Henry2 was fouled after rebounding his teammate Brandon Paul's missed shot. The freshman connected on his first free throw, but not on the second. Giant Myers Leonard, the Illini's top scorer for the day with 12 points, then swatted away The Little People's attempted game-winner. 
On Saturday, Illinois followed a "This way to escape" sign against Nebraska. Once again, the score was 54-all with under a minute remaining on the clock. It was Joseph Bertrand's turn in the spotlight zone as his floater put the Illini on top for good. His 25 points, on 11/12 shooting, were a career best.
MICHIGAN STATE (1-0) // Beat Wisconsin 63-60 (OT)
In the type of slugfest now expected between the nascent rivals, Michigan State vanquished Wisconsin. For the first time in 11 years, that Spartan win came in Madison. As is typical, Draymond Green (18 points, 14 rebounds) posted a double-double and Keith Appling pitched in with 16 points. Despite holding a seven-point lead with less than 30 seconds remaining in OT, Michigan State allowed Wisconsin to crawl back into the game. Up three, Green went to the free-throw line with 10 seconds left. He missed both, and as Izzo screamed, "there's someone on the wing!", Ryan Evans hit the game-tying three right before the buzzer... 
...at least, that's what the officials ruled at first. Upon further review, two clocks were not in sync, and according to the one above the backboard, the ball was still in Evans' hands when the clock hit zero. The call was overturned and Michigan State extended their winning streak to 14 games and is the only team that remains undefeated in Big Ten play. 
IOWA (1-1) // Beat Minnesota 64-62, Lost to Ohio State 76-47
Before getting humbled by Ohio State, Iowa slipped past Minnesota for their second conference win in a row. Holding onto a seven-point lead with less than a minute left, the Hawkeyes saw their lead shrink to two, mostly due to six straight missed free throws. Luckily for Iowa, Minnesota could not make their shot attempt at the end of the game.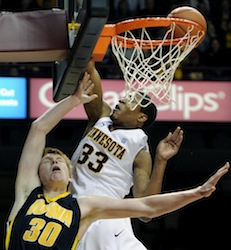 Matt Gatens stuffed the stat sheet with 19 points, 6 boards, 3 assists, and 3 steals while Zach McCabe chipped in with 12 points. Peaksville Strongsville, Ohio native Aaron White conjured up 10 points off the bench.
MICHIGAN (1-1) // Lost to Indiana 73-71, Beat Wisconsin 59-41
In the loss to Indiana, Tim Hardaway Jr. tied the score with three minutes remaining before his team ultimately fell by two. Although the sophomore guard ended up with a team-high 19 points, he was 0/7 from the three-point line. 
Cheered on by the student section, some of whom were inexplicably wearing jorts3, Michigan snapped a 10-game losing streak to Wisconsin. Neither school shot the ball well, but the Wolverines were sent to the free-throw line 20 times, quadruple that of their opponent, who were treated like the U.S. Air Force Space Probe No. 1 landing on Agnes Morehead's planet. Hardaway Jr. yet again paced all scorers with 17 points, and he also posted 10 boards for a double-double. Trey Burke (14 points) and Novak (12 points) accounted for most of the other offense. 
PENN STATE (1-1) // Beat Purdue 65-45, Lost to Indiana 88-82
Penn State routed Purdue for their first Big Ten victory of the season. Billy Oliver tormented the Boilermakers like he was the basketball version of Talky Tina and amassed a personal-best 21 points, all from downtown, where he was 7/11. 
Behind by eight with a minute and a half remaining, Penn State cut Indiana's lead down to two, even as their top offensive threat, Tim Frazier, had fouled out. Frazier finished the contest with 21 points and Jermaine Marshall nearly matched that with 20 of his own. 
PURDUE (1-1) // Lost to Penn State 65-45, Beat Minnesota 79-66
Unusually careless with the ball, Purdue turned it over 12 times against the Nittany Lions. Their offensive performance wasn't any better, which included a season-worst 31% from the field. Matt Painter probably forced his Purdue hoopsters to wear hideous Cajun masks while he yelled, "you're caricatures, all of you! Even without your masks, you're caricatures."4
The Boilermakers responded in their next game by defeating Minnesota. At 54.5% overall and 66.7% from distance, their shooting was hugely improved. Four Purdue players notched double figures, with Lewis Jackson (20 points) and D.J. Byrnes Byrd (18 points) leading the way.
NORTHWESTERN (0-1) // Lost to Illinois 57-56
Even though his tip-in tied the score with 17 seconds on the clock, Drew Crawford's shot at the end was blocked. That sealed the victory for Illinois, who treated their neighbors to the north as if they lived on Maple Street. Jon Shurna was the top scorer for the Wildcats with 20 points, but 17 of those came in the first half.
WISCONSIN (0-2) // Lost to Michigan State 63-60 (OT), Lost to Michigan 59-41
Big Ten Standings

| TEAM | CONF | OVERALL |
| --- | --- | --- |
| Michigan State | 3-0 | 14-2 |
| Indiana | 3-1 | 15-1 |
| Ohio State | 3-1 | 15-2 |
| Illinois | 3-1 | 14-3 |
| Michigan  | 3-1 | 13-3 |
| Purdue | 3-1 | 13-4 |
| Iowa | 2-2 | 10-7 |
| Northwestern | 1-2 | 11-4 |
| Wisconsin | 1-3 | 12-5 |
| Penn State | 1-3 | 9-8 |
| Minnesota | 0-4 | 12-5 |
| Nebraska | 0-4 | 8-7 |
In their second consecutive home loss, Wisconsin's trend of putrid outside shooting persisted. The Badgers converted just 5 of 22 attempts from three-point land against the Spartans, two of which came from Jordan Taylor with under 30 seconds left in OT. Despite pacing all scorers with 28 points, Taylor airballed a three with less than 10 seconds remaining. Ryan Evans rebounded the miss and quickly ran behind the arc to launch a banked-in shot that almost sent the game into double overtime. Instead, the basket was waved off and Bo Ryan, furious as he was, surprisingly decided that "violence is out of the question."5
Against the Wolverines, Taylor struggled and was still the only Badger to score in double figures (12 points). It may be in the Eye of the Beholder, but Wisconsin's shooting continued to look as ugly as people with pig snouts. The Badgers were a paltry 31.4% from the floor, though at 35%, their three-point percentage saw an uptick. 
I hate to tell you Wisconsin, but this is what happens when you try to steal the mitten title. 
MINNESOTA (0-2) // Lost to Iowa 64-62, Lost to Purdue 79-66
With 8 seconds left, Ralph Sampson III rebounded his own missed free throw and hit a layup to get the Golden Gophers within two of Iowa. After the Hawkeyes failed to convert another pair of free throws, Maverick Ahanmisi was unable to live up to his first name when his game-tying attempted shot bounced off the rim. Minnesota was a Wisconsin-esque 4/23 from distance for the game.
In their loss at home to Purdue, Rodney Williams recorded a dub-dub (19 points, 14 boards) along with 3 assists and 2 blocks, but it wasn't enough for the Golden Gophers to capture their first conference win of the season. While they hang in the cellar with Nebraska, Tubby Smith might be longing for the serenity of Willoughby. 
NEBRASKA (0-2) // Lost to Ohio State 71-40, Lost to Illinois 59-54
After Ohio State sent the Cornhuskers to the cornfield, Big Red could not to maintain their halftime lead against Illinois. Turning the ball over 20 times did not help Nebraska on their quest to win their first Big Ten game. Bo Spencer (13 points), Toney McCray (12 points), and Brandon Richardson (10 points) all hit double figures as their team connected on 50% of their field goal attempts, better than their 42% average heading into the match. 
Welcome to the fifth dimension, Nebraska.
1 My petty side, which is still angry about how the officials dictated the Ohio State-Indiana game, considered not bestowing them with this totally real honor. 
2 For someone who plays for the Fighting Illini of Illinois, you'd think he'd spell his first name with an "i". 
3 Hate you, Josh Harrellson.
4 Or he called them "fat and sassy."
5 Uh, has someone checked whether any of those refs are missing?